The International Ehlers-Danlos Symposium convened in New York at the beginning of EDS Awareness Month with a view to exploring developments in research and treatment of the various types of EDS. GPs, physiotherapists, rheumatologists, surgeons, OTs, geneticists, charity representatives, patient experts, non-profit organisations etc., were all given an equal opportunity to come to the microphone and voice their concerns, agreements and questions.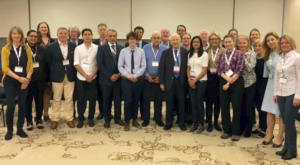 The information, discussion and presentations shared in New York will be used by working groups tasked with putting a framework in place to facilitate the building of a revised EDS nosology; better defining each subtype and management of its complex symptoms; deciding whether to keep / devise new descriptive nomenclature, and discussing clinical versus genetic classification. The symposium was also tasked with producing guidelines for medical professionals to use once a diagnosis has been reached, which can be used as a universal guide for management.
Hypermobility Syndromes Association's Partnership and Project Development Director, Claire Smith (seen on the left in the photo wearing yellow), along with our Chair Robert Studholme-Smith, represented the HMSA.
Click here to see the line-up photo of attendees.
It was wonderful to see such a large contingent from the UK, with some 30 plus in attendance, some of whom also form part of the HMSA's medical advisory board, including Dr Alan Hakim (Chief Medical Advisor), Professor Rodney Graham, Dr Brad Tinkle, Prof Qasim Aziz, Dr Jane Simmonds and Dr Hannah Kazkaz.
Our thanks to all those involved in organising this event, both in front and behind the scenes, and to Virtuose Circuits Ltd, who specifically donated to the HMSA in order to enable our delegates to attend.
Accounts of HMS
Also launched this month is "Accounts of HMS," a delicate and involved project documenting the human side of hypermobility syndromes.
Amy-Fern Nuttall travelled the length and breadth of the country to photograph and interview over one hundred of our members. In addition to the portraits and testimonies of people living with hypermobility syndromes, the book contains coherent explanations of each condition, their causes and their symptoms; explorations of all the findings discovered by conducting this research; and a comparison of the Beighton and Brighton criteria with handy diagrams.
The book is available from Amazon, with a percentage of proceeds going to the HMSA.
Buy Accounts of HMS by Amy-Fern Nuttall (ISBN: 9781530861811) from Amazon's Book Store. Free UK delivery on eligible orders.