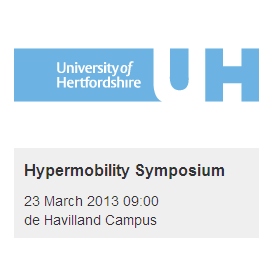 The Hypermobility Syndrome Association (HMSA) will be present at the Hypermobility Symposium on the 23rd March 2013 at the University of Hertfordshire and will also be attending the BSR in April (23rd-25th).
If you are attending either venue, come along and have a chat with us about Hypermobility Syndromes. The HMSA supports positive self-management of the conditions and the need to reduce disability associated with poor management.
We are also looking at increasing the number of professionals we hold on our database who have a genuine interest in Hypermobility Syndromes. We use that database to send out information on research, study days and conferences but we also hold a list of professionals who are registered with professional bodies who we can suggest referrals to when contacted by GP's.
If you cannot attend one of these events then email Donna on donna@hypermobility.org and request a Professional Contact Form.
The HMSA is also excited to announce that we are currently undergoing accreditation to the Information Standard. This will allow us to have a 'kite mark' on our information to assure professionals that the information we provide is of a good standard. Our accreditation is due to be completed in September.
In line with the above we are also redeveloping our website for patients affected by a hypermobility syndrome but with sections for professionals to. If you have any documents which you feel would be of benefit to other professionals please do send them to us and we will take a look.