HMSA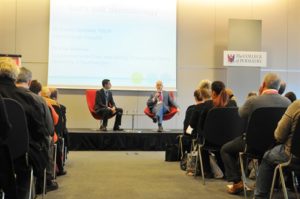 Trustee and HSD Ambassador, Hannah Ensor will be a speaker at the COP2018 conference on the 24 November, raising awareness and understanding of hypermobility syndromes, focusing mainly on hEDS and HSD, but also touching on complications associated with other HDCTs too.
Hypermobility (having joints that are more flexible than average) is often thought to be a childhood problem that people grow out of. In reality the evidence shows that while approximately 30% of children with EDS/HMS reported pain, over 80% of patients over 40 with EDS/HMS report pain – indicating that it is an issue which often causes more problems over time rather than less. This misconception delays diagnosis and management, which could otherwise help improve overall levels of pain and disability.
This presentation provides an evidence based, up to date overview of hypermobility – from hypermobility found in a healthy individual which needs no diagnosis or treatment, to connective tissue disorders needing accurate diagnosis and tailored management.
It goes on to discuss management and treatment – where Hannah's lived experience and years of working with the patient community comes into its own, enabling her to provide real examples and practical advice and on how to encourage and empower patients to live well with their conditions.