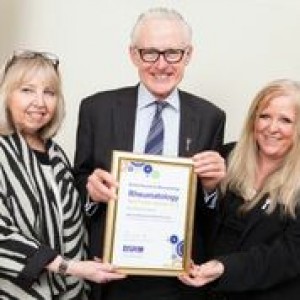 The Minister for Care and Support, Norman Lamb MP, visited the Rheumatoid Arthritis Centre at Guy's Hospital in December. During the visit he met patients, clinicians and representatives of the leading patient and healthcare professional bodies to discuss the importance of early diagnosis and public awareness in the successful treatment of the chronic autoimmune disease, rheumatoid arthritis.
Raising public awareness of the disease is vital, as there is a known 'window of opportunity'. If a person is diagnosed and started on appropriate treatment within 12 weeks of symptom onset, they are more likely to achieve remission or minimise the severity of the disease, meaning they can have a much better quality of life and avoid much irreversible joint damage. However, a National Audit Office report showed that half of rheumatoid arthritis patients don't even visit their GP within this time frame.
The visit was an opportunity for the Minister to listen firsthand to concerns from patients about delays, and at the same time recognise the efforts of Guy's and St Thomas', the British Society for Rheumatology (BSR), and the National Rheumatoid Arthritis Society NRAS, who are striving to deliver the highest standards of care for patients. NRAS and Guy's and St Thomas's were winners in this year's prestigious BSR Rheumatology Best Practice Awards and were presented with their certificates by the Minister.
The Rheumatology Best Practice Awards recognise ground-breaking and innovative practice in rheumatology and musculoskeletal services. The work commended in the awards has improved patient experience, health care value, and outcomes and offers examples of ways in which rheumatology services can be improved.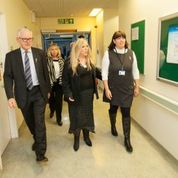 During the site visit, the Minister toured the Rheumatoid Arthritis Centre during a regular arthritis clinic with patients and observed the use of cutting edge ultrasound technology to examine patients for signs of inflammation caused by the disease.
Care Minister Norman Lamb MP said: "It was great to meet the patients who are benefiting from the pioneering treatment at Guy's Rheumatoid Arthritis Centre and to meet the staff behind this award-winning centre.
"We know patients with rheumatic diseases need fast and effective treatment and Guy's Hospital is making sure that happens. We also know that early diagnosis is really important which is why the Department of Health is giving NHS trusts financial incentives to get patients with suspected inflammatory arthritis seen by a specialist within three weeks and treated within six weeks."
Ailsa Bosworth, Chief Executive at NRAS, said: "Delaying diagnosis and treatment of chronic conditions like rheumatoid arthritis can hugely impact the quality of life of patients.  This is why we need more coordinated effort to improve the rates of diagnosis. Having the Minister here today is a very important opportunity to tackle the issue head on."
Laura Guest, Chief Executive of the British Society for Rheumatology, said: "The Rheumatology Best Practice Awards demonstrate to policy makers that it is possible to deliver tangible quality improvements in rheumatology patient care while being highly efficient and saving the NHS substantial amounts of money."
Dr Bruce Kirkham, Consultant Rheumatologist at Guy's and St. Thomas' NHS Foundation Trust, said: "We are thrilled to have received this recognition as a centre of excellence, and to be presented with our award from Norman Lamb was an honour."
"It was great to talk to the Minister about our work. He seemed very interested in what we had been doing and how it had helped our patients. The whole team has worked incredibly hard to be able to offer our patients the whole package of care that they need."