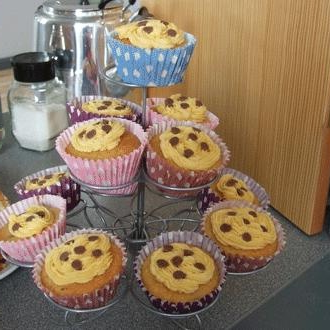 The second week in September is Fibromyalgia Awareness Week, which is an ideal time to make FM more visible. At the time of writing the new logo has not been decided but will be available shortly on our website www.fmauk.org. Our suggestion for the awareness this month is to use the logo (or at least the colours) on a cake or cakes. These can then be used in an enjoyable way to spread the word about FM.
You do not need to bake and decorate the cakes yourself, but I am sure some of you can come up with some wonderful creations and we would love to see them. Supermarkets offer a service where they will decorate a cake if you supply a picture, so you can take a copy of the logo in for this. Otherwise, buy a cake and decorations to match the logo and create your own the easy way.
But providing the cake is only half the challenge. Nothing will be gained if you eat it yourself! Think about who you can share it with. It might just be your next door neighbour or close friends. You could go wider and take it to any group you belong to, whether connected to FM or not. You could even take them along to your MP's surgery!
Fibromyalgia Awareness Week/strong>
Sunday 6th September 2015 – Sunday 13th September 2015
Raising awareness with events across the UK.