To mark World Lupus Day on May 10th 2015, LUPUS UK launched a new video called, 'Exercising with Lupus'. The video, featuring fitness presenter and lupus patient, Nana Akua (AKA LadyXsize), demonstrates a variety of gentle exercises and a five-minute stretch workout that are suitable for many people with lupus to do within their own home.
Hopefully the video will aid many lupus patients in introducing some light exercise to their lifestyle and they will notice benefits to their wellbeing as a result. The video can be watched on the Lupus diet and exercise page of LUPUS UK website.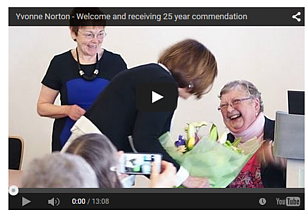 Lupus Information Videos
On Saturday May 9th 2015 LUPUS UK hosted a lupus information afternoon in Birmingham and welcomed three guest speakers; Prof Caroline Gordon (Consultant Rheumatologist, City Hospital), Dr Ben Rhodes (Consultant Rheumatologist, Queen Elizabeth Hospital) and Sarah Logan (Renal Specialist Nurse, Queen Elizabeth Hospital). The speakers discussed a variety of 'lupus' related topics for the members present.
Video recordings of each presentation can be viewed Info Day Videos.