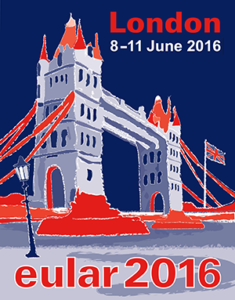 The next Annual European Congress of Rheumatology – EULAR 2016 – is at the Excel Centre, London 8th-11th June 2016.
Since its introduction in 2000, the Annual European Congress of Rheumatology has become the primary platform for exchange of scientific and clinical information in Europe.
The conference's scientific programme has now been published and the itinerary planner is now available on the website.
See http://www.congress.eular.org/ for full details.

e-breakthrough magazine
The April 2016 edition of EULAR PARE's e-breakthrough is out; click here to download it in PDF.
This issue features articles on the meeting of CEOs of PARE organisations; Finland's engagement programme; a knowledge transfer programme between Poland, Romania and The Netherlands; and Introduction to the Standing Committee on Clinical Affairs.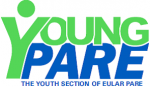 Edgar Stene Prize 2016 Winner
You can now read Simon Stone's wining UK entry for the Edgar Stene Prize 2016 at the Young PARE website www.youngpare.org. The 2017 competition will be open in the summer – watch this space for details!
'It's in your hands, take action'
The theme of World Arthritis Day (WAD) in 2016 is 'It's in your hands, take action' (continuing from 2015). EULAR is encouraging people to take action and make a difference to the quality of life for people with MSK conditions; you can share your #WADStory. 
See WAD on Twitter, Facebook, and Instagram. See the www.worldarthritisday.org website for full details on how to get involved in the lead up to the 12th October 2016.
NICE LTCs Consultation
Consultation on the draft Quality Standard for "Older people with social care needs and multiple long-term conditions" is now open on the NICE website.
The consultation is open until 5pm on Tuesday 24 May 2016. Find full details of how to submit your comments here.