The EULAR Congress 2013 takes place in Madrid on Wednesday, 12 June 2013, and we are pleased to share the latest information with you.
Abstract submission:
3,868 abstracts were submitted for the EULAR Congress 2013. From these, 2,996 (77%) were accepted and 872 (23%) were rejected. 320 (11%) will be orally presented, 1,820 (61%) as posters and 856 (28%) are accepted for publication only. The on-line publication of abstracts will open around mid-May on the EULAR website.
Patient registration:
Based on the DIRECTIVE 2001/83/EC OF THE EUROPEAN PARLIAMENT AND OF THE COUNCIL OF 6 NOVEMBER 2001 ON THE COMMUNITY CODE RELATING TO MEDICINAL PRODUCTS FOR HUMAN USE, and on information received from the Spanish Association for the Pharmaceutical Industry in Spain Farmaindustria, the EULAR Board has decided to restrict the access for congress participants registered as PARE Representative or as Patient to the non-commercial part of the exhibition hall. The access to all other parts of the congress is unrestricted.
Further information is available from the EULAR Secretariat (eular@eular.org).
General Assembly: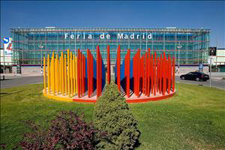 Please remember that on Wednesday morning (10.30 – 12.30), 12 June, the election of the following EULAR officers will take place during the General Assembly:
– nomination for the President Elect 2013-15
– nomination for the Treasurer 2013-15
– nomination for the Vice President PARE 2013-15
– nomination for the Vice President Health Professionals 2013-15
– nomination for the General Secretary 2013-15
In addition to the above mentioned congress news, we would like to draw your attention to the following issues:
Eumusc.net project – save the date:
On 17 October 2013 the final results of this important three year project will be presented during a conference taking place in Brussels. More information will be available at a later stage, but please make sure you save the date now!
Centres of Excellence:
EULAR invites centres of rheumatology research in Europe to apply for recognition as "EULAR Centre of Excellence in Rheumatology". Deadline for applications is 31 May 2013. More information can be found here.
14th EULAR Postgraduate Course:
After a break of one year, EULAR is back with its popular Postgraduate Course! The course will take place from 18 – 21 November in Prague, Czech Republic. More information can be found here.