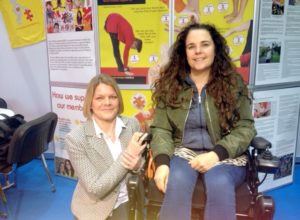 Ehlers-Danlos Support UK (EDS UK) was selected this year as the first charity partner for the annual NHS Confederation conference. The conference was held at the Manchester Central Conference Centre, 15-17 June 2016.
EDS was given a prime location stand at the conference, and EDS Managing Director Kay Julier took part in a panel discussion on "people-powered healthcare". The panel included National Voices' Don Redding; inspirational speaker and patient advocate Kate Allat; Jason Helgerson, Director of New York's Medicaid; and Soma Stout, from the Institute for Healthcare Improvement.
The charity's patron, Coronation Street actor Cherylee Houston, also called in to help raise awareness of EDS and the charity.