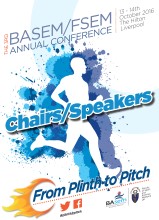 The latest evidence on osteoarthritis research and what it means for clinical practice will be presented by Professor Nigel Arden at the Faculty of Sport and Exercise Medicine (FSEM) and British Association of Sport and Exercise Medicine (BASEM) joint conference, from Plinth to Pitch, 13-14th October in Liverpool.
Professor Arden, who specialises in Rheumatic Diseases and is an International Leader in epidemiology and predictive modelling and trial design, will explain why there has been a sea-change in the research agenda into osteoarthritis, including a strong move away from a structural osteoarthritis to pain and function, both at the level of pathogenetic research, but also in terms of outcome measures and clinical trials.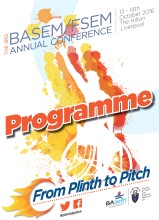 During his session Professor Arden will also discuss the focus away from established osteoarthritis – those with definite radiographic osteoarthritis and pain, to early osteoarthritis which is defined as those with symptoms and signs of osteoarthritis in the absence of classic radiographic features.  This is now requiring a new set of criteria for definition and outcome, but will be the focus of much research over the next 5-10 years.
These concepts, will be discussed in detail on Thursday 13 October during the FSEM session from 2pm – 4pm.
Sessions on Primary Care, MSK and Physical Activity will also include talks on; The Surgical Management of Osteoarthritis Knee, Ultrasound on the Knee, Imaging and Radiology and National Action to Support Local Movement.
Follow this link to book your place at Plinth to Pitch 13-14th October 2016, the Hilton Liverpool.
Programme page
Chairs and Speakers page
BASEM/FSEM Annual Conference 2016
www.basem.co.uk
Date: 13th and 14th October 2016. Venue: The Hilton Liverpool City Centre Hotel. 3 Thomas Speers Way