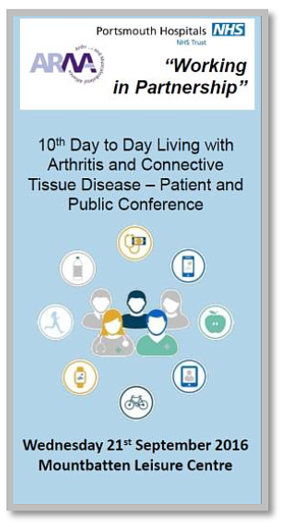 Wednesday 21st September 2016
09:00 am – 4:00 pm
Mountbatten Centre, Alexandra Park, Portsmouth
Portshosps 10th Birthday Conference
"Taking Control of Your Arthritis and Connective Tissue Disease for the Future"
You are invited to attend the Portsmouth Hospitals NHS Trust, Department of Rheumatology 10th annual patient and public conference. The day will include a series of talks given by consultants, clinical nurse specialists, physiotherapist, podiatrists, occupational therapists and dieticians. The programme is designed to be informative and educational; it gives you the opportunity to ask questions (or just listen if you prefer) and be around like-minded people who understand the challenges of living with arthritis and connective tissue diseases.
Imagine…
Over 20 talks and presentations lead by experts sharing their knowledge and experience with you.
The opportunity to discuss with over 40 local charities and organisations supporting people living with long term conditions in the your local community
The opportunity to network with people who understand what you're going through!
Being able to advocate for yourself and the best care you can get
You can down load the programme http://www.porthosp.nhs.uk/departments/Rheumatology/Osteoarthritis.pdf
or if you would like a paper copy, contact Mrs M Fletcher (details below).
DON'T MISS OUT. REGISTER NOW !
Free delegate fee for patients, members of the public and health care professionals.
To book your place contact us by email: rheumatology.conference@porthosp.nhs.uk
Or by post:
Mrs M Fletcher,
Department of Rheumatology,
Queen Alexandra Hospital,
Cosham,
PO6 3LY