NASS Portsmouth threw a big celebration event at the Mary Rose Museum in Portsmouth Historic Dockyard to mark their 25th anniversary. 
NASS Portsmouth has 40 regular members attending their weekly physiotherapy and hydrotherapy sessions. Lead by chairman Roger Stevens, a co-convenor of the Portsmouth ARMA network, the members are a friendly, caring group who enjoy holding regular social events throughout the year. The branch works closely with, and is supported by, the rheumatology and physiotherapy departments at Queen Alexandra Hospital under Portsmouth Hospitals NHS Trust.
More than a hundred people attended the party, including branch members past and present, staff from Queen Alexandra Rheumatology department and physiotherapists and hydrotherapy team members. NASS Chairman Raj Mahapatra attended, along with NASS Chief Executive Debbie Cook and members of the NASS Team.
A special cake was baked by Sally Barber (Photo attached) and presentations were made to people who have supported the branch in the past and the present.
Roger Stevens announced several pieces of good news: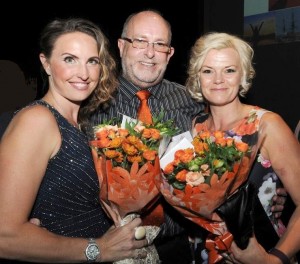 That the branch had just been given £500 by the Hampshire and Isle of Wight Community Fund to help people with Ankylosing Spondylitis to join who could not afford the monthly subs;
That the SSE power company had kindly just donated £250 to the branch in recognition of the branch's fund-raising efforts;
and
That two ladies from Bedhampton Parish – Tracey Smith and Leeanne Barber – had just run the Richmond Half Marathon and raised over £1,200 for NASS – of which 35% would be coming to the branch.
The Mary Rose Museum was a fantastic and unique venue and a great time was had by all.
Queen Alexandra Portsmouth win a Shine Award from NHS (Health Education Wessex)
Congratulations to the team at Queen Alexandra Hospital in Portsmouth whose 'Partnership Working to deliver Clinical Practice Event – Ankylosing Spondylitis' – supported by the National Ankylosing Spondylitis Society (NASS) charity – has been highly commended In the Chair's Award in this year's Shine Awards.
The Shine Awards recognise excellence in education and training in the NHS and the Chairman's Award is for someone who is doing something that catches the eye. The initiative was particularly praised for its patient centred approach and the involvement of NASS.
The clinical practice event seeks to educate and train multi-disciplinary teams in the best care for people with ankylosing spondylitis and also allows an opportunity to network for those involved in the teams.
The ceremony took place on Thursday 15 October in Southampton and the team was represented by Roger Stevens, NASS Trustee, Claire Jeffries, Physiotherapy Manager and Clinical Specialist in Hydrotherapy and Rheumatology, Colin Beevor, Rheumatology Matron, and Dr Steven Young Min the Clinical Director of Rheumatology at Queen Alexandra Hospital. Claire and Roger are co-convenors of the Portsmouth ARMA network.