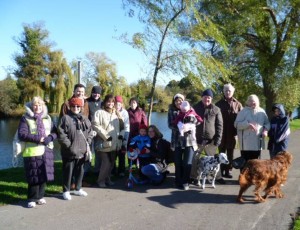 10 out 10 Healthy Walk
Saturday 27th October 2012
Week 4 of the 10 out 10 Community Exercise Programme was dedicated to a health walk, something that those living with Rheumatoid Arthritis can do with their family, friends and pets.
People living with Rheumatoid Arthritis taking part on the 5th programme of the 10 out 10 Community Exercise Programme are pictured here with family friends and staff from Solent NHS Trust, Portsmouth Hospital NHS Trust- Rheumatology and Portsmouth City Council  Healthy Walk Scheme
C Beevor Matron says "Walking is a great way to get active and start exercising and vital part of self management for anyone living with Rheumatoid Arthritis, although a fresh and blustery morning, we couldn't have asked for better weather."
C Jeffries, Physiotherapy Manager: "We enjoy joining the 10 out 10 delegates for this event with our children and dogs. Walking is something we can all enjoy."
For more information about Healthy Walks in Portsmouth please contact:- Paula Day 02392 841379 or see www.portsmouth.gov.uk for a regular programme of walks.
For more information about 10 out 10 – Community Exercise programme for those living with Rheumatoid Arthritis please contact Colin Beevor 0239228 6000 ext 1495 or  email colin.beevor@porthosp.nhs.uk