What everyone working with back pain needs to know about Cauda equina syndrome
Friday 21 February 2020, 12.30pm
Cauda equina syndrome (CES) is a rare condition that affects the nerves in the spine supplying the bladder, bowel and sexual function. Identification and subsequent urgent action is required to avoid permanent damage to these essential organs. Delays in diagnosis can have devastating and life changing consequences for patients and result in high cost negligence claims.
This webinar will be of interest to any health professional treating patients with low back pain, particularly those seeing this patient group in pre-surgical settings. We will cover:
Definition of Cauda Equina Syndrome
Presenting Signs and symptoms
Examination for CES
Evidence relating to CES
Pathways of Care
Medico-legal issues relating to CES
Who should attend:
Clinicians, physiotherapists, osteopaths, chiropractors, nursing staff, in fact anyone likely to come in to contact with people with back pain.
Presenters:
Laura Finucane, Consultant Physiotherapist, Sussex MSK partnership
Chris Mercer, Consultant Physiotherapist, Western Sussex Hospitals Trust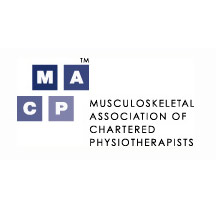 The Musculoskeletal Association of Chartered Physiotherapists (MACP) is a membership organisation of physiotherapists who have reached a recognised standard of excellence in musculoskeletal physiotherapy. We work to support physiotherapists managing people with musculoskeletal complaints and conditions in a range of settings (NHS, private practice, sport etc.). Our members promote excellence in musculoskeletal health and offer specialist musculoskeletal physiotherapy practice across the UK, with many working as first contact practitioners given their skills and expertise.
For more information about the MACP and how to join visit www.macpweb.org