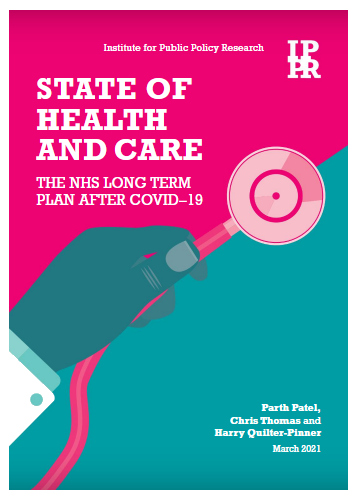 State of health and care: The NHS Long Term Plan after COVID-19
A new report from IPPR shows the extent to which the coronavirus pandemic has disrupted progress on the NHS Long Term Plan. The report looks at cancer, mental illness, cardiovascular disease and multiple long term conditions, but the findings are equally relevant to MSK services.
The report argues that COVID-19 should not become an excuse for low ambition, and that world-class healthcare must remain the overall goal. To achieve this, the report recommends a package of six ambitious changes designed to do three things:
Ensure the pandemic does not cause lasting damage to healthcare services for future generations.
Bring in areas – like social care and public health – that are not covered in The NHS Long Term Plan, but which are integral to healthcare.
To capture the innovations that occurred during the pandemic.
The six recommendations are:
Ensure a sustainable workforce: a new deal to catalyse recruitment and retention – including a pay rise, a new wellbeing offer, and improved training and progression.
Fund the NHS to deliver and sustain transformation: funding to meet the elective care backlog and rise in mental illness to avoid a trade-off between transformation and the pandemic care backlog.
Empower integration from the bottom up: through system focussed regulation, reformed financial incentives and permissive legislation.
Upgrade the digital NHS: providing internet access as a basic public service, understanding patient preferences and investing in the NHS's digital infrastructure.
Fund and reform social care: including free personal care for everyone aged 65 and over, improving the quality of social care, better pay for care workers, and immigration rules that do not lead to catastrophic shortages.
Level up the nation's health: a public health cabinet committee to co-ordinate policy functions across Whitehall, and greater devolution of funding and powers to local government to tackle the primary determinants of health.