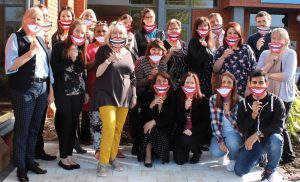 Once more NRAS has had a very successful RA awareness week with thousands getting involved in the #behindthesmile campaign. Over 500 awareness packs were sent out in the post and there have been over 1,700 downloads of the posters and infographics from the website.
Our thunderclap went live on the first day of the week and surpassed our target, reaching over 175,000 people, and our RA awareness week frame was used by 2,000 people on Facebook and Twitter.
Click to open the full-size the Behind-the-smile NRAS team photo.
During the week, we launched part 2 of the #behindthesmile video with Jane deciding to talk about having RA.
You can view the video on our website www.nras.org.uk/ra-awareness-week
The full impact is still being calculated but we would like to say a huge thank you to everyone who has supported and shared our posts on social media throughout the week.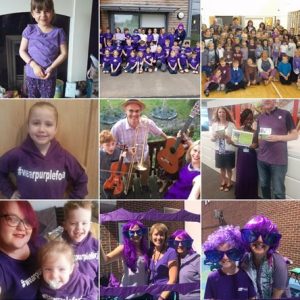 #WearPurpleForJIA
A big thank you ARMA and everyone who supported the campaign this year – we are overwhelmed by the fundraising activities that people organised this year in aid of JIA-at-NRAS through #WearPurpleforJIA.
This is an amazing campaign started by two mothers (Lynette and Rachel) just a few years ago. Over £12,000 has already been raised and the cheques are still coming in!