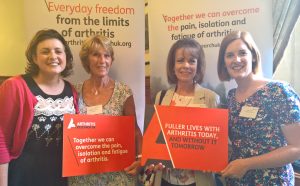 On Tuesday 5 July, Arthritis Research UK held a parliamentary reception which more than 60 MPs attended. The reception had a range of activities for MPs including speaking to people living with arthritis, trying our interactive station, as well as learning how many people in their local area may have the condition. In advance of the event, over 300 people emailed their MPs asking them to attend the reception. Many of the MPs who came said it was because their constituent had flagged the event with them. Campaigners Christine Walker and Cat Priddey both attended the reception to speak to MPs about the realities of living with arthritis.
See the full-size photo from the event.
Launch of multimorbidity report
This month, Arthritis Research UK has launched a report exploring why it's essential to consider musculoskeletal conditions when planning how our health system tackles multimorbidity.
Multimorbidity, which means living with two or more long-term conditions, is becoming increasingly common. Alongside an ageing population, multimorbidity will have a substantial impact on our future health and care services. The NHS's Five Year Forward View and the General Practice Forward View both recognise that the healthcare system must adapt to meet the growing demands of multimorbidity. It must move away from a focus on single diseases to a system which holistically considers the needs of people with multiple long-term conditions.
Good musculoskeletal health underpins living well and independently with multimorbidity, however, musculoskeletal conditions are too often overlooked. This report sets out why musculoskeletal conditions must be included in future plans to address multimorbidity and makes clear recommendations for change.
Core Skills in Musculoskeletal Care
We know that each year 20% of people in the UK consult their GP about a musculoskeletal problem. The free online programme from Arthritis Research UK, 'Core Skills in Musculoskeletal Care' will allow health professionals to increase confidence in assessment, diagnosis, investigation and treatment of MSK problems. The module has been developed in conjunction with the RCGP and has received educational endorsement from NICE. The package is worth 5 CPD points and takes 30 minutes to complete each module. If you're short of time then you can do the new bitesize version 'Five minutes to musculoskeletal care' which launched last month. If you would like to receive education and training updates from Arthritis Research UK you can join our healthcare professional network.