BSR have recently published The State of Play report.
The State of Play in UK Rheumatology report captures for the first time the major challenges currently facing rheumatology services and the patients they serve, setting out a range of measures to address these at a national and local level.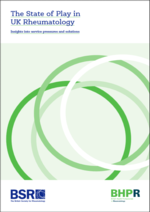 The key findings of the survey include:
8 out of 10 respondents felt that rheumatology services were no better now than in 2010 when there was a national audit highlighting deficiencies
two-thirds rated their relationship with primary care colleagues as five out of ten or below, citing poor communication and lack of GP condition awareness as main factors
9 out of 10 consultants collected data on people ability to return to work despite there being no national requirement to do so – evidence that there needs to be more accurate measurement of things important to people with long term conditions
9 out of 10 respondents were concerned that training on early identification of symptoms should be spread to a wider range of healthcare professionals
Only 14% of respondents believed that there was sufficient clinical input and 7% that there was adequate patient input in tendering processes
85% reported that education, training and research not given proper consideration in tenders for new services
three out of five reporting that their units were experiencing significant recruitment gaps across all professions
Amongst its recommendations, the BSR calls for:
greater recognition of RMDs in national strategies, due to their major health and socio-economic impact, complemented by new measurements for people with chronic complex conditions inclusion in commissioning frameworks
acceleration of best practice in care-coordination across the NHS through specialist nurses
expansion of training to identify early onset of rheumatic conditions to a wider range of health professionals including GPs, practice nurses, community nurses, AHPs and pharmacists
prioritisation of personalised, care and support plans for all patients with long term conditions
local investment in patient education and self-management programmes for people with long term conditions, in line with NICE guidance
review of medicines approval processes, to improve access to biologics for all patients including those at the mild stage of the disease and those with rarer conditions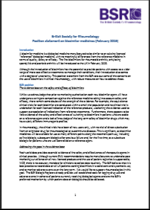 BSR's Position Statements
In addition, BSR have published the following position statements:
Position statement on commissioning services for patients with RMDs –
Improving the quality of data underpinning commissioning decisions.
Position statement on biosimilar medicines –
The evidence base on the safety and efficacy of biosimilars.