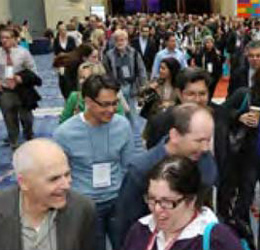 The British Society for Rheumatology has launched a new bursary scheme, sponsored by MSD, for consultant rheumatologists and trainees to attend the American College of Rheumatology Annual Meeting in San Diego this October.
The Deadline for applications is 5th September
Each bursary, one for each of the four UK nations, consists of up to £1,500 to reimburse the cost of travel, registration and accommodation for attendance at the American College of Rheumatology Annual Meeting (25-30 October 2013). Consultants in their first two years post-qualification, and trainees in their final year of specialist training, are invited to apply. For more information, please see this page on the BSR site.
"This is a great opportunity for rheumatology health professionals, who might otherwise not be able to afford to attend an important international conference," said Chris Deighton, President of the British Society for Rheumatology. "We greatly appreciate the sponsors' support of the leading rheumatologists of the future."
For further information, contact Zena Wigram at the British Society for Rheumatology on 020 7842 0900 or zwigram@rheumatology.org.uk
MSD, the scheme's sponsor, will have no involvement in selecting the bursary winners.
The funding will not influence any of BSR's officers in any way, including not giving any advantage to MSD in any decision-making. The funding has nothing to do with any prescribing, administering or recommending any MSD product by bursary applicants. For more information about MSD, please see www.msd-uk.com .