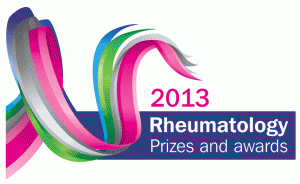 Celebrating the individuals who change the face of rheumatology
Rewarding professional excellence, innovations and achievements; each year BSR and BHPR award a series of prizes and bursaries to recognize achievements and encourage those working to improve patient care across all levels.  The awards provide an opportunity for applicants in a variety of roles, at all career stages to showcase their work to an audience of peers and to Inspire and inform others.
BSR and BHPR bursaries have assisted the professional development of over 50 recipients in the last 4 years, previous prize winners have said that winning made them stand out from their colleagues, leading to fresh opportunities.  
Applications for the 2013 Awards are now open, for further information on each of the awards visit the www.rheumatology.org.uk/prizes to enter and be in with a chance of taking part in Rheumatology 2013.  
ENTRY DEADLINE: Wednesday 21 November 2012.