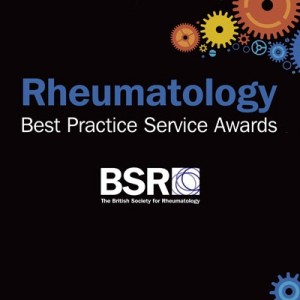 Best Practice Awards – winning case studies now available
The winning case studies of the BSR 2016 Best Practice Awards in Rheumatology and Musculoskeletal Disorders (RMDs) are now available to download on the BSR website.
The case studies showcase the range of innovative approaches being taken in the delivery of clinical rheumatology services across the UK. All 14 winning projects were able to demonstrate improved outcomes for people with RMDs, better coordination of care and reduced costs. Each entry underwent robust economic analysis, which looked at the impact of the services on clinical, financial and patient reported outcomes. Site visits were conducted involving a multidisciplinary team of clinicians, health economists and patients who assessed each site against established criteria. The winning case studies were determined by a panel of experts, including representatives from Royal Colleges, NICE and patient representatives, in addition to senior BSR members.
The winning projects have been made into case studies to not only inspire change in clinical practice, but also to have a wider influence on policy and commissioning. The case studies set out how each project developed, the challenges faced and how these were overcome, and the impact the initiative has had on people's lives. The case studies can be accessed online now and will be available to view and to take away from the BSR stand at the Rheumatology 2016 conference in Glasgow.
Autumn Conference: abstract submissions
Start submitting your abstracts online for the Autumn Conference held in Bath, 13-14 October 2016. The four topics confirmed for this year are:
Raynaud's disease – Convened by Prof Ariane Herrick
Spondyloarthropthies – Convened by Prof Walter Maksymowych
Vasculitis – Convened by David Jayne
Infection and arthritis – Convened by Prof Robert Moots
Abstract submissions close 05 June 2016.

Could you brush-up on your anatomy?
Applied musculoskeletal anatomy for injection and examination course, 23 May 2016, Keele
This course will provide hands on anatomy teaching and an opportunity to apply this knowledge in examination and injection technique. It will enable attendees to benefit from hands-on anatomy demonstration using prosections, cadavers, teaching and 3D video simulations in a state of the art world-class anatomy training facility.
Learning objectives:
Refresh knowledge of musculoskeletal anatomy with particular focus on joints of the upper and lower limb.
Use cadaver specimens to accurately learn about intra-articular injection technique.
Use anatomy demonstration as a way to improve advanced applied clinical examination technique.
 
Who should attend?
All clinicians with an interest in improving their musculoskeletal anatomy knowledge and skills. The course will be accredited by the Royal College of Physicians. Delegates will receive 6 CPD points via a CPD certificate, which will be emailed to delegates following the course.
How to apply
Visit the Education and Courses section of the BSR website.
Book by 10th April 2016 for early bird rates starting at just £99.00 + VAT
Rheumatology 2016
We're only weeks away until the Rheumatology 2016 conference in Glasgow, 26-28 April 2016. If you haven't already booked your ticket it's not too late to register online.
Our online programme planner is now live, which means you can start customising your itinerary by filtering through sessions by type or by day. To help you we have selected a few unmissable sessions:
Jewels in the Crown, Prof Jane Dacre, President of Royal College of Physicians, Tuesday 26 April 2016.
Heberden Oration, Keynote speaker Professor Iain McInnes, Director of the Institute of Infection, Immunity and Inflammation, University of Glasgow, Wednesday 27 April 2016
Droitwich Medical Trust Lecture, Keynote speaker Prof Anthony Redmond, Thursday 28 April 2016