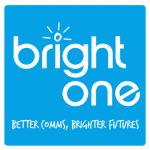 Bright One is a volunteer run communications agency for the third sector and Lynn Levy, our outgoing project co-ordinator, works as partnerships manager for this special organisation. Bright One's vision is that all charities and not for profit organisations, even the small ones, should have access to quality communications. Its team of volunteers can help with strategy, branding, digital and PR at little or no cost and unlike other agencies, all Bright One profits are reinvested to develop volunteers' skillsets.
Bright One provides opportunities in all shapes and sizes, allowing charities to be involved, regardless of capacity and budget, and focus on what they're best at: their mission.
• Bright works services bursaries – Bright One assembles teams of two to four volunteers overseen by an account manager to tackle larger scale projects in one of four areas: creative, strategy, PR and digital.
• Bright sized micro-volunteering – for smaller less labour intensive projects, e.g. if you need someone to write a press release, cast an eye over your digital strategy or someone to design a flashy banner ad. If the project takes up to four hours you can post it to our Bright Sized Micro Volunteering board.
• Bright wise capacity-building workshops – for building expertise within your organisation. A Bright One guru can lead a half or full day workshop in one of four areas: creative, strategy, PR and digital.
Please check out the Bright One website if you would like to learn more.
I wish you all the best for the future.
Kind regards, Lynn
Lynn Levy
Project Coordinator