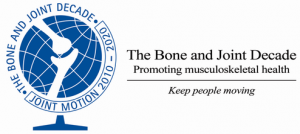 Welcome to the first e-newsletter of the Bone and Joint Decade and the first update for 2013
2012 was another year of achievement; we continued to grow our relationships with the WHO, to develop our network and to encourage and support projects that raise awareness, priority and improve musculoskeletal conditions and injuries. The World Network Conference in Vietnam gave us an opportunity to build our regional activities in South East Asia including The Philippines and South Korea. There was also publication of the Global Burden of Disease 2010 study which has identified the enormous burden of disability caused by musculoskeletal conditions in all regions of the world.
The New Year brings changes to the Decade including a brand new website which aims to be a powerful vehicle to further our goal of raising awareness for musculoskeletal conditions. We are also spreading our news via Twitter and Facebook (find out how to join us below).
We will keep you updated with all of our news every 2 months. Please enjoy reading about our activities and future plans and inform us of any activities promoting the goals of the Decade which you would like to share with others.
Best wishes,
BJD Secretariat
This year's world network conference held in Ho Chi Minh City centred on the theme of 'Working Better Together' with a focus on developing and implementing a multi-professional and multidisciplinary approach to the prevention and management of musculoskeletal conditions as well as advocacy in partnership.
Speakers from a wide variety of disciplines addressed the topic of "working better together"; the guiding principles of which were discussed and debated by delegates at an interactive workshop session.
Interaction is an important part of the culture of the Bone and Joint Decade and the interactive contribution from delegates and speakers alike was an important ingredient in the success of the conference.
To read the full report and have access to presentations given at the conference please click here
WHO Activities
| | |
| --- | --- |
| | |
| | |
Self-Care
The BJD has been invited to participate in a `Dialogue on Strengthening Self-Care of Non-communicable Diseases' to be held at the World Health Organization, Geneva, on 3rd April 2013. The WHO has just completed its first evidence based guideline on Self-Care of Major Non-communicable Diseases. They believe that well informed and organised self-care could bring many benefits to individuals, patients, families, health workers, governments and society as a whole. Self-Care is particularly important for non-communicable diseases as most of them are long-term conditions that afflict people, sometimes for a lifetime. Self-Care helps people to take responsibility for their health and wellbeing by empowering them through access to information and counselling, through imparting of skills and through appropriate policy action.
The BJD is well positioned with its multi-professional membership to take a key role in these talks and intends to develop an Expert Group in Self Care and Management. As Self-Care is also on the agenda of the European Commission to cope with the growing burden of long term conditions, the BJD will stand in good stead to respond to the next Call for Action. Models of Self-Care that evolve from our Expert Group are intended for multi-national use and will be appropriate for implementation in less developed countries around the globe.
Disability and Rehabilitation
The BJD is currently participating in an online consultation for a disability-inclusive Post-2015 Development Agenda as part of the WHO's preparatory process for the United Nations High-level Meeting on Disability and Development "The Way Forward: a disability inclusive development agenda towards 2015 and beyond". This will result in an action-oriented outcome document in support of the aims of the Convention on the Rights of Persons with Disabilities (CRPD) and the realisation of the Millennium Development Goals (MDGs). This meeting will take place on 23 September 2013 at the level of Heads of State and Government.
MSK Topic Advisory Group (TAG) for revision of ICD-10
Topic Advisory Groups (TAGs) serve as the planning and coordinating advisory body in the update and revision process of the International Classification of Disease (ICD). The primary charge of each group is to advise the WHO in all steps leading to the revision of topic sections of ICD in line with the overall revision process.
The BJD forms a major part of the TAG commissioned by the WHO to undertake a revision of the ICD-10 towards ICD-11 in the area of musculoskeletal conditions and is greatly supported by the Japanese Orthopaedic Association.
Global Burden of Disease Report
| | |
| --- | --- |
| | |
| | |
New data on the burden of musculoskeletal diseases has emerged from Global Burden of Disease 2010 Study. This new data delivers important ammunition in the fight to influence public health and decision makers.
Current results show that musculoskeletal disorders are the second greatest cause of disability globally and have increased from 4.7% in 1990 to 6.8% (global DALYs) in 2010. Low back pain is estimated to be the leading cause of disability (YLDs) in the world and is the 6th highest contributor to the global burden of disease overall (DALYs). Meanwhile, Osteoarthritis of the knee and hip are the most rapidly rising major conditions in the last 20 years.
These results are a stark demonstration of the large and continuing shift in global disease burden away from communicable to non-communicable diseases and away from premature death to years lived with disability. This rising burden from non-communicable diseases which include musculoskeletal conditions will impose new challenges on health systems.
Since its launch in 2000, the Bone and Joint Decade has worked to gain recognition for the burden of musculoskeletal conditions throughout the world. We all need to use this crucial new evidence of its enormous and growing burden to further underpin our campaign to make musculoskeletal conditions a public health priority.
The Global Burden of Disease 2012 Study is published in the Lancet please click here for more information.
If you would like to compare the data from the Global Burden of Disease and analyse the world's health levels and trends in one interactive tool please click here.
Horizon 2020 is an EU Framework Program for research and innovation, running from 2014 to 2020 with an €80 billion budget, and is part of the drive to create new growth and jobs in Europe. One of the main aims of the programme is to strengthen the EUs position in science with a dedicated budget of €24,598 million. This will provide a boost to top-level research in Europe, including an increase in funding of 77% for the European Research Council. The European Parliament Leading Committee on the Horizon 2020 programme discussed the burden of certain chronic conditions, and explicitly mentioned rheumatic and musculoskeletal conditions as an area in need of attention. This is a major development for the musculoskeletal community as MSC's will now be prioritised in the next EU Research Programme.
To read more please click here
News from the Networks

Our National Action Networks (NANs) are the core of our organisation, bringing together all stakeholders at a national level. To improve communication and support between these networks the BJD will be developing country specific NAN pages where all NAN news and information can be displayed on the website. These pages can include links to websites, contact information, latest newsletters, relevant stories and anything you feel is important as a National Action Network. This will be an on-going process and we are very happy to receive news, newsletters and any other information you would like to have displayed on your page at any time.

To catch up on the latest news from NANs around the globe please check out the following links.

Bone and Joint Canada (BJC)
Click Here


The Pakistan Society for the Rehabilitation of the Disabled (PSRD)
Click Here


Arthritis and Musculoskeletal Alliance (ARMA) UK
Click Here    


Bone and Joint Initiative USA (USBJI)
Click Here


Bone and Joint Australia
Click Here   


Bone and Joint Decade Thailand
Click Here  

NAN in focus: The Philippines

Following the World Network Conference in Ho Chi Minh, there was a meeting of the BJD National Action Network in the Philippines, with Professor Woolf to discuss how we can together gain priority for musculoskeletal health. The Philippines NAN has a broad involvement of stakeholders from orthopaedics, rheumatology, rehabilitation and patient organisations. Local initiatives were discussed, which focused on raising awareness, public knowledge, training healthcare workers, and prevention through exercise and avoiding road trauma.

Two of the programmes currently organised by this network are:

ARMS (Applied Rheumatology Made Simple) which is a learning module (lecture-workshop) for non-rheumatologists that aims to enhance efficient health care delivery for rheumatic disease patients, by promoting and strengthening partnerships and networking between the rheumatologist and primary care physician / non-rheumatologist.

Living Well which provides structured workshops for patients  (RA/ PsA / SpA/ SLE) and caregivers aims to strengthen active participation in the management of their condition and to enhance their coping mechanisms in various aspects ie physical, spiritual, psychosocial, emotional.

Opportunities for the Philippines to take an active role in some key activities of BJD Global were identified, including;

• Country Fact Sheet
• Health professional education and training, including specialist nurses as "patient coaches"
• Self-management programme
• Advocacy training
• Schools programme

We look forward to our future collaboration with this network.
BJD Global Initiative in focus
| | |
| --- | --- |
| | |
| | |
The UWEZO rheumatology training project is a collaboration between Kenya, UK and Sweden that is supported by the BJD. The project is a musculoskeletal health training initiative which aims to train expert physician and patient teams who work together in their region of Kenya to deliver musculoskeletal training to primary healthcare providers. It was funded by grants from ILAR and others.
Since the first training delivered in March 2012 the project has educated 19 trainers (10 doctors and 9 patients) who have delivered training to 411 health providers in 9 locations across Kenya.

The project has been very successful in making front-line health workers more aware of musculoskeletal conditions and their management. It has also contributed greatly to the up-skilling of an enthusiastic group of physicians and patients. For those individuals who have collaborated on the project it has been a unique opportunity to increase professional skills through the development of resourcefulness, improved teaching skills, greater awareness of working with limited resources and enhanced team skills.
With a second stream of funding just granted from ILAR the project hopes to continue the training across more regions in Kenya and expand the programme to include more specific aspects of self-management and self-care. The intention is to implement this programme into other countries where there is a severe shortage of kills in the management of MSC's.
Please visit our website for more information about our dedicated Work Programme 2012-2015
Save the Date: WNC July 11-13, Rio de Janerio, Brazil
| | |
| --- | --- |
| | |
| | |
The worldwide musculoskeletal health and science community will gather in Rio between July 11-13 for the Bone and Joint Decade World Network Conference 2013. The conference will focus on how to effectively prevent disability by prevention and treatment of musculoskeletal conditions and injuries.
• Symposium and workshops on how to improve the "trauma chain" from the point of injury to re-integration back into society.  Participants will share experiences of what are the best systems to ensure optimal outcomes for the injured person. This will be in collaboration with the WHO.
• Symposium on best practices to promote musculoskeletal health in the workplace, in partnership with Fit For Work.

• Symposium on best practices for the modern management of fragility fractures, including prevention of further fractures, in partnership with the Fragility Fracture Network of the Bone and Joint Decade.
• Summit meeting for key opinion leaders from Latin America and beyond from orthopaedics, rheumatology, rehabilitation, public health, patient organisations and others from relevant backgrounds to develop a joint action plan for advancing the agenda for musculoskeletal health in the region.

• Workshops for BJD National Action Networks to consider and agree how to work together nationally and regionally to advance the prevention and management of musculoskeletal conditions and injuries.
For more info please click here