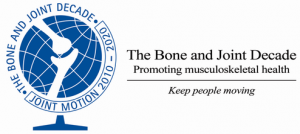 Key dates and activities during BJD Action week 12th to 20th October 2015 are:
Monday 12th October               World Arthritis Day (WAD)
'It's in your hands, take action' – EULAR PARE are asking people to take action for WAD share virtual High 5s on social media, using the hashtag #WADHigh5.
Lots of other activities are also running, see www.worldarthritisday.org for full details.
Friday 16th October                  World Spine Day
With back pain and neck pain one of the most common reasons for sick leave from work the focus of the day is helping people to maintain good spinal health and prevent workplace injuries. Take a photo of "your back at work" demonstrating a healthy spine habit and share using #spineselfie, #worldspineday.
See www.worldspineday.org for more details and download these tips on how to keep your back healthy.
Tuesday 20th October             World Osteoporosis Day  
Show your support by wearing white on World Osteoporosis Day. The National Osteoporosis Society are also running a campaign to encourage people to buy special orange laces, put them in their trainers, walking boots and shoes, and to get active in order to keep their bones healthy and strong.
Find out more at www.laceupforbones.co.uk and please share with friends, colleagues and family using the #laceupforbones. The charity are also running three free 'Tie' Chi events in Bath, Nottingham and Portsmouth which will include a flash mob of orange lace wearers.