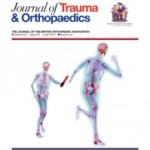 Last month, the BOA officially launched its new journal for all professionals working in trauma and orthopaedics; the Journal of Trauma and Orthopaedics (JTO). Each issue of the JTO will include a wide range of leading feature articles, latest orthopaedic and specialist news, peer reviewed instructional content and structured educational material.  Readers will also be kept up-to-date on the latest issues and challenges facing policy and practice. In addition, readers can expect information regarding guest lectures and events on topical issues.
We hope you enjoy reading our first issue and we welcome and encourage you to comment, submit articles, news pieces and peer reviewed instructional articles in future issues.   The JTO will be free of charge and available four times per year.
For further information about the JTO and an online copy of the first issue, please click here.