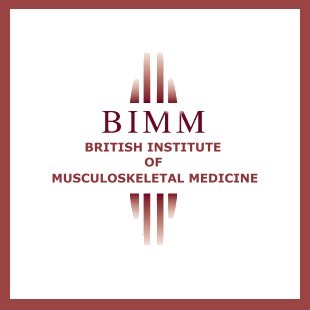 The British Institute of Musculoskeletal Medicine
Upcoming Events 2015
Module 8 – Occupational Medicine, Exercise Prescription, Integrated Approach
21st – 23rd Feb 2015
LCOM Boston Place London NW1 6QH
The last module focuses on two important issues; the obstacles to patients returning to work and the various methods of rehabilitation. Psychosocial and other factors influencing sickness absence (the 'black flags') will be explored with occupational health experts. The role of vocational counselling, functional rehabilitation and the clinician's role in liaison with all the relevant members of the team will be emphasised. This final module will concentrate on integrating all the facets of the course so that the doctor can apply a multimodal approach in management of his/her patients.
Module 5 – Ergomomics, The Upper Limb
28th Feb – 2nd Mar 2015
LCOM Boston Place London NW1 6QH
Focuses on acute and chronic disease and dysfunction affecting this region. There are three days starting with the shoulder on day 1 and progressing on to the elbow and hand and wrist on subsequent days. The teaching begins with an anatomy refresher followed by teaching methodical history taking and examination. The module as with most BIMM modules is multidisciplinary. In addition to the core teaching from the module lead and other musculoskeletal physicians included are sessions with an ergonomics expert, a physiotherapist specialising in rehabilitation and a talk from an upper limb surgeon . At the end of the module students should feel more confident at diagnosing upper limb problems, recognising which problems need referral and develop some basic treatment skills.
Monthly MSK Meeting
19th March 2015
Royal London Hospital for Integrated Medicine
BIMM Spring Symposium – Time for Reflection: Evidence Informing Practice
25th – 26th April
Hilton Hotel, Nottingham
The BIMM Spring Symposium 2015 will give us a fantastic opportunity to hear from leading international figures in the world of musculoskeletal medicine-firstly about dysfunctions and approach pertinent to the ageing population (Heiner Biedermann and Mike Hutson), and secondly on biomechanics, laterality and an exploration of the Marsman technique (Sjef Rutte). We are also inviting local experts to speak on evidence and physiotherapy and osteopathy in the NHS musculoskeletal services. The AGM will give an opportunity to be involved in the debate over the future of musculoskeletal medicine and the place of BIMM.
Diploma in Musculoskeletal Medicine – Part 1 Written
1st May 2015
St. Georges Hospital. Tooting, London
It is the intention of the Examinations Board that this qualification will indicate that a practitioner is able to manage independently patients with common musculoskeletal problems in a primary, intermediate or secondary care setting.
Diploma Revision
2nd – 3rd May 2015
LCOM Boston Place London NW1 6QH
Diploma in Musculoskeletal Medicine – Part 2 Clinical
20th May 2015
St. Georges Hospital. Tooting, London
BIMM/SOMM Combined Winter Symposium
14th November 2015
Jury's Inn Hotel, Birmingham
A new Musculoskeletal Medicine MSc established by BIMM with Loughborough University will commence this September 2015 and will soon be advertised. It is open to doctors and allied health professionals who wish to further develop their skills and knowledge to practice in MSK services around the country.
Information and booking forms available from www.bimm.org or Email info@bimm.org.uk.