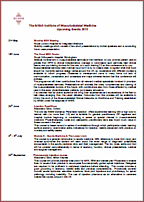 An updated calendar of events from the British Institute of Musculoskeletal Medicine.
The diary includes dates of BIMM courses: the Lumbar Transforaminal Epidural & SI Joint Course, Prolotherapy Course, and the Injection RoadShow; plus details of the Winter and Spring symposia.
It is available to download in PDF form, and you can also see the dates in the context of ARMA's Events Calendar.