The British Society for Rheumatology (BSR) has just launched its latest round of Best Practice Awards, last held in 2013. Since then, a great deal has changed across the health service, particularly in relation to services for people with rheumatic and musculoskeletal disorders.
The BSR would like to take this opportunity to recognise the achievements that have been made across the wider rheumatic and musculoskeletal community in order to meet these challenges. Partner organisations from across the sector are encouraged to apply for these awards. We can celebrate the excellence of our services, spread awareness of good practice across the wider system and influence the development of services going forward.
Awards will be made across nine categories: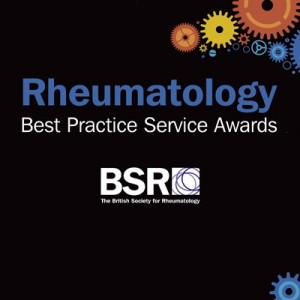 Early diagnosis and treatment
Integration
Clinical leadership
Service configuration and pathways
Use of technology
Care planning
Patient self-management and decision making
Medicines management
Innovation
All organisations or departments that deliver services to patients in the UK are eligible and applications should be submitted to Miguel Souto (msouto@rheumatology.org.uk) by 5pm, Monday 12th October. Further details, including the eligibility criteria and application form, can be found on the BSR website.