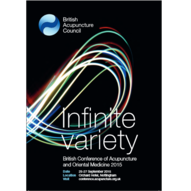 British Acupuncture Council conference: 25-27th September 2015.
Early bird booking is now open on the website and the conference brochure is available to download.
Non-practitioner members of the Governing Board
With the retirement of Lord Charles Cecil from the BAcC Governing Board, a search is now occurring for new non-practitioner members of the Governing Board. For further information, please go to the
Governing Board Member page on our website.
Feedback on Education and Training standards of the Professional Standards Authority
(PSA) Following lobbying by the BAcC, the PSA commissioned a review of education and training standard 9 for Accredited Registers. The PSA then agreed that education and training standards should be made explicit to the public and is proposing the wording is changed to make this requirement clear and to amend the assessment process.
See our consultations on the professional standards website.