Making quality the standard: 'Aspiring to Excellence' award programme targets clinicians determined to improve axial SpA (AS) care
On 1 May 2019, the National Ankylosing Spondylitis Society (NASS) will open applications for Aspiring to Excellence—an innovative new award programme designed to encourage and recognise service improvement in axial SpA (AS) patient care.
Axial spondyloarthritis (axial SpA) including ankylosing spondylitis (AS) is a painful, progressive, life-long form of inflammatory arthritis affecting 1 in 200 adults in the UK, with symptoms usually starting in late teens to early twenties. Awareness of axial SpA (AS) amongst GPs and the general public is low and, as such, the current average delay to diagnosis for axial SpA (AS) in the UK is eight and a half years, which can result in life-changing outcomes including debilitating and irreversible spinal fusion.
Aspiring to Excellence is a partnership between NASS, AbbVie, BRITSpA, Novartis and UCB, aimed at ensuring that 'every patient, every time' receives high quality, patient-centred axial SpA (AS) care in accordance with the NICE Guideline for Spondyloarthritis (2017) and Quality Standard (2018).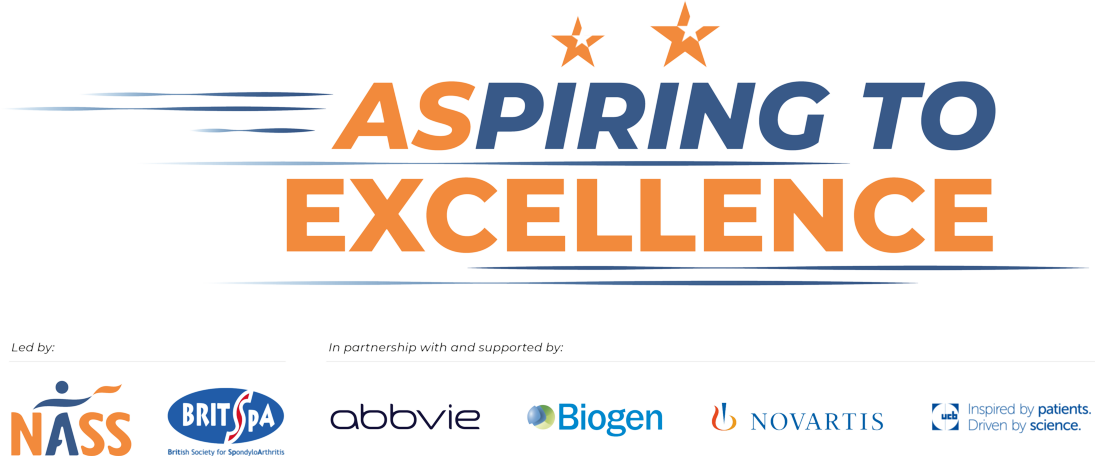 "We are immensely proud to partner with these organisations, each applying a unique set of insights and perspectives towards a shared vision of enduring, system-wide improvements," said NASS CEO Dr Dale Webb.
"Aspiring to Excellence will support those rheumatology services across the UK which are aiming high to achieve excellent axial SpA care provision. It will support them to identify that which they are doing well, and will use a collaborative approach to develop and disseminate knowledge so that others are able to improve in tandem."
Services will be selected for participation through a competitive award process, and move on to work together in a national network with an 'all teach, all learn' methodology. They will explore and test approaches to axial SpA service provision, seeking to reduce the delay to diagnosis. The knowledge generated will be shared in real-time both across the UK and internationally to help stimulate across-the-board improvements in care and patient experience.
"Strategic innovations that lead to new systems and structures which deliver sustainable high performance will be key to the long-term impact of Aspiring to Excellence," said programme manager Anna McGilvray.
Awards will be announced in London on 16 November, after which the network will meet four times a year over three years. Applicants interested in participating in Aspiring to Excellence are invited to attend the launch evening on 1 May 2019 from 5:45 – 6:45 pm, in Hall 7 at the British Society for Rheumatology Conference. Please also visit NASS during the conference at stand 3-5, and visit the NASS website to learn more.