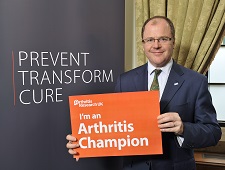 Arthritis Research UK held their first parliamentary reception of the new Parliament on 10th June 2015. Over 60 MPs showed their support for people living with arthritis by agreeing to be Arthritis Champions. This is the most MPs we have ever had at one of our parliamentary events.
MPs from across the UK and from all major parties came along to pledge their support to prevent and cure arthritis, and transform the services available to people with musculoskeletal conditions. The reception was hosted by Huw Irranca-Davies, MP for Ogmore in South Wales, who became our first Arthritis Champion back in October. Huw was diagnosed with Ankylosing Spondylitis years ago and he spoke about his experiences of living with a musculoskeletal condition and the importance of championing the cause.
One of the most poignant first-hand experiences came from Tasmin McCulloch, 40, mum-of-two who lives with the daily pain of osteoarthritis. She was only 18 when she first started to have symptoms in her hip. She now has osteoarthritis in both hips and her toes and is expected to have a hip replacement in the near future.
Ben Howlett, a new MP, spoke about the importance of giving a voice to people with arthritis, and his direct family experience of rheumatoid arthritis.
Thank you to all the ARMA members who came to support the event. For more information, please contact Michael Watson.