The Prime Minister has joined the fight against arthritis.
PM David Cameron has become the latest prospective MP to commit to fighting for the prevention and cure of arthritis, whilst transforming the lives of people with the condition. This means the Prime Minister is now one of over 415 Arthritis Champions to agree to support our manifesto and work with us to fight for people with arthritis.
Both Labour and Liberal Democrat Leaders, Ed Miliband and Nick Clegg, have also declared their support for our manifesto – you can read the comments from all of the party leaders here.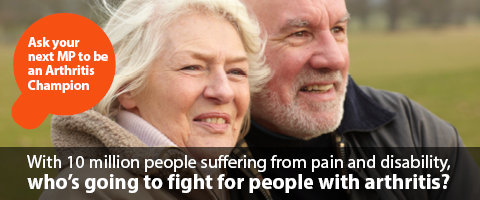 Is your next MP a champion?
Don't forget, you can check if your own parliamentary candidates are Arthritis Champions by checking our list.
Don't see your candidates? Email them now using our online tool at arthritisresearchuk.org/voice – it takes just two minutes!
Contact Jon Havens via 020 7307 2226 or j.havens@arthritisresearchuk.org for more information about the Arthritis Champion campaign.