There is a new online survey designed to research the determinants and prevalence of dietary supplement use in people with arthritis.
Sales of dietary supplements for joint health are worth around £250million a year and are the most popular types of supplements (Euromonitor) but very little is known about who takes them and why. The study will look at what supplements people with arthritis take, why and whether they are getting the information they need about them to make safe and beneficial choices.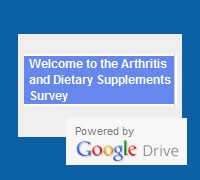 To take part in the online questionnaire, please follow the link below:
https://sites.google.com/site/arthritisandsupplementssurvey/
Kate Lawson was diagnosed with psoriatic arthritis at the age of 26 after over 7 years of unexplained joint problems and operations. After almost a decade working for the Department of Health, she is retraining as a clinical nutritionist and conducting research to try to understand more about dietary supplement use by people with arthritis. The survey forms part of her MSc in Clinical Nutrition.
You can email any questions about the study to arthritissupplementsurvey@gmail.com