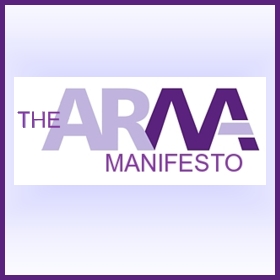 The Arthritis and Musculoskeletal Alliance (ARMA) is the umbrella body for the arthritis and musculoskeletal community in the UK.
Arthritis and musculoskeletal disorders (MSDs) are disorders of the joints, bones and muscles, including back pain, as well as rarer autoimmune diseases.
We have 40 member organisations, ranging from specialised support groups for rare diseases to major research charities and national professional bodies.

VISION
ARMA's vision is of an effective, unified musculoskeletal community working together to improve the lives of people with musculoskeletal disorders (MSDs).

MISSION
ARMA strives to transform the quality of life of people with musculoskeletal disorders. This is achieved by shaping policy and best practice in partnership with its member organisations.
 
What is the problem?
Musculoskeletal disorders:
•    Affect over 10 million people in the UK. Each year 20% of the general population consult a GP about a musculoskeletal disorder1
•    Are the fourth largest area of spending in the NHS (accounting for £5.06 billion in 2011/12)2
•    Are a major cause of disability and time off work, accounting for around 7.6 million working days lost each year3,
     and the biggest cause of physical disability
•    Are associated with a large number of co-morbidities, including depression and obesity
•    Have an enormous impact on the quality of life of millions of people
As the population ages, the burden of MSDs is set to increase. Yet MSDs have been chronically under-prioritised in the NHS.
Key problems:
•    Inadequate training on musculoskeletal disorders (MSDs) in primary care
•    Insufficient awareness of MSDs and how to deal with them, by GPs as well as the public
•    Delayed diagnosis and referral for specialist treatment
•    Ill-defined patient pathways
•    Insufficient joined-up working
•    Insufficiently personalised care
•    Significant and persistent unexplained variation in service provision.4
What do we need?

1.   MSDs to be recognised as a health priority
•    Relevant and robust strategies / frameworks / directives in each nation governing musculoskeletal services, with strategic direction and impetus behind them, and duly implemented across the health service.
•    Indicators, guidelines and incentives as required to ensure the highest possible standards of care for people with MSDs.
2.  Care that meets the needs of people with MSDs
•   Early diagnosis and prompt intervention
Early diagnosis and access to specialist treatment is crucial for inflammatory forms of arthritis to avoid lifelong consequences
•    Holistic, person-centred care
MSDs affect people in many different ways, which is why a personalised, broad-based approach is important. In particular it should include:

Self-management: most MSDs can be effectively managed in primary care, and all people with MSDs will benefit from information and support to self-manage and remain independent.
Shared decision-making and patient involvement: ensuring that NHS resources are used intelligently to deliver the care that people need, and no less, and the care they want, and no more.
Care planning: MSDs are long-term conditions requiring a long-term approach centred around each person's needs.
•    Joined-up care and integrated pathways
People with MSDs often require care from various sources (primary, secondary, AHP, social care…): these need to work together and communicate between them to avoid fragmentation and deliver optimal patient experience and outcomes.
3.   Access to the right care, in the right place, at the right time
• An adequate drugs regime which facilitates access to the best available drugs
• Good local commissioning based on adequate local strategies and needs assessments, capable of delivering high-quality services which people with MSDs need and value.
4.   People with MSDs to be able to live a healthy, independent and fulfilling life
•   Work Support to remain in or return to work
Work is an important part of a person's life and important to remaining independent, and should be viewed as a health outcome. Employers and health professionals should be familiar with and implement ARMA's Work Charter.
•    Welfare Support
Many people with MSDs rely greatly on welfare support. Changes to disability benefits must not result in people with MSDs being forced into work or becoming destitute.
•    Social care
Many people with MSDs are older people and many have significant social care requirements. Their social care must be joined-up to their health care, and social care must be equitably funded and delivered.
MSDs embody the need to make healthcare more integrated and patient-centred, and to "do more for less".
This is where the big wins are. MSDs therefore need to be a priority for improving health across the board.
Please share this page and these ideas. To save a copy of this Manifesto document, right-click here.
Notes:
1 Department of Health, The Musculoskeletal Services Framework, July 2006; and Arthritis Research UK National Primary Care Centre, Keele University, Musculoskeletal Matters,  October 2009
2 Department of Health, Programme Budgeting Data, 2011/12
3 Health and Safety Executive. Annual Statistics Report 2010/11
4 ARMA, Joint Working?, June 2009; and Joint Delivery?, April 2012