ARMA Lecture: Dame Carol Black
Musculoskeletal conditions, disability and employment
Mon 29 January 2018
Royal College of Obstetricians and Gynaecologists, London
Musculoskeletal conditions cause physical and mental distress and disability.
They often distance sufferers from the labour market with associated financial consequences; they narrow social interactions; and they reduce individual wellbeing. This should not be so.
Carol Black, having worked for more than ten years in this area, first as National Director for Health and Work and then as adviser to DH, PHE and NHSE, has reviewed the progress to date by government, health professionals and employers. Carol considers the recent Government paper "Improving Lives: the future of work, health and disability", and the other actions, tools and guidance needed to make progress.
Access Dame Carol's slide presentation, Musculoskeletal conditions, disability and employment, here in PDF.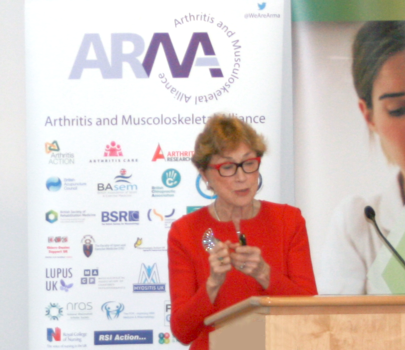 Previous ARMA Speakers
See videos, follow slide presentations and hear audio from previous keynote lecture speakers: