ARMA calls for action on
World Arthritis Day 2012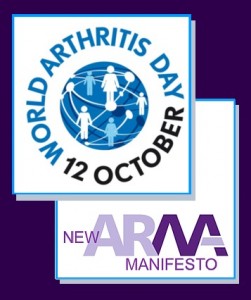 ARMA is pleased to announce the launch of our new Manifesto for transforming the quality of life of people with musculoskeletal disorders in the UK.
With an ageing population, a growing emphasis on public health and prevention and an increasing need for health services to deliver cost-effective care, there has never been a more important time to campaign for the recognition of musculoskeletal disorders (MSDs) as a health priority and to work for healthcare becoming truly patient-centred and integrated.
Informed by the extensive experience and expertise of our 40 member organisations, ARMA is uniquely placed to speak on behalf of the musculoskeletal community.
ARMA is calling for improvements in care to meet the needs of people with MSDs, access to the right care, in the right place, at the right time and support to enable people with MSDs to live healthy independent, fulfilling lives.
Our message is simple: MSDs embody the need to make healthcare more integrated and patient-centred, and to "do more for less". This is where the big wins are. MSDs therefore need to be a priority for improving health across the board.
You can read our full Manifesto here, or download it in PDF format to read later.