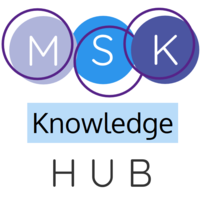 The Musculoskeletal Knowledge Hub, set up by the Arthritis and Musculoskeletal Alliance and NHS England, is designed to improve MSK services by channeling valuable information and experience to the right people. The MSK hub, launched at the end of April, includes:
An online, multi-professional, searchable resource library for people working to support people with musculoskeletal conditions e.g. guidelines, reports, pathways, benefits calculators/cost calculators
An MSK forum bringing together experts, experience and knowledge to share views and best practice. Forums are topic related or geographic allowing national or local collaboration.
This is a shared resource for everyone working on any aspect of MSK. The Hub widens the ability of the MSK community to collaborate and share knowledge.
PHASE ONE – HAVE YOU ADDED YOUR RESOURCES?
The first phase of the project is adding to the resources online. Public Health England, Arthritis Research UK, Arthritis Action, the Chartered Society of Physiotherapy are just some of the organisations that added content to the site, and resources are growing. Have you added your reports and guidelines?
The MSK Hub works best as a living, online resource and forum for musculoskeletal conditions.
You can add search the hub or add resources by signing up on the hub at mskhub.org.uk.
ARMA and NHS England invite you to upload your MSK documents to the new MSK Knowledge Hub
If you have musculoskeletal-related articles or documents you'd like to share – and they meet our criteria – please register with the Knowledge Hub on http://mskhub.org.uk and then use the 'Submit a Resource' button.
Registering enables you to be part of the MSK forum.
To search or to register, visit mskhub.org.uk today.