Stephen Tatton from ARMA Stoke Local Network Group writes: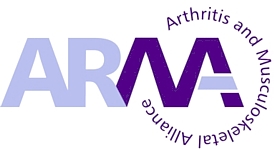 After attending the ARMA local groups meeting at Birmingham I travelled home with a feeling that 2013 will be a year of forward momentum, not only for us at Stoke, but for the network  as a whole. I was looking forward to delivering the good news to our members, during our first meeting of the new year, only to be thwarted by the bad weather which made it impractical to meet, and we therefore had to cancel.
My feelings for a good year were reinforced last week when I received the good news, a project that we have been working on for the last 5 years had been given the go ahead by The Haywood Hospital here at Stoke. Why this particular hospital? It is not only the hospital where we hold our meetings, but it is also the main musculoskeletal centre in the North Staffs region, and our project is designed to help both the hospital staff and patients. Details, as yet, are still a little "sketchy" but I shall post more when things become clearer.
The new year has started well for us and I hope that it can continue this way, not only for us but for the whole of the network. So may I wish you all a happy and productive new year.