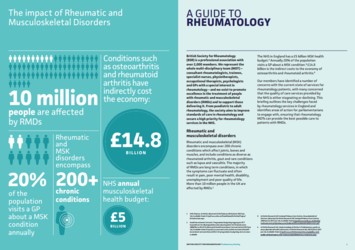 In late September, BSR are releasing 'A Guide to Rheumatology: Parliamentary briefing,' which seeks to address the challenges and opportunities faced by the rheumatology multidisciplinary team and identify ways to improve the treatment and care received by individuals with rheumatic and musculoskeletal diseases. It highlights the significant difficulties experienced by rheumatology services and the patients they serve: 
Waiting times:

 38% of patients in England with suspected rheumatoid arthritis were assessed within three weeks of referral.

Diagnostic delay:

 Only 18% of patients in England were referred to rheumatology within the NICE recommended three days of presentation to their GP.

Workforce:

 In England, there are 0.84 consultant rheumatologists per 100,000 of the population, which is below the Royal College of Physicians recommendations of 1.09.
You can access the document via the BSR Briefings page.
The briefing also highlights a range of recommendations to improve treatment for rheumatology patients – among them, adherence to NICE Guidelines and Quality Standards and best practice as a target for performance, increasing the requirement of the rheumatology MDT, and reviewing collaboration between GPs and rheumatology services.
Also look out for BSR's Northern Ireland report, due to be published on the 12th October.