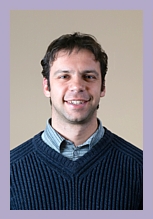 I'm writing this update on my first day back in the office after some time off, in a month that has included an unusual amount of travel. For anyone looking for a quiet, remote and beautiful place to go to recharge the batteries, there is no better place than Lindisfarne.
Early this month I attended the annual World Summit of the Global Alliance for Musculoskeletal Health (acronym in development) in Oslo, where we considered, among other things, the new WHO report on Ageing and Health. The report's messages underline what is an increasingly familiar reality around the importance of maintaining independence into later life, not just in terms of financial independence and employment, but socially and in people's own homes. Clearly, good musculoskeletal health is an enormous part of healthy ageing, and this is increasingly being recognised at international as well as national level. As Prof. Tony Woolf highlights in his blog below, however, it is down to us as an MSK community to pick up the baton and really make the case practically and emphatically for MSK to genuinely be considered the healthcare priority it needs to be, by international organisations like the WHO as well as national governments. Public Health England's Nuzhat Ali also gave a very thoughtful and well-received presentation at the summit.
The following week I was in Brussels for a EULAR conference on cross-border care which was instructive if not entirely conclusive, partly due to the scale and complexity of the issue, particularly at a time when many EU member states are more keen to reinforce national borders than relax them (though this European comparative tool is very much worth a look at). One of the key messages which I took away was that achieving improved patient outcomes through a multidisciplinary approach is key; but that there are many ways to achieve this, of which improved professional mobility and increased access to healthcare abroad is but one, and not even all the time.
These themes were also reflected at later meetings that month, notably a very stimulating roundtable meeting on MSK and multimorbidity organised by Arthritis Research UK; a Parliamentary reception of the Fit for Work Coalition which, among other things, launched a new care coordinating tool; and the second meeting which our Chair and I had with Martin McShane and his team as part of ARMA's new partnership with NHS England, which focused on ARMA's MSK clinical networks project and the changing external landscape. One of the key points that were made at this last meeting was that lack of communication and trust is one of if not the biggest problem at local level – but that networks can help overcome this, in that they can help deliver a "whole system" focus by joining up secondary care, primary care and patient voice nationally and locally. While on one hand there are many real challenges out there – many of which we have little control over – the fact that we are able today to discuss and to work closely with NHS England to deliver a shared vision for person-centred care demonstrates that ARMA and MSK have made big strides since 3 years ago, when we were still calling for an MSK National Clinical Director - though there is clearly no room for complacency, and again, now is the time for us to pick up the baton and run with it.
Following the launch of the MSK Knowledge Network in September, we have set up a Yammer group for participants to begin talking to each other and share experiences and achievements, ahead of the seminar which we are organising with NHS England in January. Also available are all the presentations from the Knowledge Network launch meeting.
Finally, MSK health and work has been a big issue for a long time, and in this past month alone I have noticed more interest and activity around this than perhaps in any other month over the past 6 years, including the publication of a significant report on the government's Work Programme by the Work & Pensions Select Committee. It's certainly a long-standing priority issue for ARMA beyond the health arena, and we are supporting a meeting alongside the Work Foundation and Public Health England on MSK health in the workplace later this month, with a focus on practical steps which employers and policy-makers can (and need to) take.
It is important to distinguish, in any case, between supporting people with MSK disorders to return or remain in work on one hand, and simply keeping people in work for longer on the other. Our aim is to extend healthy and productive lives, not making it harder for people to retire. There is nothing wrong with retirement. What's wrong, and rectifiable, is that people who can and wish to work are unable to do so. The extension of retirement age may therefore be inevitable but it is not necessarily synonymous with greater productivity, prosperity or indeed happiness, nor is the argument purely an economic one: in fact it is, or should be, mainly about quality of life. In this respect, you could argue that being able to retire and enjoy a certain standard of living doing the things you want to do, having worked and paid into a pension pot all your life, is not only a legitimate aspiration but an important part of an individual's overall quality of life – indeed, you could say it's as much a human right as the right to work. And you could make a similar argument about the increasingly sophisticated and central role that technology plays in healthcare for an ageing population: there is a risk of "mission creep" when enthusiasm for something turns into zeal and starts to obscure the original purpose of it, particularly when we start to lose sight of the human being who is meant to be the centre of the system.
On the issue of work as on that of healthcare and of technology, we need to keep the focus firmly on the person - each of whom has their own wishes, preferences, aspirations and desires - and we need view the system from their perspective, lest we end up "honouring the servant at the expense of the gift", to borrow an expression from Ian McGilchrist. …All of which goes to reaffirm the importance of a person-centred approach in the very broadest sense.
"We are all faced with a series of great opportunities brilliantly disguised as impossible situations."
by Professor Anthony Woolf, Chair of ARMA and Chair of the Bone and Joint Decade: A Global Alliance for Musculoskeletal Health
Musculoskeletal conditions continue to be the greatest cause of disability in the UK according to the Global Burden of Disease study , accounting for 30%. Low back pain is the greatest specific cause of disability and osteoarthritis is increasing with ageing of the population and increasing obesity. We, the MSK community, have always known the impact these problems have on people and society but now policy makers cannot escape from the facts and have to come up with policies to prevent and manage them more effectively.
The drivers for political action are not just numbers of years lived with disability due to MSK conditions but the economic impact this has due to loss of work and independence. People are living longer and need to be able to work into older ages and maintain their independence. But with ageing physical function declines and people collect long-term conditions like children collected postage stamps. Society cannot afford to look after them.
It needs to be recognised that musculoskeletal health is essential to general health and well-being and more invested in maintaining it. Promoting physical activity and ideal body weight is important but the gain for musculoskeletal health needs to be more transparent – people think it the main danger from obesity is diabetes but the risk of OA is just as great. We need other solutions to offer the policy makers to reduce the future burden. We know a lot of the "whats", like early diagnosis of inflammatory arthritis, but we need more examples of the "how" to demonstrate how it can be achieved in a cost-effective way.
We also have to work as an MSK community as no individual person or group can deal with the spectrum of MSK conditions and deliver the integrated care many need. The burden of disease data along with the current political context gives us a great opportunity to present ourselves as a community with solutions to offer – at last policy makers are asking for this and we have to meet the need.
Findings of the Global Burden of Disease Study 2010, from the Lancet.
More about the Bone and Joint Decade, including recent posts.

Members' News and
Resources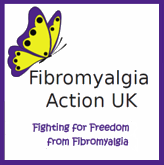 Pam Stewart wins International Distinguished Services Award
Fibromyalgia Action UK (FMA UK) has the pleasure of announcing that Pam Stewart, Trustee and a former long-standing Chair of the charity, has received an international Distinguished Services Award from the Bone and Joint Decade, a Global Alliance for Musculoskeletal Health. This is an international Alliance of organisations working in the musculoskeletal conditions field.
Pam received the Award "for promoting the goals of the Bone and Joint Decade and in recognition of distinguished professional excellence and service to colleagues and people affected by musculoskeletal disorders." Everyone at FMA UK would like to congratulate Pam wholeheartedly; she deserves the award for her outstanding contribution, commitment and achievements in raising awareness about fibromyalgia, and for her advocacy work in the UK and in Europe.
Pam has been working tirelessly, raising awareness in this field for two decades. She has been Chair of FMA UK for over 10 years. Pam stepped down as Chair in July 2015 and has remained an active board member. Prior to her role as chair she was helping the previous chair Bob Stewart, her husband. The passing of her husband, who suffered from fibromyalgia, was a catalyst for Pam to champion the cause nationally and internationally.
Pam has also been a member of the board of European Network of Fibromyalgia Associations for many years, serving in a volunteer capacity first as a Secretary, then as Chair. She recently stepped down from the Chair role and remains an active Board member.
The Board of FMA UK would like to add their thanks to Pam, to honour her achievements, and would like to reaffirm the will to continue Pam's work to fight for better care and better lives of people living with fibromyalgia.
Pam Stewart said: "It is a great honour to be recognised as having an impact on the awareness of Musculoskeletal Diseases and Fibromyalgia in particular. I could not do this without the support of the trustees and all the other volunteers who make FMA UK a successful organisation.
"Of course the award does not mean we can be complacent; there is still a long way to go before we have the treatment for fibromyalgia that is needed. I certainly will not be giving up and I know everyone involved with FMA UK is determined that things will get better for everyone with FM and therefore all those around them."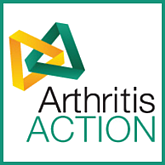 A world where people can live active lives, free from arthritis pain
by Dr Wendy Holden, Consultant Rheumatologist
Around one in seven people in the UK currently live with arthritis. This figure is expected to rise to one in four by 2030 . It is the leading cause of pain and disability, costing the NHS a staggering £5 billion a year . One in five of us consult their GP about a musculoskeletal problem like arthritis each year, that's more than 100,000 consultations for arthritis every day.
Around 15,000 children and young people live with the condition . Crucially, arthritis also impacts work performance: almost 31 million working days were lost in 2013 due to sickness absence caused by a musculoskeletal condition .
A fortnight ago, we marked National Arthritis Week (12 – 18 October), a critical moment in the history of the condition, which, I hope, will help to focus policymakers' attention on the plight of millions lacking mobility and experiencing pain as a result.
National Arthritis Week is an initiative of Arthritis Research UK , which aims to raise awareness of the burden of arthritis and other musculoskeletal conditions amongst the healthcare community and the impact that it has on people living with the condition.
Across the sector, eminent doctors and health professionals have been calling for musculoskeletal conditions to be seen as a priority for many years. Arthritis Action is adding its voice to those calls.
Whilst a great deal of research goes into the prevalence, treatment and diagnosis of arthritis, it is important to highlight the significant role of self-management in coping with arthritis.
To mark our launch in June, Arthritis Action published new research, showing that people with arthritis feel isolated, scared about the future and don't want to ask family, friends or doctors for help .
The researchers surveyed 777 people living with arthritis (both osteoarthritis and inflammatory arthritis) and held in-depth interviews with GPs and senior public health professionals. Interestingly, around half of our survey respondents felt that they needed to take charge of self-managing their condition because the NHS is over-stretched.
The research also revealed that the care pathway for osteoarthritis is particularly limited. The main gaps are in physical therapies and pain-clinics; with long waiting times often meaning that the patient does not receive the required treatment during a flare-up in their condition.
There is increasing recognition by GPs that mental wellbeing and preventing social isolation is an important part of patients' management of arthritis, but counselling, therapy and social support services are lacking and need to be better integrated with medical care.
Furthermore, GPs acknowledge that much of osteoarthritis management relies on patients' self-management of their condition, which only reinforces the very reason Arthritis Action was born: to help people with arthritis better manage their condition and endure less pain.
My message to the healthcare community is to be brave and bold in this period of publicity. It is time for policymakers at all levels to pull their heads from the sand and address arthritis as a priority.
It is time for a step change in the way we view arthritis, time to give people living in pain a voice, and importantly, time to listen to what they have to say.
Dr Wendy Holden is a Consultant Rheumatologist at North Hampshire Hospitals NHS Foundation Trust and UK Charity Arthritis Action's Medical Advisor.
Nobel Prize for Chinese Medicine researcher
The BAcC sends its congratulations to Youyou Tu, who has won the Nobel Prize for medicine for discovering the naturally-based compound artemisinin while studying Traditional Chinese Medicine.


Artemisinin has since been an active ingredient in global malaria treatment. Youyou Tu is Chief Professor at the China Academy of Traditional Chinese Medicine.
See the nobel prize website for more.
BAcC Upcoming Events:
Acupuncture Research Resource Centre Symposium – 19th March 2016 – Kings College London
British Conference for Acupuncture and Oriental Medicine – 23-5 September 2016, Reading
Chiropractic Competencies & Skills
The Royal College of Chiropractors' Health Policy Unit has recently published a document outlining the skills and competencies of chiropractors in the management of low back and radicular pain.
Download the PDF from the RCC website.
Similar documents addressing other musculoskeletal conditions are under development, as are CPD opportunities to help chiropractors further develop their competencies and skills in key areas.
2016 AGM & Conference
Speakers at the RCC's forthcoming AGM & Conference include Professor Charles Greenough, Chair of the multidisciplinary working group that developed the 'Pathfinder' pathway of care for low back and radicular pain. The event takes place in London on Wednesday 27th January 2016.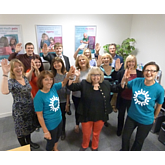 NRAS - World Arthritis Day 2015
& Rheum2Talk
Monday 12th October was World Arthritis Day and NRAS Founder and CEO, Ailsa Bosworth, had a very busy day as she was interviewed on 21 different radio stations' day time programmes, reaching over 6 million listeners across the UK. Raising awareness of RA and JIA is vitally important and it will continue to be at the core of NRAS's work. The podcast of the most in depth interview will shortly be available to listen to on the NRAS website.
As you can see from the picture, the NRAS team also took part in the #WADHigh5 campaign on social media! Click the photo to see it full size.
World Arthritis Day was also the launch of the 'Eye Witness Report', celebrating the huge advancement in rheumatoid arthritis care and treatment over the last 20 years.
It reveals real-life experiences of patients, doctors, nurses and NRAS founder and NRAS Chief Executive Ailsa Bosworth.
The Eyewitness Report has been authored by Nigel Hawkes, independent science and health journalist, and urges patients, public, and the profession to unite to ensure that today's achievements provide a springboard for further success in the future. You can download the report from the NRAS website.


Rheum2Talk
Free training day for rheumatology nurses, physiotherapists, OTs and other allied health professionals.
The publication of the NRAS booklet on the impact of RA on patients' emotions, relationships and sexuality, followed by our recent one day training day in Manchester, have both been a great success.
This innovative and interactive workshop is designed to enhance the understanding of the emotional and sexual needs of RA patients.
NRAS is now delighted to be holding our second FREE 'Rheum2Talk' training day in Oxford on Thursday 10th December 2015.
When and where:
Thursday 10th December 2015
9:00am - 4:30pm
Oxford Campus (venue to be confirmed)
Lunch and refreshments provided
For further information and to register your place for this free training event, please contact Nicky Freemantle on 01628 823524 or email nicola@nras.org.uk.
New publication from the College of Occupational Therapists for rheumatological conditions
The College of Occupational Therapists (2015) has published the Hand and wrist orthoses for adults with rheumatological conditions: practice guideline for occupational therapists. The publication, although written for occupational therapists, will be relevant to physiotherapists, hand therapists, orthotists and others who prescribe or use orthoses.
The guideline covers the treatment of adults who may benefit from a hand or wrist orthosis as an intervention for a rheumatological condition. It provides specific evidence-based recommendations which describe the most appropriate care or action to be taken. The recommendations are intended to be used alongside the therapist's clinical expertise and aims to support their decision-making and clinical reasoning with respect to the prescription of orthoses. The guideline was developed following a process accredited by the National Institute for Health and Care Excellence (NICE) and covers three key areas: rheumatoid arthritis: orthoses for activity and rest; osteoarthritis: base of thumb orthoses and optimising service user outcomes.
Alongside the guideline a Quick Reference Guide is available with other implementation tools. The College of Occupational Therapists (2015) Hand and wrist orthoses for adults with rheumatological conditions: practice guideline for occupational therapists is available from the COT website.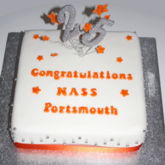 Congratulations NASS Portsmouth on 25 years of happy exercising
NASS Portsmouth threw a big celebration event at the Mary Rose Museum in Portsmouth Historic Dockyard to mark their 25th anniversary.
NASS Portsmouth has 40 regular members attending their weekly physiotherapy and hydrotherapy sessions. Lead by chairman Roger Stevens, a co-convenor of the Portsmouth ARMA network, the members are a friendly, caring group who enjoy holding regular social events throughout the year. The branch works closely with, and is supported by, the rheumatology and physiotherapy departments at Queen Alexandra Hospital under Portsmouth Hospitals NHS Trust.
More than a hundred people attended the party, including branch members past and present, staff from Queen Alexandra Rheumatology department and physiotherapists and hydrotherapy team members. NASS Chairman Raj Mahapatra attended, along with NASS Chief Executive Debbie Cook and members of the NASS Team.
A special cake was baked by Sally Barber (Photo attached) and presentations were made to people who have supported the branch in the past and the present.
Roger Stevens announced several pieces of good news:
• That the branch had just been given £500 by the Hampshire and Isle of Wight Community Fund to help people with Ankylosing Spondylitis to join who could not afford the monthly subs;
• That the SSE power company had kindly just donated £250 to the branch in recognition of the branch's fund-raising efforts;
and
• That two ladies from Bedhampton Parish - Tracey Smith and Leeanne Barber - had just run the Richmond Half Marathon and raised over £1,200 for NASS – of which 35% would be coming to the branch.
The Mary Rose Museum was a fantastic and unique venue and a great time was had by all.
Queen Alexandra Portsmouth win a Shine Award from NHS (Health Education Wessex)
Congratulations to the team at Queen Alexandra Hospital in Portsmouth whose 'Partnership Working to deliver Clinical Practice Event - Ankylosing Spondylitis' – supported by the National Ankylosing Spondylitis Society (NASS) charity - has been highly commended In the Chair's Award in this year's Shine Awards.
The Shine Awards recognise excellence in education and training in the NHS and the Chairman's Award is for someone who is doing something that catches the eye. The initiative was particularly praised for its patient centred approach and the involvement of NASS.
The clinical practice event seeks to educate and train multi-disciplinary teams in the best care for people with ankylosing spondylitis and also allows an opportunity to network for those involved in the teams.
The ceremony took place on Thursday 15 October in Southampton and the team was represented by Roger Stevens, NASS Trustee, Claire Jeffries, Physiotherapy Manager and Clinical Specialist in Hydrotherapy and Rheumatology, Colin Beevor, Rheumatology Matron, and Dr Steven Young Min the Clinical Director of Rheumatology at Queen Alexandra Hospital. Claire and Roger are co-convenors of the Portsmouth ARMA network.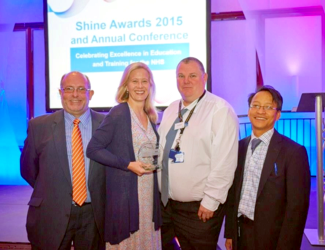 Portsmouth's AS Clinical Practice event & Multidisciplinary Team
The Multidisciplinary Health Care Team is a valued and integral member of the patient care pathway for those living with Ankylosing Spondylitis (AS). The team needs to be supported to develop the knowledge and skills required to deliver competent and compassionate AS patient-centred care across all sectors of care.
Portsmouth Hospitals' "AS Clinical Practice event" has now been running for 5 years and has delivered the programme to over 120 health care professionals from the local region and is now attracting national interest.
The AS Clinical Practice programme is delivered in partnership working across primary, secondary health care organisation and with close working partnership with the National Ankylosing Spondylitis Society (NASS) patient organisation. Funding for the programme is received from a non-conditional educational grant from Abbvie Pharmaceuticals.
Throughout the two days of the Portsmouth Hospitals NHS Trust Clinical Practice Event delegates are provided with up-to-date evidence-based clinical lectures and practical based learning sessions. The programme ensures that the patient is at the centre of the learning outcomes, and accordingly representatives from the local NASS support group and management team support the programme delivery.
The programme also:-
• explores innovations and emerging concepts of "best practice" management of AS through patient pathways of cross sector working.
• enables delegates have the opportunity to engage and network with each other share successes and lessons learned about their own local experience of service delivery.
• enables attendees to have an insight from representatives across the continuum of the patient pathway and learn how they play a role in shaping the patients experience and clinical outcomes through on-going collaboration working.
• explores barriers to innovation and new service delivery and offering to share resources from the Portsmouth AS Patient pathway to enable the delegates to change own pathway with new ideas, and models.
The Clinical Practice Event has been such a success that the team now use the model to deliver a Rheumatoid Arthritis and Psoriatic Arthritis clinical practice event.
Partnership Working to deliver Clinical Practice event – Ankylosing Spondylitis:
Claire Jeffries, Solent NHS Trust; Colin Beevor, Matron and Service Manager, Portsmouth Hospital NHS Trust; Roger Stevens; Roneleeh Bungue Tuble; Steven Young Min; Debbie Cook, NASS.

More on Ankylosing Spondylitis
AS is an inflammatory condition that affects the joints in the spine. This reduces the flexibility of patient and causes new bone to grow at the sides of the vertebrae which leads fusion of the spine; after around 10 years of active disease the inflammation causes the neck and back to become rigid and inflexible.
Studies suggest AS can develop at any time (peak onset 15-35); AS has equal occurrence between men and women; and AS may affect between 2-5 adults per 1,000 in a population.
AS is associated to other long term multi-system diseases and complications e.g. uveitis, osteoporosis, spinal fractures, cardiovascular/gastrointestinal disease, physical disability, depression, skin conditions and cancer. It is also acknowledged that many patients will lose their jobs early on into the disease process because of associated diseases and co-morbidities.
It is estimated that 70-90% of people will remain independent if they have access to update treatment and are supported through self-management programmes.
There is no cure for ankylosing spondylitis, however there are now new treatments for managing AS and the associated comorbidities requiring a multidisciplinary care team approach to care.

PCRS annual conference details: programme and form
The Primary Care Rheumatology Society has released a provisional programme for their forthcoming annual conference in York. For the first time, activities include a joint injection workshop with a focus on upper limb anatomy, which will take place with the assistance and facilites of York Medical School.
These are some of the workshops on offer, depending on numbers:

• Injection Special Session (incurs additional cost of £50)
• Biosimilars
• Concepts of Pain
• Patients Viewpoint
• Osteoporosis and Vitamin D
• Physical Activity: Benefits in Public Health
• Rehabilitation after Arthroplasty
• Health and Well-being in the Elderly, Minimising disability
• Lumbar Spine
• Treatment pathways for the foot and ankle
- an active discussion with optional practical element
• Shoulder
• Connective Tissue Clinical Assessment
• PMR and Gout Case Studies
The programme and Attendance Application Form is available in two formats, PDF and Word document to fill in and return.
New LUPUS UK website
On Tuesday October 15th 2015 LUPUS UK launched its re-brand and a brand new website. The new website is optimised for mobile and tablet devices and features a more streamlined and modern appearance. For the first time, all of LUPUS UK's publications are available to download in digital format from one easy to find location.
The website has received a lot of positive feedback since it went live and is welcoming significantly higher levels of traffic. We hope that it will be a resource that many patients, carers and medical professionals use on a regular basis.
You can see the new website at www.lupusuk.org.uk.
Putting people's priorities first
Arthritis Research UK's roundtable on musculoskeletal conditions and multimorbidities
'No one has an overview of my conditions' was Jack's observation when speaking about his life living with multiple long term conditions including arthritis. Jack was speaking at a packed policy event with charities, policy-makers, clinicians, researchers and people living with multiple long term conditions (multimorbidities) organised by Arthritis Research UK.
Musculoskeletal conditions are a major contributor to multimorbidity: 82% of people with osteoarthritis have at least one other long term condition such as hypertension, cardiovascular disease or depression. The event on 15 October explored the impact of living with multiple long term conditions including arthritis, and areas of common interest to empower and support people living with long term conditions.
Many thanks to everyone who took part. For more information please contact t.loftis@arthritisresearchuk.org
Arthritis Research UK's policy on biosimilars
Arthritis Research UK is working to ensure that people who choose to use biosimilars have the information and support they need to make informed decisions about these treatments.
Biological therapies have innate variability and it is essential that these medicines are proportionally regulated, accurately prescribed and effectively monitored to develop a full evidence base of their safety and efficacy in the long-term.
Open and download Arthritis Research UK's Biosimilars: policy position statement document, September 2015.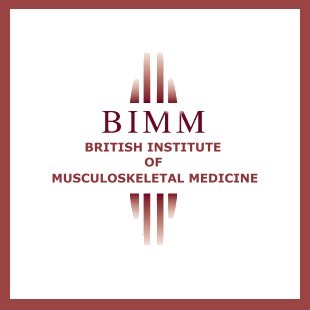 British Institute of Musculoskeletal Medicine's Upcoming Events 2015/16
Injection Road Show
4th November 2015
Blackberry Clinic, Milton Keynes.
The one day BIMM workshop 'Soft Tissue Examination & Injections', it offers experiential learning with a high tutor to learner ratio (no more than 1:6) and is suitable for general practitioners, GP registrars and hospital doctors beginning or considering a career or special interest in musculoskeletal medicine. Physiotherapists, nurse and osteopathic practitioners have also found much value in these courses in the past.
This course is based around a series of workstations through which participants rotate, learning surface anatomy, examination skills, indications for injection, needle placement (with practice on models) and safety issues.
BIMM/SOMM Combined Winter Symposium
"Challenging Joints: Management of Laxity Instability and Hypermobility."
14th November 2015
Jury's Inn Hotel, Birmingham
The British Institute of Musculoskeletal Medicine (BIMM) and the Society of Musculoskeletal Medicine (SOMM) is proud to announce a Combined Symposium: "Challenging Joints: Management of laxity, instability and hypermobility', taking place in Birmingham on Saturday, the 14th of November 2015.
A number of experts and highly reputed speakers will cover the medical, surgical, and therapeutic aspect of the condition. There will be a variety of interactive workshops providing an insight into the practical considerations of the condition. The day will also offer a great opportunity to network and exchange ideas and knowledge with other members of the professions.
Module 7 – Chronic Pain Management
21st – 23rd Nov 2015

This module is designed to deepen students' understanding of the processes by which patients slide into chronicity and disability. Students will learn practical skills in interviewing and initiating change. This will include basic CBT and other ingredients of the pain management approach, namely graded exposure, pacing, coping strategies, and problem solving. The armamentarium of the Pain Clinic approach will be explored and explained, ranging from pharmacotherapy to invasive techniques. Particular attention will be paid to the use of acupuncture, intramuscular Stimulation and TENS. Further time will be allocated for case history presentations and discussion of problem patients.
Fluoroscopic Injection course
17th March 2016
Blackberry Clinic, Milton Keynes
This course will provide practical instruction for MSK, SEM and trainee pain Physicians to enable them to expand their practice to encompass fluoroscopically guided spinal injections. Delegates are required to be proficient in peripheral injections before attending. The course provides a good grounding in anatomy, needle skills and practical considerations. Procedures covered include caudal epidurals, sacroiliac injections, facet joint injections and prolotherapy for spinal pathology including instability. The use of injection phantoms as an alternative to cadavers makes this course unique in the UK.
Diploma in Musculoskeletal Medicine – Part 1 Written
6th May 2016
St. Georges Hospital. Tooting, London
It is the intention of the Examinations Board that this qualification will indicate that a practitioner is able to manage independently patients with common musculoskeletal problems in a primary, intermediate or secondary care setting.

Diploma Revision
7th – 8th May 2016
LCOM Boston Place London NW1 6QH

Diploma in Musculoskeletal Medicine – Part 2 Clinical
18th May 2016
St. Georges Hospital. Tooting, London

All the modules can be done as stand-alone courses, with or without the distance learning element.
You can download this diary as a PDF here.

A new Musculoskeletal Medicine MSc established by BIMM with Loughborough University will commence October 2016. It is open to doctors and allied health professionals who wish to further develop their skills and knowledge to practice in MSK services around the country.
Information from the Loughborough University website.
Information and booking forms available from www.bimm.org or email info@bimm.org.uk.

Physio Course & Patient Conference - Northern Ireland
NASS have long wanted to provide more support to people living with ankylosing spondylitis (AS) in Northern Ireland. On Friday 16 October we were delighted to work together with AStretch to host a training course for 48 physiotherapists in Northern Ireland. The practical course has enabled the physiotherapists to treat ankylosing spondylitis patients with confidence.
Following the course NASS hosted a Meet & Greet where we discussed setting up NASS branches in Derry, Belfast and Newry. On Saturday 17 October we were delighted to welcome more than 80 people with AS at our conference for talks by Dr Philip Gardener and practical exercise sessions.
Read more from the NASS website.


My Plan For Life
NASS are excited to announce the launch of My Plan for Life which should help our members take control of their health and care. NASS were members of the steering group who developed the plan. Read more about the launch.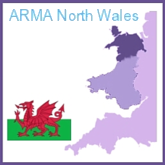 North Wales ARMA Network Group News
Since 2013 the Betsi Cadwaladr University Health Board (BCU-HB) and the North Wales Arthritis and Musculoskeletal Alliance Network Group (NW ARMA) have been working closely together on initiatives to benefit people with Arthritis and musculoskeletal conditions in North Wales.
A Memorandum of Understanding (2014 July) has been updated to ensure that service users and their support organisations are represented in the development, planning, monitoring and evaluation of NHS musculoskeletal services in North Wales.
A North Wales-wide 'Signposting' initiative was launched by the BCU Health Board Chairman at a successful NW ARMA Network Open event held on 8th. October 2015.
This 'Signposting' will enable the people of North Wales to have greater awareness of the wide range of Support Organisations, support Groups, support and advice available for individuals / carers with arthritis and chronic musculoskeletal conditions. This information is available through links on the BCU Health Board Intranet and public accessible Internet website.
Bilingual Posters and Business Cards highlighting the methods available to obtain the information are being circulated across NHS clinics, GP practices and other agencies within North Wales.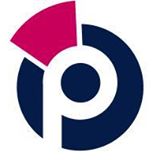 PSALV at the Scottish Parliament, CPGs and Conferences
Psoriasis Scotland Arthritis Link Volunteers (PSALV) are involved with the PsA Awareness Event in the Scottish Parliament on 4th November at 6pm. Dave Thompson MSP will chair. Professor Iain McInnes will speak and introduce a new DVD in which he features alongside patients living with psoriatic arthritis.
There are still places available; if you would like to attend, contact Pagoda PR agency on 0131 556 0770.
In recent weeks, Jim Walker has attended several events on behalf of PSALV. He attended the EULAR Patient Research Partner event in Amsterdam. Jim also went to the Alliance Inaugural lecture where Nicola Sturgeon, Scotland's First Minister, spoke on – amongst other topics – the new GP Contract in Scotland; this is contract is separate from NHS England's, of course.
Jim presented at the Scottish Institute of Healthcare Management Conference, talking about on his own experience of care for psoriatic arthritis on behalf of the Alliance Scotland patient reference group.
Janice attended the SARC skin/associated Rheumatic conditions and MSK Cross Party Groups in Holyrood recently. These CPGs are open to all; I also attended ARMA Scotland's meeting.
The PSALV website has articles and leaflets to download, written by NHS experts. Visit www.psoriasisscotland.org.uk.
Rheumatology Nurse Specialists in Scotland Report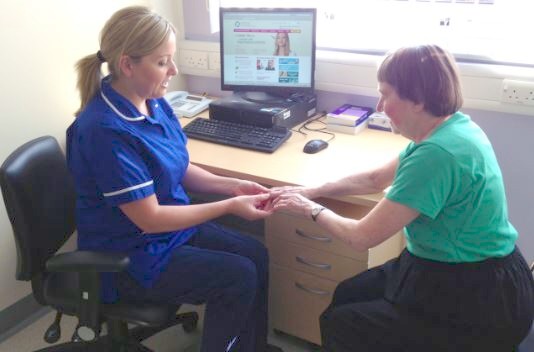 In partnership with the Scottish Society of Rheumatology, NRAS has carried out a survey of all Rheumatology Nurse Specialists in Scotland and produced a report of our findings.
We've been alarmed to find that the majority of Rheumatology Nurse Specialists in Scotland are over 55 and will retire within the next decade yet no Scottish Health board has permanent, structured succession planning schemes.
With additional funding currently available for specialist nursing in Scotland, NRAS is urging health boards to allocate this to Rheumatology which is so often overlooked in favour of other long-term conditions. The full report is available on the NRAS website.



EULAR Congress and Abstract Submissions
The next EULAR congress is to be held at the ExCel, London 8th-11th June 2016. Further details will follow soon. Registration has opened on the site.
EULAR PARE has opened the Abstract Submission Process for the upcoming congress. They have produced a short guide and slide presentation giving advice on how to write an abstract.
You can also see their submissions page for more detailed information.
Submissions are being accepted until the 31st January 2016.
Reminder: Edgar Stene Prize 2016 is open for entries!
We are inviting entries from people aged 16 years and over living with a rheumatic or musculoskeletal disease to the Edgar Stene Prize 2016 on the topic of:
"Living with a rheumatic or musculoskeletal disease (RMD):
How I take action to enjoy life to the full"
The competition invites people to share their personal experiences and their individual coping strategies to 'live life to the full' despite being affected by an RMD.
Each essay should not exceed 2 pages (A4) – please see here for the detailed prize rules and the competition booklet here from the 2015 competition.
Please submit the essays by email to projects@arma.uk.net by 31st December 2015. We will put together a judging panel to choose the UK entry to submit to EULAR PARE.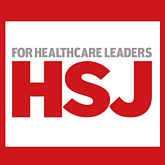 HSJ Investigation: 'Unwarranted and unfair' disparity in elective surgery revealed
Wide variations in elective surgery rates among the most affluent and deprived areas in England raise serious questions about the use of NHS resources, a leading public health expert has warned.
1 October, 2015 | By Lawrence Dunhill, Health Service Journal.
• HSJ investigation finds huge disparities in rates for elective surgery in affluent and deprived populations
• Experts warn the variance raises serious questions about use of NHS resources
• Disparity in elective surgery commissioning
HSJ's investigation, which examined the rates for elective surgery funded by the clinical commissioning groups covering the 10 most affluent and 10 most deprived populations in the country, has revealed huge disparities. The 2014-15 data was obtained from the CCGs by Freedom of Information requests. All the average rates were calculated using NHS England's weighted populations.
These charts (click link above) are designed to take account of factors such as age and deprivation, and factor in the higher life expectancy in affluent CCG areas, as well as "unmet need" in deprived populations.
Findings highlighting the variance in rates for four of the most common elective procedures include:
• Hip replacement: The average rate in affluent areas was 181 treatments per 100,000, compared to just 58 in the deprived areas. The highest rate in Guildford and Waverley was 408 per 100,000, compared to 15 in Knowsley.
• Knee replacement: In the affluent areas the average rate was 200 per 100,000, compared to 88 in the deprived areas. Bracknell and Ascot had the highest rate, of 344 per 100,000, compared to 42 in Tower Hamlets.
• Inguinal hernia repair: The average rate in the affluent areas was 155, compared to 84 per 100,000 in the deprived areas. Guildford and Waverley again had the highest rate, of 257, nearly five times that in Tower Hamlets.
• Cataract operations: The average rate in the affluent areas was 705, compared to 510 in the deprived areas. Despite being one of the most deprived areas, Blackpool's rate of 1,098 per 100,000 was the highest, and more than four times the rate in North Manchester.
10 most affluent and 10 most deprived CCG populations
Most affluent areas:
• Wokingham
• Rushcliffe
• Surrey Downs
• Surrey Heath
• Horsham and Mid Sussex
• Guildford and Waverley
• North East Hampshire and Farnham
• Bracknell and Ascot
• Windsor, Ascot and Maidenhead
• North West Surrey
Most deprived areas:
• Bradford City
• North Manchester
• Liverpool
• Newham
• City and Hackney
• Knowsley
• Sandwell and West Birmingham
• Birmingham South Central
• Blackpool
• Tower Hamlets
The 20 CCGs were selected using the deprivation scores in the Indices of Multiple Deprivation.
John Appleby, chief economist of the King's Fund, who highlighted similar trends in a 2011 report, said: "This once again highlights persistent and widespread variation in the use of surgical procedures. Some of this variation is justified but much of it is unwarranted, inefficient and unfair on patients. Tackling unwarranted variations in treatment is key to delivering better value in the NHS and meeting the productivity challenge."
The CCGs were also asked for their total spending on elective surgery, although these figures will be less robust as some have used different definitions. According to the figures provided, the CCGs in affluent areas spent £136 per head of population, compared to £102 in the deprived areas. "Much of the variation is inefficient and unfair on patients", John Appleby said.
Sir Muir Gray, an adviser to Public Health England and director of Better Value Healthcare, highlighted HSJ's findings when he launched the NHS Atlas of Variation last month. They were shared with hime earlier. He told HSJ: "This raises important issues about under-provision in the most deprived areas, and the possibility of overuse and oversupply in the most affluent areas. People from wealthier populations are perhaps getting these procedures done before the optimum point. We're seeing an application of resources based on demand, but the NHS might be able to get more value by using the resources in other ways."
He said the weighted populations may not fully account for the age related factors, but thought other factors could cause an opposite effect, such as the likelihood that more patients in affluent areas would receive non-NHS care.
CCG leaders outside the 20 also told HSJ they had serious concerns that their main provider was "driving demand" for elective surgery in order to maximise income via the payment by results system.
The findings for primary hip replacements in the atlas, which is based on data from 2012-13, are broadly in line with HSJ's findings. There appears to be less correlation with deprivation on cataract surgery, however, while knee replacements and hernia repairs are not featured.
Some of the affluent population CCGs questioned the reliability of HSJ's findings, suggesting the weighted populations may not fully take account of age-related factors. Some of the CCGs in deprived areas said cultural factors in areas with large ethnic populations meant patients were less likely to opt for surgery, and this would not be reflected in the figures. CCGs may also have used different procedure codes when responding.
However, James Blythe, director of commissioning and strategy for Surrey Downs CCG, said: "Taking into account the health needs of our ageing population, elective activity in some areas, such as hip, knee and cataract operations, is still higher than we might expect. In order to fully understand the reasons for this, we are currently undertaking a comprehensive review of planned care pathways."
A spokesman for Guildford and Waverley CCG said an external review suggested its elective spending was "slightly above average, but not excessive". He added that a Surrey priorities committee was "currently in discussion with orthopaedic colleagues about evidence based thresholds for hips and knee replacements which may reduce numbers in future".
Bradford City CCG said it was currently investigating its low rates for hernia surgery. Its GP lead for partnerships and health inequalities, Ishtiaq Gilkar, added: "Bradford City CCG is fully committed to reducing the health inequalities associated with deprivation."
A spokeswoman for Tower Hamlets and Newham CCGs said: "Some patients may present as emergencies rather than elective planned. There is significant evidence that late presentation of symptoms is more of an issue in areas of high deprivation and high population growth and turnover, such as east London, resulting in more emergency care. We also know that the same pattern is apparent within boroughs, whereby less deprived members of the population, tend to use more elective services than those who are less deprived."
Sandwell and West Birmingham CCG said it did not commission any cataract operations in the last two years, but did not respond to requests for comment, and was discounted when calculating the average. Knowsley CCG said the atlas suggested it was not an outlier for hip replacement surgery. Blackpool CCG did not respond.
Fit for Work UK Coalition and BSR host Parliamentary Summit
On Tuesday 20 October, the Fit for Work UK Coalition and the British Society for Rheumatology hosted a Parliamentary Summit in Westminster. The event saw the launch of several new resources developed to raise awareness and support people with musculoskeletal conditions, including the My plan for my life (pdf document) care co-ordinating guide.
Developed by an alliance of organisations working to improve care for people with musculoskeletal conditions, the guide is designed to support and empower people with chronic musculoskeletal conditions to manage their condition better and to feel more in control of their care.
The Fit for Work Coalition is pleased to launch 'My plan for life with…'
'My plan for life with…' is a guide designed to support and empower people with chronic musculoskeletal conditions to manage their condition better and to feel more in control of their care.
The tool aims to help people make the most of their contact with healthcare professionals. It includes sections where they can note down how they are feeling, any questions they want to ask, or to record test results and next steps in their treatment and care. It also signposts sources of information and support.
The tool is meant to be owned by the individual with the condition. It is their personal guide, for them to complete as they wish and they may want to ask their healthcare professionals or carers to help them complete particular sections.
Incisive Health have put together this Q&A booklet to introduce the "My plan for my life with…" guide.
NICE Quality Standards –
deadline reminders
NICE are seeking lay members to join a NICE committee updating their quality standard on Hip fracture. They are looking for people with a recent (within the last 5 years) understanding of hip fractures and the issues important to patients and their carers, with respect to the quality and delivery of them. The closing date for this recruitment is 5pm on Wednesday 4 November. Full details can be found here, including links to the application paperwork as well as details of expenses.
NICE are recruiting Core members - with a professional or practitioner background in the topic - on their Public Health Advisory Committee. Details of how to apply are on the NICE website. The deadline for applications is 5pm on Weds 4th November.


Map of the NHS Vanguards sites
In January 2015, the NHS invited individual organisations and partnerships to apply to become 'vanguard' sites for the new care models programme. The 50 vanguards were selected following a rigorous process, involving workshops and the engagement of key partners and patient representative groups.
See the map and details of the Vanguard sites from the NHS England website
ESA WRAG survey results published 27.10.15
The Disability Benefits Consortium (DBC) surveyed over 500 people on the proposed cut of £30 a week to the Employment Support Allowance (ESA) for the Work Related Activity Group (WRAG). An article in The Guardiandiscusses the results, with 69% of those surveyed saying that the cuts would cause their health to suffer.


CEO Meeting at Bride House, 2pm-4.30pm 03 November 2015
NICE deadlines for Quality Standards recruiting 04 November 2015
PsA Awareness Event in the Scottish Parliament, 6pm 04 November 2015
BIMM Injection Roadshow, Milton Keynes 04 November 2015
Policy & Comms Group, 2pm, Bride House 10 November 2015
BIMM/SOMM Combined Winter Symposium, Birmingham 14 November 2015
PCRS Annual Conference 2015, York 19-21 Nov 2015
BIMM Chronic Pain Management Module 21-23 Nov 2015
BSR – Rheumatology and Rare Conditions workshop 26 November 2015
Policy & Comms Group + Gold Stakeholders, 2pm, Bride House 08 December 2015
Rheum2talk training day, Oxford Campus 10 December 2015
Edgar Stene Prize 2016 deadline 31 December 2015
Deadline for UK entries to Edgar Stene Prize 31 December 2015
ARMA Board meeting 27 January 2016
RCC AGM & Conference 2016, London 27 January 2016
Submissions close for EULAR Congress Abstracts 31 January 2016
ARRC Symposium Kings College London 19 March 2016
LUPUS UK AGM and Strathclyde Lupus Information Day 07 May 2016
World Lupus Day 10 May 2016
British Conference for Acupuncture and Oriental Medicine 23-25 Sept 2016

To see previous issues of the newsletter, click here.
Please starting thinking about sending your items for inclusion in our next
ARMA newsletter