At the end of January, I had the pleasure of experiencing an ARMA lecture for the first time. The lecture itself was excellent. No surprises there as it was delivered by Dame Carol Black speaking on musculoskeletal conditions, disability and employment. If you missed it, you can see the slides and video on the ARMA website. Twitter discussion using #MSKatwork continued into the following days. Between this and the follow-up articles on the talk (such as this one by the CSP), the audience for our message was huge. Thanks to Arthritis Action for supporting a fantastic evening.
What can't be shared online is the amazing atmosphere at the drinks reception. We had a diverse audience of ARMA members and key stakeholders: policy makers, NHS England, Public Health England, voluntary organisations, clinicians and commissioners. Discussion was lively and animated. Many people meeting each other for the first time, realising they had common ground and could work together. I overheard plans to work on joint projects and I have no doubt that some exciting work will result. I'm looking forward to future ARMA webinars on initiatives whose seeds were sown that evening.
This is ARMA at its best – bringing together a diverse range of people and finding the common ground. It's at the heart of what we do, and a key part of our plans for 2018.
Our new knowledge hub will be launched soon and include an on-line forum allowing collaboration between different stakeholders. Look out for news on how you can use this. Our STP networks project is about to begin and will connect people at a local level to enable local collaboration and improvement. Let us know if you would like to get involved.
Whether locally, online or at an event like the ARMA lecture, it's when people with a different take on the same issue get together that magic happens.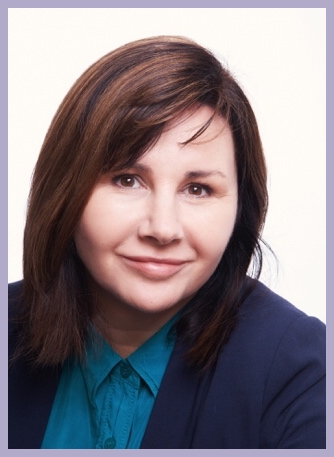 by Jane Green BSc. (HONS) Psych., PGCE, Av.Dip. Ed. Child Development, MA Ed. (Leadership and Management / autism)
Why did I stop working in my professional career?
Two-and-a-half years ago I medically retired. This was after years of pain following full dislocations; half-dislocations; sprains; tears in joints, muscles, ligaments and tendons; and arthritis. I received my diagnosis of Ehlers-Danlos syndrome 3 (now hEDS) and associated conditions later that year.
As a child, I did have a few problems with joints and did 'party tricks'. Whilst bringing up my sons, one with significant medical and neurodevelopmental difficulties, I was passionate about improving autism practice. The OU offered me opportunities without my needing previous qualifications. I won two awards. I had two knee operations in 2003 but was not offered any physio afterwards. It took me nearly a year before I could walk unsupported. In 2006 I was shortlisted for the EP doctorate and offered a place. Unfortunately my knees were unstable and deconditioned, so it made commuting to London impossible. My career then comprised of schools: I was special needs teacher at Young Epilepsy, Advisory teacher for the Local Authority, Lead Educationalist/consultant for the National Autistic Society and Autism Education Trust, Strategic Assistant Head teacher and DfE Autism Education Trust trainer for Ambitious about Autism.
Often, as key speaker at conferences, I would approach the rostrum wearing a microphone and all you could hear were bones crackling, snapping and occasionally popping. There would be a stunned silence. At first I tried to ignore this, but with experience I learned to announce the additional noises to the audience. Speaking at MDT meetings I had time to talk to smaller groups on their tables. I soon came to recognise the look on the face of some delegates (disbelief- face), knowing then to check if my arms or legs were out of place and adjust them, whilst asking the delegates if they were occupational therapists/physiotherapists - which they undoubtedly were! As I was the key speaker holding conferences together it put a great responsibility on my shoulders (excuse the pun) just to be there. So I continued, despite multiple injuries, increasing inflammation and pain.
Throughout my career I tried to stay working. EDS is a variable condition, but without management it became unmanageable. I received drugs for inflammation and referrals to MSK departments. By then I received a diagnosis of hypermobility and discharged. Unfortunately, it took five months to be seen by MSK after the initial event (which was a dislocated ankle with several other injuries).
This delay meant:
• I was not believed
• I couldn't remember all the facts or what it looked like five months before
• the amount of time escalated other injuries
I was then told categorically "we all have aches and pains at age". This brought about a defence mechanism in me: I knew that medical resources didn't know what to do with me. When my shoulder dislocated with tendon tears, I continued working with an increasingly painful but useless shoulder and arm. All this time, I was also a carer. My GP said there was a pain management course. However, the advice given was impossible for me. When I asked what to do as I was hypermobile, I was told 'this isn't a course for you'.
I had often limped and used a walking stick at work. Once, over a period of two days, an older injury to ankle ligaments resurfaced in my other foot, so I swapped the walking stick to support that leg. Comments made to me in the office were:
"Oops, did you forget you were limping on the other leg last time?"
and "My son dislocated his shoulder but it popped back in and he just got on with it."
I found it difficult to explain to them how much pain I was in because I didn't understand it myself. There a was no pathway and to some extent I thought that maybe everyone suffered like me.
The hot-desking policy at work caused me stress so I asked for a set desk, a chair with arms, a foot pedestal and drawer of files placed nearby. After a health assessment I was given a set place for 'reasonable needs'. This meant me getting on the floor to dig out my foot rest, finding a chair that moved multi-directionally with hand rests, and a subsequent hunt for suitable drawers after my two-and-a-half hour commute.
I get a lot of muscle spasms which are agony. I tried to use the quiet room to stretch but it was never available. I was sent to my organisation's physiotherapist, usually used for students and staff. The physiotherapist tried, but I recognise the face of confusion and disbelief quickly now. I was told to go elsewhere. My last injury meant that I could not sit down for over a year.
As EDS UK Support volunteer Area Coordinator for Surrey/Sussex, I was asked to attend the Crawley ARMA event and NHS England conference as patient speaker. EDS UK Support is proud to be a member of ARMA. As a small charity, membership is a great way of keeping up-to-date with changes in government policy that affects our community and it gives us a voice as part of an alliance when EDS doesn't have the resources to do that type of work directly.

ARMA Annual lecture:
Dame Carol Black
Musculoskeletal conditions, disability and employment
Dame Carol Black is the outstanding expert advisor on health and work and principal of Newnham College Cambridge. Her lecture, delivered in London as part of the ARMA Annual Lecture series, was on progress to date by government, health professionals and employers on musculoskeletal conditions and their impact on employment and a person's wellbeing.
The lecture and reception was well attended with an interesting Q&A session and lively twitter dialog using #MSKatWork.
You can watch the lecture on this page, where you can also find the accompanying slides for the presentation and photos from the event, or see the video directly via our YouTube channel.
Presented in 2018 with the generous support of Arthritis Action.
Members' News and
Resources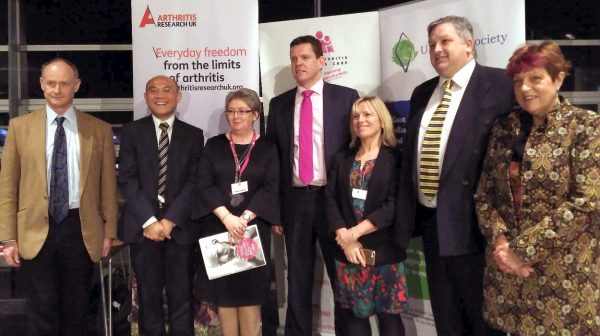 UK Gout Society at the Welsh Assembly
On 28 November 2017, the UK Gout Society joined forces with Welsh Assembly Members, doctors and other charities to help raise awareness of gout in Wales.
Speaking at the Welsh Assembly, Rhun ap Iorwerth AM, the Plaid Cymru Health Spokesperson who hosted the event, said: "The impact of musculoskeletal conditions in Wales is huge and we have a big job to limit that impact. Working together to raise awareness of gout must play a part. We know that gout is often seriously undertreated and greatly misunderstood."
Arthritis Care Wales and the UK Gout Society called for the British Society for Rheumatology's recent guidelines for managing gout to be fully implemented in Wales.
High profile parliamentary attendees included the Chair of the Health, Social Care and Sport Committee; the Minister for Social Care; and the Leader of Opposition and Welsh Conservatives.
Two leading gout experts also spoke about the burden of gout and diagnosis and treatment: Professor Ernest Choy, Head of Rheumatology and Translational Research, Cardiff University; and Dr Martin Bevan, Lead Clinician, Consultant Rheumatologist, Abertawe Bro Morgannwg UHB. Two people living with gout also talked about how gout affects their everyday lives and the importance of seeking help and support from a health professional.
UK Gout Society's Friends newsletter
Take a moment to see the January 2018 edition of the UK Gout Society's 'Friends' newsletter, which includes articles on:
• New Year Charity Symphony Orchestra raises gout awareness on BBC South Today TV
• Gout and Diet - how certain foods containing quercetin can reduce your uric acid levels
• Meon Valley Orchestra - 10 March 2018, Fundraising concert in Portsmouth
Click here for the newsletter in PDF.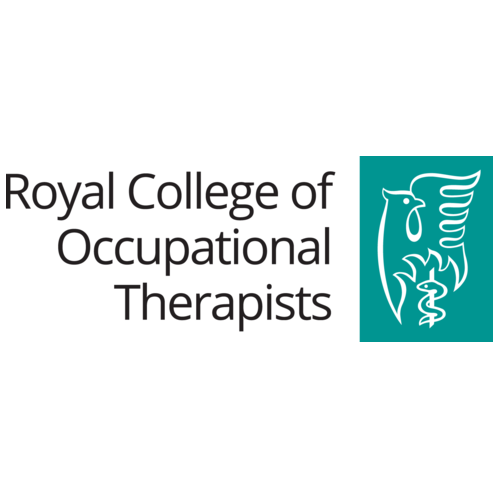 The Safe Care Steering Group survey
We all expect our healthcare to be safe, but mistakes can happen that may put patients at unnecessary risk.
This is the focus of the Safe Care Steering Group overseeing a James Lind Alliance priority setting partnership about safe care for adults with complex health needs, who have more than one condition or illness, or who need care from different teams and/or some care to be provided in their home.
On behalf of the Allied Health Professions Federation, Dr Jo Watson, RCOT's Assistant Director – Education and Research, is part of this Steering Group. The aim of the partnership is to scope priorities in regards to safety and getting patients, carer, public and healthcare staff voices heard.
To this objective, the NIHR Imperial Patient Safety Translational Research Centre invites you to tell us about your concerns and which questions you would like to see answered through future research.
Please fill out this short survey which has been designed for patients, the public, carers and healthcare staff, via:
https://imperial.eu.qualtrics.com/jfe/form/SV_55VATbyojCFdSYd
or
https://hlxc.uk/safer-healthcare
There is a printable copy of the survey available, together with a free post envelope label (which can be printed and stuck on a size C5 envelope).
Or if you would prefer a paper copy of the survey and envelope to be sent to you or have any questions, please contact a.lawrence-jones@imperial.ac.uk or call 020 7594 3149.
Feel free to answer the questions as an individual or as a group with a specific interest in the area.
The questions which are raised will be ranked through a further survey to identify those which are the highest priority for future research. The organisation running the survey, the NIHR Imperial Patient Safety Translational Research Centre, will publicise the results to research funders and will aim to undertake research in some of the areas prioritised.
Please visit this website for more details.
The survey closes on at the end of February 2018.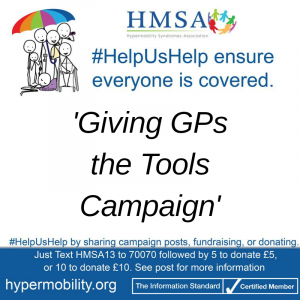 HMSA e-news - Giving GPs the Tools campaign
The January edition of The Hypermobility Syndromes Association e-news is available here.
The HMSA will continue raising funds for their 'Giving GPs the Tools' campaign (outlined in the December ARMA newsletter) until 31st May 2018. The campaign, which will help people with heritable disorders of the connective tissue, and other hypermobility related health problems access appropriate care more easily, is allowing the HMSA to develop new information and a resources guide. The funds will also assist with the continuing development of professional training in the conditions we support. We have new plans, based on the 'HMSA Kent Model', which will make it far easier to transport to other geographical areas, you'll find more about this in the next HMSA Journal, due in late Spring.
If you would like to read more, visit this post on the HMSA website.
The annual #HMSAware campaign will be largely focused on the 'GP Tools' campaign this year. You can follow this on twitter at #HMSAware and also see the #HelpUsHelp feed.

MSK Medicine explained in new website
The Faculty of Sport and Exercise Medicine UK has launched a new website including information highlighting what Musculoskeletal (MSK) Medicine is to the public and the healthcare community. There is now a dedicated MSK webpage outlining 'who sees musculoskeletal medicine doctors' emphasising that Sport and Exercise Medicine specialists, with MSK skills, treat a wide range of patients from those with a common MSK condition to elite athletes. It also puts MSK Medicine in the context of the NHS and Exercise Medicine, with reference to working examples of NHS MSK services.
The purpose of the MSK service examples are to highlight to NHS Commissioners how effective the treatment of MSK conditions can be via NHS SEM/MSK and Exercise Medicine services, both have an enormous potential to be further developed across the NHS to improve MSK healthcare, reduce orthopaedic referrals and help patients manage MSK conditions. The Faculty is working hard to influence this landscape. View the MSK webpage here.

BASEM Foundation Skills Course
June 2018
Online booking is currently open for this year's BASEM Foundation Skills Course on 10-13 June 2018 at Lilleshall National Sports Centre, Shropshire. This three-and-a-half day residential course is aimed at providing a thorough grounding in the areas that make up Sports Medicine.
Hands-on and practical, it will cover anatomy, pathologies and practical examinations of the foot, ankle, knee, shoulder and spine; exercise physiology; nutrition in sport; sport and doping; practical rehab and event medicine.
Further information and an online booking facility are available on the BASEM web site www.basem.co.uk or by clicking on the following link: www.basem.co.uk/education/basem-foundation-skills-course/.

Self-Management Event in Warrington
Arthritis Action will be holding a new two-day Self-Management Event (SME) on Friday 9 February at 6pm–8.30pm and Saturday 10 February at 2pm–4.30pm.
For the first time we are holding our SME outside our usual daytime schedule, to attract a younger audience of attendees who may be in employment or otherwise unavailable during the week.
We aim to help our delegates take control of the symptoms of their arthritis, covering topics such as:
• The impact of physical therapies
• How you can best manage your pain
• The benefits of exercise and a healthy diet
• Ways to work in partnership with healthcare professionals
This event will be free of charge but places must be booked, via this link.
It is open to all, and refreshments will be provided.
For more information, please contact us by email at info@arthritisaction.org.uk or phone 020 3781 7120.

Portsmouth ARMA spring newsletter and Easter events
The spring edition of the Portsmouth Hospitals' Department of Rheumatology newsletter is out.
It contains dates and details of a number of upcoming events, groups and meetings, including:
• Funky Knit Day, a knitting event to raise awareness of Raynauds, 7 February 2018 - see the poster
• Portsmouth Cream Tea & Light Music event, 4 March 2018 - see the poster
• Portsmouth Easter Tea Dance, 24 March 2018 - see the poster
For more, open and save the spring newsletter (in PDF) here.

Stoke Haywood User Group
and Discharge to Access
The next joint meeting of the ARMA / Haywood User Group is on Friday, 16 February at 1pm in the Seminar room at the Haywood Hospital, Tunstall, Stoke on Trent. Refreshments are available from 12.30pm.
Geoff Lawton, chair of the ARMA Network for Stoke on Trent, is currently involved in a consultation process regarding the design process for the local health services. This consultation looks at the local provision of community beds, which involves the Discharge to Access (D2A) model. We are discussing with our CCGs the provision of care available when patients are discharged from hospital.


EULAR Recommendations for imaging in large vessel vasculitis
The European League Against Rheumatism, EULAR, has published a set of recommendations, which look at the use of imaging modalities in primary large vessel vasculitis, including giant cell arteritis and Takayasu arteritis.
The recommendations are intended to advise physicians on the use of imaging modalities (including ultrasound, magnetic resonance imaging, MRI, computed tomography, CT, and positron emission tomography, PET) when making a clinical diagnosis of large vessel vasculitis (LVV), and when to apply imaging for monitoring of disease activity and damage.
See the press release, Recommendations for the use of imaging in large vessel vasculitis in clinical practise for detail and explanation. Accompanying the text is a diagram showing example utrasound images of patients with large vessel vasculitis. Click here to see it in full size.

NICE guideline on chronic pain: assessment and management
The final scope for the NICE Chronic pain: assessment and management guideline has now been published, along with all the stakeholder comments that were received during consultation and responses to these comments.
NICE would like to thank you for your continued involvement and interest in this guideline. The comments received during the consultation period helped us to develop and refine the scope. ARMA has been identified as a key stakeholder for this topic and will be contacted again when the draft guideline is released for consultation.
If you have any further queries, please contact PersistentPain@nice.org.uk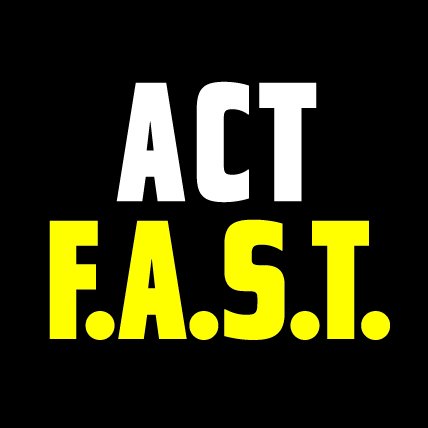 PHE Stroke ACT FAST resource
Resources are available for you to order to support the Act F.A.S.T stroke campaign launching 01 February 2018.
We have run the Act F.A.S.T. campaign a number of times as it is a simple and straight forward message to help people identify the most common signs of a stroke. Acting FAST as soon as you see any single sign of a stroke not only save lives but potentially limit any long-term effects. The faster you act the better their chances. This campaign will be supported by TV, radio and outdoor advertising, as well as social media and PR.
Resources currently available to order from the PHE Campaign Resource Centre (CRC) are as follows and more resources will be added as they become available:
The campaign toolkit containing an overview of the campaign, key messages, long and short copy and details of activity for disabled people and the BAME community can now be download from the CRC, along with the campaigns facts and statistics.
Social
Social media guidance and resources are also now available to download.
Case studies
As part of the campaign, we are looking for people who have had a stroke and dialed 999, as well as 'stroke savers'- individuals who have dialled 999 when they have spotted someone displaying stroke symptoms. Do you know anyone who fits these categories? If so, we would love to hear from you. Please get in touch at stroke@freuds.com

Update on the Call 111 campaign
The Public Health England Partnerships Team is looking to connect with to individuals who have had positive experiences of using the NHS 111 service. They are seeking mums, particularly those who are parents of under-5s, who would be happy to speak to media about their experiences and whose stories we can share with our partners and the public across the Midlands and East and London regions.
If you know anyone who would be interested in speaking to PHE about their experience for the purpose of promoting this campaign, please do get in touch via partnerships@phe.gov.uk.


Portsmouth Rheumatology Funky Knit Day 7 Feb 2018
Arthritis Action Self-Management Event, Warrington 9-10 Feb 2018
EULAR Annual European Conference of PARE 2018, Brussels 15 - 18 Feb 2018
Stoke ARMA Haywood User Group meeting, 12.30pm 16 Feb 2018
Safe Care Steering Group survey closes 28 Feb 2018
Portsmouth Cream Tea & Light Music event 4 Mar 2018
Meon Valley Orchestra concert 10 Mar 2018
BASEM Spring Conference 2018, Doncaster 22 Mar 2018
Portsmouth Easter Tea Dance, 3pm 24 Mar 2018
North Wales ARMA Network meeting 17 April 2018
"Back to Back" Conference, Portsmouth 20 April 2018
World AS Day 5 May 2018
Fibromyalgia International Awareness Day 12 May 2018
2018 AACP Annual Conference, Reading 19 May 2018
BASEM Foundation Skills Course 2018, Shropshire 10–13 June 2018
Annual European Congress of Rheumatology, Amsterdam 13-16 June 2018
North Wales ARMA Network meeting, 4.30pm 3 Jul 2018

To see previous issues of the newsletter, click here.
Follow us @WeAreArma
Please start thinking about sending your items for inclusion in our next ARMA newsletter