There are many reasons for organisations working in collaboration with others. Over the years I have worked to influence health and care policy I have seen many changes which could never have happened if organisations had not worked together on issues of common concern, even where opinions may differ on other issues.
Bone and Joint week 2017 in October showed how, with a bit of co-ordination, we can work together to speak louder than any one organisation alone. Bone and Joint Week is an international opportunity to raise awareness of issues related to all things musculoskeletal. It also contains days for arthritis, spinal, paediatric bone and joint conditions and osteoporosis. There was a lot of planned activity by different ARMA members.
ARMA co-ordinated social media activity to raise awareness of the week but also to amplify members own campaigns. NHS England and Public Health England got in on the act, publishing a blog post from ARMA Chair, Tony Woolf, to launch the week, and supporting the activity on twitter. By sharing our plans, ARMA enabled small organisations without much social media capacity to take part in celebrating the week and organisations with their own plans to reach a bigger audience. Everyone benefits from the increased impact.
We can see what a difference working together made. Compared with last year's BJA week we saw around 30 times more reach, more people clicking through to our information, more retweets. But it doesn't stop with one week. Across the whole year, ARMA will be working to enable our members to support each other and enabling increased debate and profile for musculoskeletal issues.
Why not get involved? Here are three things you can do:
• Follow @WeAreARMA on twitter.
• Look out for our ARMA members' social media activity. The most recent is from the Chartered Society of Physiotherapists who have just launched a #rehabmatters campaign. Take a look at their short film and share it.
• Read this month's Guest blog and tweet us your comments.
Get involved - there's strength in numbers.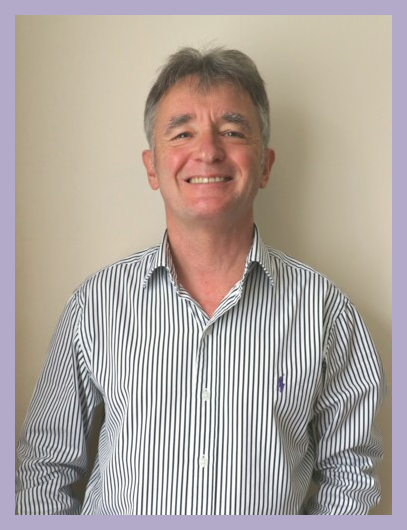 Guest Blog by Paul Hitchcock, Chief Executive, The British Acupuncture Council
I recently spoke at an NHS England event for International Day for Older People, my talk being titled "Lessons from traditional Chinese acupuncture – adding value to life". We know we have a demographic challenge here in the UK and we talk about an ageing population that will see an increase of around one million people over the age of sixty five in the next three years. In China the number is closer to three hundred million, although the approach there is not to use age as the differentiator but the person's overall health and wellbeing – an approach that is also now starting to be applied here in the UK.
Another major difference in the approach to health management is the integration of traditional acupuncture with western medicine – an approach endorsed by the World Health Organisation strategy, and the use of acupuncture earlier and in more conditions than it is often considered here in the UK. For example in China acupuncture is used as an early intervention in treatment following a stroke.
So what might be the lessons for older people here in the UK especially those who have an MSK issue as part of a complex pattern of co-morbidities?
Perhaps we should be considering a wider spread of therapeutic support than has been used in the past? For example what would happen if the range of therapies traditionally used by an acupuncturist trained in the eastern medical paradigm was added to the choices open to the patient? What would happen if the first point of contact for an MSK patient was a traditional eastern trained acupuncturist?
The integration of western 'orthodox' medicine and eastern 'traditional' medicine is a strategic intent of the WHO and is now being mandated in China where the problems of an ageing population dwarf those same problems here in the UK. Shouldn't we also be integrating the two medical paradigms?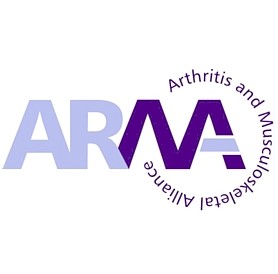 Bone, joint and muscle conditions are now leading cause of disability in the UK
A new study found that over the last 20 years, the number of people suffering disability from low back and neck pain increased by nearly 21 per cent in the UK *. The new analysis by the Arthritis and Musculoskeletal Alliance using the Global Burden of Disease data also found that in 2016:
• Low back and neck pain affected 11.9 million people in the UK.
• 7 million people (8,668,634) in the UK suffered falls causing disability and death.
• Nearly 5 million people in the UK were disabled by osteoarthritis and 3 million by other conditions of the bones joints and muscles.
Musculoskeletal conditions affect the bones, muscles and joints and account for an astounding one in five visits to the GP and 30.8 million working days lost each year.
Professor Anthony Woolf, chair of ARMA said, "Risk factors such as obesity, poor diet and lack of physical activity are contributing to this rise in the population. To combat this, we need health policy that focusses on good lifelong bone, joint and muscle health and preventing and managing these conditions."
Chief Executive of ARMA, Sue Brown, said, "ARMA is using Bone and Joint Week 2017 to call for urgent action to improve the way we deal with the bone, joints and muscle health at national, local and individual level so that we can tackle the enormous impact of musculoskeletal conditions on people. Doing so will help people live well, independently and actively."
* Using the disability-adjusted life year (DALY) measure. This is a measure of overall disease burden, expressed as the number of years lost due to ill-health, disability or early death.
Ref: Arthritis Research UK National Primary Care Centre, Keele University (2009), Musculoskeletal Matters.
Ref: Labour Force Survey, ONS, 2016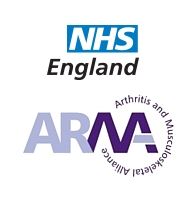 South East Regional Musculoskeletal (MSK) one-day conference
NHS England and the Arthritis and Musculoskeletal Alliance (ARMA) are delighted to be hosting a South East Regional Musculoskeletal (MSK) one-day conference on Tuesday 28 November 2017 at the Arora Hotel, Crawley. The event is sponsored by NHS England and ARMA and is part of their joint MSK programme and will be organised by the Kent Surrey Sussex Academic Health Science Network.
Register now! using this link: www.eventbrite.co.uk/the-whole-system-msk-event.
The South East System MSK event will promote a coherent approach to transforming MSK services across the region by working directly with South East Sustainability Transformation Plans (STPs) footprints to support improvement in the quality of MSK care. Throughout the day we'll be:
• promoting best practice by sharing local case studies
• looking at what's working well and what's not
• understanding trend data relating to MSK pathway
• explore data sources and national tools to help us gain insight into making much needed improvements
• exploring what this means for service delivery at a local level
Chaired by Mr Nigel Acheson, Regional Medical Director (South), NHS England and Professor Anthony Woolf, ARMA chair. Confirmed topics and speakers include:
• Musculoskeletal conditions: a national perspective, Professor Peter Kay, National Clinical Director, NHS England
• A public health approach to musculoskeletal care, Dr Benjamin Ellis, Consultant Rheumatologist/Senior Clinical Policy Advisor, Arthritis Research UK
• Getting It Right First Time - Regional Variation, Mr Mike Hutton, Spinal Surgery Clinical Lead, Royal Devon and Exeter NHS Foundation Trust
• Local case studies: a series of presentations on good practice examples
By conference close, we hope to have identified and agreed local priorities and actions which will have the greatest impact for this patient group.
This free event is for all professionals from the rheumatic and MSK community including commissioners, patient representatives, relevant clinicians, primary, secondary and community care. The event will be hosted at The Arora Hotel, Crawley on Tuesday 28 November, 9.30 - 4.00pm. Please share this invitation with any colleagues you feel would also benefit from attending.
For full conference details and to book your place, please use the link below:
www.eventbrite.co.uk/e/the-whole-system-msk-event-tickets-38301642243
We look forward to seeing you there and transforming our local MSK care services together.
Best wishes,
NHSE, ARMA and KSS AHSN

Members' News and
Resources

BSR's UK Guideline for the Management of Adults with Systemic Lupus Erythematosus
The first UK guideline on the care of adults with systemic lupus erythematosus (lupus) was published by the British Society of Rheumatology at the start of October 2017. The clinical guideline is accredited by the National Institute for Health and care Excellence (NICE) which recognises robust, evidence-based and critically evaluated high-quality processes applied to developing a guideline. The eagerly anticipated guideline covers diagnosis, assessment, monitoring and treatment of patients with mild, moderate and severe lupus and is mainly for health professionals in secondary care. Whilst rheumatologists and clinical nurse specialists in lupus will find it indispensable, nephrologists, immunologists, dermatologists, emergency medicine practitioners, GPs and many trainees will also use the guideline.
Lupus can affect any part of the body and may be difficult to diagnose and treat. It has a major impact on the health and activities of patients and is associated with a significant risk of dying prematurely, as it reduces average lifespan by about 25 years. Lupus is also more common than many realise, affecting nearly 1 in 1000 people in the UK.
The guideline's recommendations address care of patients with common symptoms such as skin rashes and arthritis as well as those with less common but potentially more serious problems like kidney disease. It covers routine monitoring and treatments that may reduce steroid use and second line approaches if there is a poor response to first choice treatment. It also promotes the referral of patients with the most serious and difficult-to-control disease to specialised lupus centres with experience of new therapies and with multi-disciplinary team backup.
Caroline Gordon, lupus expert, Professor of Rheumatology and lead guideline author comments: "Once my colleagues in the UK implement this guideline, I would expect that patients will experience measurable improvements in care as a result of earlier diagnosis and more appropriate treatment; they can expect more rapid resolution of symptoms, reduction in disease flares and improvements in their quality of life, with fewer long term complications of the disease and its treatment – and, ultimately, improved survival."
Yvonne Norton, patient representative on the Guideline Working Group said: "Since being diagnosed in 1975, I've spent what must amount to years in hospitals and I take a massive amount of medication. I can't fault the doctors who've treated me but it would have been so much better and easier for them, and me, if there had been a guideline to show the right path for them to take."
Elizabeth MacPhie, Consultant Rheumatologist and Chair of the British Society for Rheumatology's Standards, Audit and Guidelines Working Group said: "Our guidelines are key to good care in rheumatological conditions. They firmly link the evidence base to clinical practice to help health professionals deliver the right care at the right time to the right patients – which might sound simple but can be a real challenge in a relapsing and remitting condition such as lupus."
The guideline was published 6 October 2017 in the Rheumatology Journal and is available to view, along with a full suite of guidelines, at www.rheumatology.org.uk/guidelines.
New BSR mentoring scheme is live!
The BSR is delighted to have launched a mentoring scheme exclusively for all our members, whether you are a newly qualified or experienced professional. The mentoring scheme is a flexible and open platform that matches developing professionals to trusted mentors with relevant skills and knowledge. This brand new service is open exclusively for members – and completely free!
Find out more to sign up as a mentor or mentee: www.rheumatology.org.uk/Professional-Development/Mentoring
2018 Annual Conference
Register interest to attend our flagship event, the 2018 Annual Conference, by emailing the events team – events@rhuematology.org.uk.
'Rheumatology in Northern Ireland – the State of Play' report
We recently published our new report with Arthritis Care Northern Ireland, which presents rheumatology services in Northern Ireland from clinical and patient perspectives. View it here: bit.ly/2yuAdcu.
Myositis Masterclass is back!
Book now for this popular masterclass aimed at consultants and trainees. The course provides attendees with a comprehensive myositis training package, covering neuromuscular assessment and how to improve overall quality of care for patients.
Date: 7-8 December 2017
Location: Manchester
Book here: www.rheumatology.org.uk/Education-Courses/Myositis-Masterclass
Best practice awards deadline is approaching
The deadline for BSR members to apply for the Best Practice Awards is Monday 30 October 2017 - promote best practice in rheumatology and innovation by submitting an application.
Apply here: www.rheumatology.org.uk/Knowledge/Best-Practice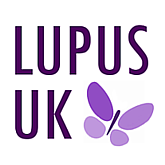 BSR publishes first UK guideline for the care of adults with lupus
On Friday 6th October 2017, during Lupus Awareness Month, the British Society for Rheumatology (BSR) published the first UK guideline on the care of adults with systemic lupus erythematosus (lupus). The clinical guideline is accredited by the National Institute for Health and Care Excellence (NICE).
Chris Maker, CEO of LUPUS UK said: "The diagnosis and treatment of patients with lupus in the UK has often been inconsistent, with those seeking a diagnosis often facing delays of several years and experiencing uncertainty about their treatment. We hope that the implementation of the Guideline will reduce the current diagnosis times and result in earlier access to appropriate treatment, reducing flares and, ultimately, giving a better quality of life for patients."
Read more about this Guideline and access it via the LUPUS UK website.
#THISISLUPUS
LUPUS UK's campaign for Lupus Awareness Month in October 2017 has been very well received, with a lot of people sharing their personal experiences of the condition to help raise awareness and improve peoples' understanding of the impact of this often invisible disease.
A number of video contributions have been received and used to create a montage to help raise awareness. The montage and individual contributions can be viewed on the LUPUS UK website and YouTube channel.

PMRGCAuk seeks new Chair of Trustees
Penny Denby will be stepping down in summer 2018 after three years as Chair of Trustees at Polymyalgia Rheumatica & Giant Cell Arteritis UK.
The charity is looking to appoint a new Chair before Penny finishes her term, so that there can be a substantial handover period.
PMRGCAuk is an ambitious charity that achieves a great deal with very limited resources. Their membership and profile are growing and this is very exciting time to be getting involved. The new Chair will work closely with the Director to play a leading role in the charity's future development.
To find out more please visit: www.pmrgca.co.uk/vacancies.

NRAS: Work Matters launched
On Wednesday 11th October, NRAS launched its new report, Work Matters, following a survey of over 1,500 people with rheumatoid arthritis.
The launch took place in Parliament and was attended by the Minister for Disabled People, Health and Work- Penny Mordaunt MP, who spoke about the importance of work as a health outcome. The findings from this report will form much of NRAS' campaigning going forward.
You can read the report here and can also order a hardcopy from this link.


World Arthritis Day
To celebrate World Arthritis Day and the 'Don't Delay, Connect Today' campaign, we launched a new video to raise public awareness about the importance of early recognition, diagnosis and treatment in RA. The video was done in collaboration with Sandoz and the Oxford Academic Health Science Network. You can view the #AngryHand video on the official website.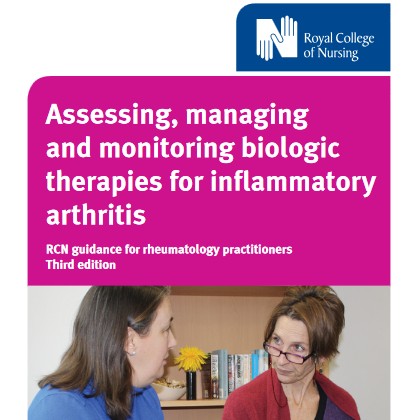 Biologics guidance document for Rheumatology Practitioners
The RCN Rheumatology Forum would like to report that in September 2017 the 4th edition of the RCN Biologics guidance document for Rheumatology Practitioners went live: "Assessing, managing and monitoring Biologic therapies for Inflammatory Arthritis"
It is available online now as a downloadable PDF via our link: my.rcn.org.uk/RCNguidance.
Strategy Day
On the 17th Nov 2017 the RCN Rheumatology Forum are planning to meet for a (self-funded) Strategy Day where future projects and final details of the forthcoming RCN Rheumatology Nursing Workshop will be discussed.
The RCN Rheumatology Nursing Workshop 2018
This best-practice event is to be held at the RCN HQ on the 12th January 2018, starting at 11am and finishing around 3pm.
Topics include:
• patient fatigue
• pain
• leadership and resilience training
• psychological impact of chronic disease
• Biosimilars update and how they impact on practice
• Rheumatology Specialist Nursing Competency frameworks.
This workshop has been developed and based on the results of a forum survey which asked you to identify issues relating to the management of rheumatological disease, interventions, treatment and support.
The aim of the workshop is to address these issue as well as developing the unmet need of clinical leadership skills and personal and professional resilience. This event will enable specialist nurses to continue to deliver excellent care, follow best practice and inspire colleagues despite continued NHS barriers and difficulties.

Bringing arthritis communities together to mark World Arthritis Day
To mark the 22nd World Arthritis Day on 12th October and Bone and Joint Week from 12th-20th October, Arthritis Action held education and support group meetings in various locations across the UK for people with arthritis during the whole month of October.
Attendees heard from a variety of speakers on a range of issues affecting those with arthritis, including healthy eating, exercise, and physical therapy.
Leicester-based Arthritis Action Member Pauline Walker, aged 60, said: "I'm an Arthritis Action member and have enjoyed the local Group meetings in which members, old and new have shared experiences and useful tips on managing arthritis. We have had invaluable input and support from the Charity and I have found the Groups to be pleasant, social occasions with a positive approach.
"The theme for this year's World Arthritis Day, "it's in your hands, take action", is a really good one as I know that I have a tendency to rely too much on medication and health professionals, and Arthritis Action events cover a range of issues such as pain management and the benefits of physical activity."
Bristol-based Arthritis Action Member, Christine Wilmot, aged 60, said: "I have had Palindromic Arthritis since 2011 and joined Arthritis Action earlier this year. I've now been to three meetings in Bristol and have found them full of positive, helpful advice. The Group is quite small, friendly and informal, with everyone sharing their own experiences. I have learned useful ways to deal with pain and tiredness during 'flare-ups' and how to improve mobility through exercise, diet and relaxation."
Arthritis Action's Groups offer people with arthritis a platform to meet others, share their stories, questions and tips on living with arthritis, whilst helping them to overcome the physical and emotional problems associated with the condition to improve their quality of life. Arthritis Action runs Groups in London, Bristol, Bury St Edmunds, Norwich, Staines, Eastbourne, Ferndown, Coventry, Leicester, and Warrington.
Shantel Irwin, Chief Executive of Arthritis Action, said: "Around 10 million people in the UK live with arthritis. It is the leading cause of pain and disability nationwide. Arthritis Action is lending its support to World Arthritis Day and calls on health communities everywhere to prioritise arthritis and help raise awareness of how the condition impacts those living with it.
"We are delighted to be bringing people with arthritis together to discuss their feelings and how arthritis impacts their everyday life. We hope to continue to empower people with arthritis in the UK to better manage the physical and emotional pain associated with the condition and help them lead more active lives."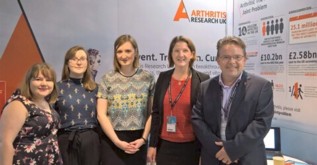 Arthritis Research UK
at party conferences
Arthritis Research UK were present at across all four major party conferences, with attendees at the Scottish National Party and Liberal Democrats' conferences, and a stand at both the Labour and Conservative conferences. Alongside our Chief Executive, Dr Liam O'Toole, staff attended various high profile events and round tables, and for the first time, at Labour and Conservative conferences, we also had an exhibition stand which showcased hard hitting stats about the impact of arthritis.
Many MPs took the time to meet with us to hear about our priorities and receive local statistics about arthritis as a result of constituents asking them to visit our stand. Over 15 new MPs signed up to be Arthritis Champions in Parliament during our time at conference. We were also able to speak to Secretary of State for Health, Jeremy Hunt MP, and Secretary of State for Work and Pensions, David Gauke MP, who visited the stand at Conservative conference, as well as members of the Shadow Cabinet at Labour Conference, including Leader of the Opposition, Jeremy Corbyn MP.
We also met with hundreds of people who were affected by arthritis, and those interested in our key issues. We're pleased to report nearly 250 people joined our campaigner network to help us create positive change.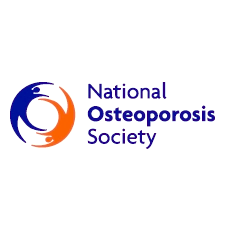 Raising awareness on World Osteoporosis Day
The National Osteoporosis Society had a busy few days in the run up to this year's World Osteoporosis Day on 20th October generating lots of activity in the local and national press on the charity's social media channels.
The day was also used to highlight progress of the charity's A Message to My Younger Self Campaign after President Her Royal Highness The Duchess of Cornwall's own message was reported in a number of newspapers including The Daily Telegraph and Woman & Home magazine.
In addition, the charity also secured coverage in a number of local newspapers and radio stations as support groups in Portsmouth and Conwy lit up local landmarks in National Osteoporosis Society brand orange.
In a message to her younger self, she counselled eating a healthy diet with lots of vitamin D and taking plenty of exercise to ward off the bone-weakening condition.
The Duchess said that as a young woman she had been "blissfully unaware" of the causes and devastating effects of osteoporosis, but warned that it is too late to attempt to build up bone strength beyond the age of 30.

Sport and Exercise Medicine delivers the latest on MSK Health, Physical Activity and Lifestyle
The FSEM (UK) and BASEM joint annual conference Sport and Exercise – Bringing us all Together brought a focus, this year, on MSK Health, Physical Activity and Lifestyle. Delivered in the historical town of Bath 12th and 13th October, the conference was attended by over 400 health professionals with guest sessions from the University of Bath and the ARUK Centre for Sport, Exercise and Osteoarthritis.
Physical Activity in the Prevention and Management of Chronic Disease was delivered with a scientific approach to behaviour change and how technology can help support more people to become active, this was a key focus for the University of Bath. Whilst the ARUK Centre for Sport, Exercise and Osteoarthritis delivered a GP/Physiotherapist directed session outlining the latest research on Ankle Injury and Osteoarthritis and Exercises for Patients with Osteoarthritis. The FSEM (UK) and BASEM sessions focused on Tendinopathy and Concussion Management, with an early breakfast session on Lifestyle Medicine, Improving Metabolic Health through Food, Activity and Community Engagement, proving to be a popular choice the morning after the dinner!
Keynote sessions were delivered on Injury Prevention, the Prevention through the life course of Osteoporosis and a session on Lessons Learned from Military Rehabilitation brought an awe inspiring view of what can be achieved via Exercise Medicine based rehab.

HePAG Acupuncture Foundation Course offer
The Health Professions Acupuncture Group (HePAG) is a wholly owned subsidiary of the AACP, providing Acupuncture Foundation Courses to Osteopaths, Sports Therapists and Chiropractors.
For practitioners wanting to increase their earning opportunities and scope of practice, add acupuncture to your skill set by registering on one of our acupuncture foundation courses.
For more information, visit www.hepag.org.uk/events/foundation.
The Backcare Christmas Concert
BackCare would like to make you aware of their Carol Concert coming up on 19th December 2017: a special performance of the Brandenburg Singers with conductor Robert Porter.
19th December 2017 at 6:30pm
www.brandenburg.org.uk/christmas
Tickets £18
Click to open the full-size event poster.
The Queen's Chapel of the Savoy
Savoy Hill
Strand
London
WC2A 0DA

PCRS Annual Conference reminder
Event name: Primary Care Rheumatology Society Annual Conference
Date: 16-18th November 2017
Location: Park Inn Hotel, York
Timings: Thursday 16th November 12 noon – Saturday 18th November 12.30pm
The annual PCR Conference in York features a highly respected hands-on, friendly educational conference for GPSIs in MSK + Rheumatology and members of the practice team where you can learn from, build contacts and mix with your peers.
This year's lectures include:
• NICE guidelines on Back Pain, implications for treatment
• Musculoskeletal Evidence Update
• Pain self-management. Is it your first choice or last resort?
• "Sarcopenia- a new look at the muscles in musculoskeletal medicine"
For details of the workshops and a link to the programme, please see the conference flyer.
For booking, visit this link: www.pcrsociety.org/events/124

Stoke ARMA meeting December 2017
The next joint meeting of the Haywood User Group / ARMA Stoke is on Dec 1st 2017 at the Haywood Hospital, in the lecture room at 1pm.
Refreshments are available from 12:30pm.
All patients, carers, staff and interested parties are welcome.
Haywood Hospital,
High Lane,
Burslem,
Stoke on Trent
ST6 7AG

Flare Rollercoaster workshop, Portsmouth
Arthritis and Connective Tissue Disease flares are normal but do have an impact on every aspect of your life. In simple terms a flare can be described as "a sudden increased severity in symptoms that can hit at any time".
For many patients having a flare is disheartening, they feel that they have been managing their arthritis/connective tissue disease well and doing all the right things by taking their medication regularly and maintaining a healthy balance of exercise and activity, then one day they wake up and feel like it was all for nothing. For many the symptoms can be mild and for others the symptoms of joint pain, stiffness and swelling and fatigue are the worst that they can remember in a long time.
It's important to remember arthritis and connective tissue diseases even when on effective treatments can have acute periods of time with pain, inflammation and fatigue – this is known as flares. Thankfully for many these troublesome and unpredictable, flares are short lived, unfortunately for a few the flares may continue for a few days or even weeks.
There may be many causes of flares such as
• After bacterial and virus infection
• After Surgery- when you may have been off your Disease Modifying Anti Rheumatic or Biologics Drugs
• Periods of high stress
• Overdoing it at work or at home
The Department of Rheumatology is pleased to announce the first "Flare Rollercoaster" workshop:
Saturday 2nd December 2017

Shaping the RA service in Scotland
In two new NRAS videos, our Scottish Ambassadors and Dr Neil McKay from the Scottish Society for Rheumatology, explain how RA patients living in Scotland can help shape improvements to their rheumatology services.
Patients who have had RA for a year or more, and live in Scotland, can fill out the questionnaires that will be available in your clinic. Information gathered will be analysed and used to identify areas of good practice that can be shared across the country.


Contribute to EULAR 2018 - Abstract submission now open
The Annual European Congress of Rheumatology will take place in Amsterdam, 13-16 June 2018.
Building on a record of 4,850 abstracts submitted in 2017, EULAR 2018 is expected to achieve more success than ever before. Submit your abstract and join EULAR in its endeavour to improve the availability of information and the ability to diagnose and treat all areas of rheumatic and musculoskeletal diseases (RMDs).

Abstract submission deadline: 31 January 2018 23:59 CET


Edgar Stene Prize 2018 – Send your entries, don't miss out!
Deadline is Friday 21st December. Please submit your completed essays entry to projects@arma.uk.net.
The Edgar Stene Prize 2018 competition is open to people 18 years and over who are living with a Rheumatic and Musculoskeletal (RMD) disease. The 2018 prize will be awarded to the winning essay on the topic:
"My personal champion – supporting my everyday life with a rheumatic and musculoskeletal disease (RMD)"
For many people with RMDs it can be a long journey to receive the right diagnosis and appropriate treatment for their condition. The competition invites entrants to write about their personal experience. As the UK's national member organisation of EULAR–PARE, ARMA will appoint a judging panel to decide upon the one essay we will submit to the competition on behalf of the UK.
Each entry should not exceed 2 pages (A4) and be submitted along with information about the author. Please see the full competition rules and letter to member organisations with further details on the essay theme.
The overall Stene Prize winner, chosen by a EULAR jury, will be announced by 15th March 2018. The Stene Prize winner will be awarded a prize of € 1,000 and will be invited to attend the Opening Plenary Session of the EULAR Congress in Amsterdam (13th June 2018) with travel and accommodation covered. The runner up will be awarded €700 and third place awarded €300.
If you would like to take part of the judging panel, please email ARMA at projects@arma.uk.net by Friday 1st December 2017.

NICE Persistent Pain Guidelines committee
NICE is looking for members to join the persistent pain guideline committee.
They are looking for:
• two general practitioners
• a pain specialist
• a physician with interest in pain
• a liaison psychiatrist
• a pharmacist
• an allied health professional
• a commissioner
• a pain psychologist
• a nurse specialist or practitioner
• a public health professional.
They are also looking for co-opted expert witnesses with the following background or experience:
• an addiction specialist
• a social worker.
Find full details here on the NICE website. NICE are also recruiting for lay members to join the committee: www.nice.org.uk/lay-member-persistent-pain-guideline-committee.
Closing date: 5pm, Wednesday 22 November 2017.


North Wales arthritis and chronic pain support group, Holywell 06 Nov 2017
NRAS Rheum for You Members' Conference, Wrexham 08 Nov 2017
ARMA Policy, Comms and Gold Stakeholders meeting 09 Nov 2017
RCN Orthopaedics and Trauma Nursing Conference, Chester 14 Nov 2017
BSR Core Skills for Nurses and Health Professionals Course 15 - 16 Nov 2017
College of Podiatry Annual Conference and Exhibition 16 - 18 Nov 2017
Primary Care Rheumatology Society Annual Conference, York 16 - 18 Nov 2017
RCN Rheumatology Forum Strategy Day 17 Nov 2017
Closing date for NICE persistent pain guideline committee 22 Nov 2017
South East Regional MSK Whole System Event 28 Nov 2017
NOS Osteoporosis Clinical Update, Birmingham 30 Nov 2017
Edgar Stene Prize closes to judging panel applicants 01 Dec 2017
Joint meeting Haywood / Stoke ARMA, Haywood Hospital, 1pm 01 Dec 2017
Flare Rollercoaster workshop, Department of Rheumatology, Portsmouth 02 Dec 2017
North Wales arthritis and chronic pain support group, Holywell 04 Dec 2017
BSR Myositis Masterclass, Manchester 07 - 08 Dec 2017
Backcare Christmas Concert, Queen's Chapel Savoy, 6:30pm 19 Dec 2017
Edgar Stene Prize closes to essay entries 21 Dec 2017
RCN Rheumatology Nursing workshop 2018, London 12 Jan 2018
North Wales ARMA Network meeting 23 Jan 2018
EULAR 2018 Congress abstract submission deadline 31 Jan 2018
EULAR Annual European Conference of PARE 2018, Brussels 15 - 18 Feb 2018
NOS National Training Scheme for Bone Densitometry 06 - 07 Mar 2018
North Wales ARMA Network meeting 17 Apr 2018
Annual European Congress of Rheumatology, Amsterdam 13-16 June 2018

To see previous issues of the newsletter, click here.
Follow us @WeAreArma
Please start thinking about sending your items for inclusion in our next ARMA newsletter