Dear All,
What a difference a month makes. When I last wrote an introduction to the ARMA newsletter we were in the run up to an election. I'm not sure anyone expected the result to go quite the way it did. Instead of increasing their majority the Government now has no majority at all and will have to rely on the support of other parties to get their plans through. What will this mean for people with MSK conditions?
In some ways it will be yet another distraction. The harder it is for the government to negotiate Brexit, the less time they will have for other policy areas, such as health and social care or work and health. On the other hand, a small majority will strengthen the hand of back bench MPs and make it harder for government to refuse to listen.
One thing we can be sure of - the change and uncertainty will continue. But with uncertainty comes opportunity. As you can see from this newsletter, ARMA members are working on a range of initiatives to capitalise on opportunities and drive change. Together we provide a whole range of support, training and information to support people working for improvements in local services. Our next ARMA/NHS England regional pathways event is in Exeter on 14 July and look out for one in the South East in the autumn.
Probably the most exciting thing I have worked on this month has been the start of our ARMA on-line knowledge hub project. We will be looking for people to help test this as it progresses over the next 6 months. Once launched it will be a one-stop shop for information and evidence on MSK, and an online community where you can go for advice about any aspect of MSK work. Some of you will already be members of the MSK yammer group. If not, please do join if you want to engage with others working on the same challenges. Once the hub is up and running this will transfer across so that the discussion and the knowledge are all in one place.
These are turbulent times, but when things get tough, working together and supporting each other is even more important. Together we can deliver real benefits for people with MSK conditions.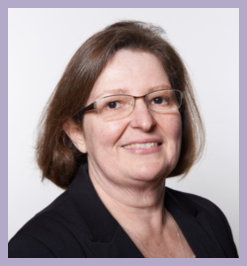 by Liz Lingard, NHS RightCare Delivery Partner
Over the past 3 months I have joined the 'Whole System MSK events' that ARMA and NHS England have organised as the RightCare speaker. This was an opportunity to clarify the RightCare approach to everyone working across the system and how they can apply this in their local health economies. The core aim of RightCare aligns to what each of the ARMA partners aspires to achieve: ensure the right person is able to access the right care in the right place at the right time, making the best use of available resources to help deliver a sustainable NHS. Identifying unwarranted variation and a greater focus on population health is now central to many of the national programmes. It is only when you review population data across a whole pathway of care that you are able to begin to understand variation of risk factors, prevalence of conditions, healthcare utilisation and outcomes of care. Identifying where there are the greatest potential opportunities for improvement is just the first step and further investigation is required to triangulate high level RightCare data (indicative data) with other national provider and local data sources alongside qualitative information from patients and providers (evidential data).
Before working as a RightCare Delivery partner, I was a Public Health epidemiologist who believed that 'data was beautiful' and using measurement for improvement was the key to success. Nick Milton wrote that 'social connection and discussion is 14 times more effective than written word, best practice guidance, databases and toolkits'. So while I continue to work with the RightCare Intelligence Team to provide a better narrative around the data we produce, I am increasingly convinced that the face-to-face narrative we have at a local level between providers, commissioners and patients is the real key for making transformational change that is sustainable happen.
As a RightCare Delivery Partner working with CCGs, I know the enormous pressures they are under to make financial savings and how healthcare providers across all sectors are concerned about what this will mean for their services and patient care. I also know that in some local health economies there has been some really innovative transformational work. There was strong clinical leadership with engagement from all provider organisations working alongside CCGs and local authorities to optimally design pathways of care and ensure that these pathways were implemented in year.
Al Mulley recently reminded me of the story of the Fosbury Flop. At the 1968 Summer Olympics, after years of high jumpers making incremental improvements to their jumps, Dick Fosbury dramatically increased the heights that could be reached. He used a different technique that then became the dominant style and is still used today. No one had tried it because it sounded so wrong; it turned out to be the right thing to do. We are at a Fosbury Flop moment for MSK care where we can no longer make incremental improvements. So I encourage everyone to connect with the MSK work happening in their local networks and be part of the discussion to transform pathways of care that will reach new heights.

Members' News and
Resources


RCOT project with PHE: Health and Work Champions – next stage of recruitment
Royal College of Occupational Therapists project with Public Health England
1st June to 31st July 2017
The Royal College of Occupational Therapists (RCOT) and Public Health England (PHE) supported by the Council for Work and Health are carrying out a project in which 25 occupational therapists and others across England have become Health and Work Champions. They are using peer to peer education training sessions to encourage their NHS colleagues to routinely ask working age adults about their employment aspirations. We are now ready to train an additional 50 Health and Work Champions and would welcome applicants from a broad range of professional backgrounds.
Recruitment is open from the 1st June 2017 until the 31st July 2017. Successful candidates will have to attend two days of training on either the 7th or 25th of September 2017 and on either the 8th or 15th December in London.
The RCOT, PHE and many other professional associations understand that health care professionals are instrumental in giving the service users they work with the skills, belief and confidence to make the adaptations needed to remain in or return to work. In order to increase the profile of this role we are seeking to expand the project to train two new cohorts of Health and Work Champions, 50 in total to build on the excellent work already being delivered.
Health and Work Champions aim to bring about culture change in the NHS so that work is regarded as a valid and legitimate aspect of good care; that it is routinely enquired about in consultations and that brief advice or onward referral is carried out for further employment support as required. Health and Work Champions deliver a standardised training package to work colleagues in their employing NHS organisation which targets doctors, nurses and allied health professionals.
RCOT, PHE and the Council for Work and Health are keen to recruit from a wide range of professionals including occupational health doctors, nurses and other allied health professionals. This is a great opportunity to show leadership and expertise in the area of work across the whole NHS and we would encourage your application over the summer. Due to funding this role is currently only open to applicants from England. If the results of the evaluation by Salford University due in October 2017 are favourable, we may be able to extend this role further in the future.
RCOT are holding the next stage of recruitment from 1st June to the 31st July 2017.
Applicants need to send an up to date CV, covering statement saying how they meet the requirements of the volunteer role description and a statement from their employer indicating their support.
Successful applicants will be notified in August and will attend a day's training on either the 7th or 25th of September 2017 and a follow up day on either the 8th or 15th December in London. Applicants should indicate which would be their preferred September and December training dates. Reasonable travel expenses for these two days will be paid. They will then be expected to deliver training locally and collect feedback information about their training sessions.
Please send applications by the 31st July to Ashleigh.Watkins@cot.co.uk. The volunteer role description is available from the RCOT websire here.

Please distribute the new NRAS
Work Survey
The National Rheumatoid Arthritis Society (NRAS) launched its new Work Survey last week. This will investigate the experiences of people with Rheumatoid Arthritis (RA) and Adult Juvenile Idiopathic Arthritis (JIA), any impact it has had on people's ability to work and how it affects people in the workplace.
The research will allow NRAS to draw comparisons with its previous Work Survey 10 years ago and enable future campaigning to focus on matters that affect people with RA the most at work.
We would be grateful if you could pass on the link below and encourage your members with rheumatoid arthritis to complete the survey.
The survey and further details are available here: www.nras.org.uk/worksurvey.
Alternatively, if you would like to find out any further details, please contact Matt Bezzant, Policy and Public Affairs Manager, at matthew@nras.org.uk.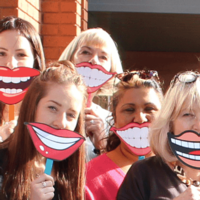 RAawareness week 2017
Once more NRAS has had a very successful RA awareness week with thousands getting involved in the #behindthesmile campaign. Over 500 awareness packs were sent out in the post and there have been over 1,700 downloads of the posters and infographics from the website.
Our thunderclap went live on the first day of the week and surpassed our target, reaching over 175,000 people, and our RA awareness week frame was used by 2,000 people on Facebook and Twitter.
Click to open the full-size the Behind-the-smile NRAS team photo.
During the week, we launched part 2 of the #behindthesmile video with Jane deciding to talk about having RA.
You can view the video on our website www.nras.org.uk/ra-awareness-week
The full impact is still being calculated but we would like to say a huge thank you to everyone who has supported and shared our posts on social media throughout the week.
#WearPurpleForJIA
A big thank you ARMA and everyone who supported the campaign this year - we are overwhelmed by the fundraising activities that people organised this year in aid of JIA-at-NRAS through #WearPurpleforJIA.
This is an amazing campaign started by two mothers (Lynette and Rachel) just a few years ago. Over £12,000 has already been raised and the cheques are still coming in!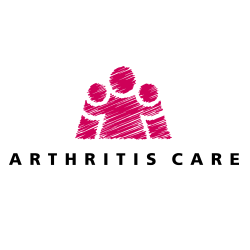 Mental wellbeing research
Arthritis Care published new research to launch our Wake up to arthritis campaign during Arthritis Care Week. The report, Hidden impact: Arthritis and mental wellbeing, revealed the huge emotional toll of living with arthritis. Findings are based on over 3,000 survey responses from people with arthritis.
Findings include:
• 79 per cent feel anxious or depressed because of their arthritis
• 89 per cent worry about how arthritis will affect their future independence
• Four in five (80 per cent) have given up activities they enjoy
• Half (50 per cent) feel isolated or lonely because of their arthritis
Find out more about this research and read the full report here.
Services and support
We are delighted to have been awarded significant grants of c£130,000 over three years from the City Bridge Trust towards our Young People and Families service in London, and £25,000 from the Masonic Charitable Foundation to set up 50 Arthritis Care Groups. Arthritis Care Northern Ireland has been awarded £10,750 towards our Living Well with Arthritis and Young People and Families services by the Mrs Maureen Boal Charitable Trust.
North East Hampshire and Farnham CCG have awarded Arthritis Care a contract to replicate part of our innovative West Berkshire service with them, with a focus on group workshops.
Asking candidates to wake up to arthritis
We want MPs to understand why arthritis matters, so in the run-up to the general election Arthritis Care asked our supporters to contact their parliamentary candidates about the impact of arthritis. 730 emails were sent to candidates across the UK, leading to queries from a number of candidates who wanted to know more and helping to raise awareness of arthritis in Parliament.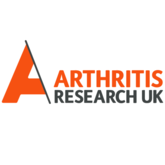 Championing arthritis in parliament
Arthritis Research UK have created a new manifesto telling MPs what they can do to ensure that everyone with arthritis can have fuller lives. To make these recommendations a reality, it is vital that MPs across the country support people with arthritis through local and national activity. Prior to the general election we asked every candidate standing to be an Arthritis Champion and had 350 pledges with 24 candidates being elected to parliament. There are also 125 returning MPs who were Arthritis Champions in the previous Parliament.
Arthritis Research UK are holding a parliamentary reception in early July for MPs and Peers to come and learn more about how they can get involved, and sign up to be Arthritis Champions during this parliament. To support this campaign, people can ask their MP to sign up to become an Arthritis Champion quickly and easily online.
Policy position on social care
Arthritis Research UK has published a policy position on social care services for people with arthritis and musculoskeletal conditions. This forms part of a suite of work Arthritis Research UK is doing to influence the social care services and improve quality of life for people with arthritis.
Forthcoming policy report on musculoskeletal conditions and multimorbidity
In mid-July, Arthritis Research UK will publish its latest policy report examining musculoskeletal conditions and multimorbidity. Musculoskeletal conditions are often found among people who live with many long-term conditions. For instance, by 65 years of age, almost five out of ten people with a heart, lung or mental health problem also have a musculoskeletal condition. With the numbers of people living with multiple long-term conditions projected to grow, it's important that we understand the changing needs of this group and ensure they are met effectively.
Over the last two years Arthritis Research UK has examined these issues in depth. We held a roundtable, spoke to people with arthritis and other long-term conditions, healthcare professionals and researchers, conducted a literature review, and analysed the General Practice Patient Survey. All of this helped us understand more about the nature and impact of living with arthritis when combined with other long-term conditions. Our findings alongside practical recommendations for national policy-makers will be available from www.arthritisresearchuk.org from mid-July.
Arthritis Research UK Helpline Launch
Following insight and research that shows that 42 % of people with arthritis find it really difficult to find relevant information that can be used in their unique situation, and that 2 in 3 people feel a discussion is necessary alongside information they've received, Arthritis Research UK launched a new information and advice Helpline on the 3 April 2017.
Based on the information currently available on Arthritis Research UK's website, trained advisors are able to discuss each callers unique situation, helping people understand how the information is relevant to their circumstances and answering any follow-up questions, as well as signposting to other organisations that have specialist information, including other arthritis charities. Our helpline advisors are not medically trained but have access to a healthcare professional team to allow them to respond to more complex questions about drugs and treatment.
The Helpline is the first of a number of services that Arthritis Research UK intends to launch to support people to access personally relevant information and advice; we are also developing a new cognitive approach to online information provision and will be launching our arthritis virtual assistant over the summer and we are planning to pilot a peer support programme for people with arthritis who have decided to have joint replacement surgery in the Autumn.
Further information on our Helpline is available here, if you'd like any further information on the Helpline or any other information on our services development please contact please contact Jaslin Gilbert, Services Development Officer.

NASS Members' Day & Back Pain Plus
Our annual Members' Day was held on Saturday 17 June at Bramall Lane stadium in Sheffield. We were delighted to have a full house with 150 members and guests attending. Dr Gareth Jones presented his research on disease flares and Professor Paul Wordsworth gave an update on his research into the genetics of AS. The AS team from the Royal Hallamshire in Sheffield including Dr Lisa Dunkley, Zoe Cox and Liz Byrne presented on what patients should expect from their AS clinic under the new NICE spondyloarthritis guideline and the day ended with a flare management workshop lead by Clare Clarke, Sue Gurden and Claire Harris. Presentations will be uploaded to the Members' area of the NASS website.
Back Pain Plus
NASS were at the British Society for Gastroenterology (BSG) Conference 19 - 22 June to raise awareness of the link between AS and inflammatory bowel disease as part of our Back Pain Plus campaign. The campaign was launched back in 2016 and is aimed at gastroenterologist, ophthalmologists and dermatologists. We also had a poster and flyers at the recent Royal College of Ophthalmologists (RCO) conference and will have flyers at the up coming British Association of Dermatologists (BAD) conference in July. We were also delighted to have the campaign mentioned during talks at both the BSG and RCO conferences.
Biologics Guide
We have updated our Guide to anti TNF therapy to become a Guide to Biologic Therapy. It now includes the NICE approved anti IL 17A, secukinumab (Costenyx).
AS one
Last week NASS launched our new service, "AS one", which aims to bring together young people with axial spondyloarthritis and AS. The service aims to inform and educate on AS, but it's also a platform for young people to share their thoughts, feelings and experiences with each other.

Management guideline for adults with Primary Sjögren's Syndrome
British Society for Rheumatology publishes first UK guideline for the management of adults with Primary Sjögrens Syndrome
The first UK guideline on the care of adults with Primary Sjögren's Syndrome has been published by the British Society of Rheumatology. The guidelines are accredited by the National Institute for Health and Care Excellence (NICE) which recognises robust, evidence-based and critically evaluated high-quality processes applied to developing a clinical guideline.
Clinical guidelines are particularly important for patients with less common conditions like Sjögren's because health professionals can lack confidence in managing treatment and care. Sjögren's is a chronic, debilitating, multi-system condition predominantly affecting the moisture producing glands of the body, but also causing systemic effects. Patients often see health professionals from several different specialities because of the varied symptoms but health professionals are still quite likely to under-estimate the overall burden of their disease. The new guideline tackles that. It is a pragmatic, practical guide to management with straightforward advice and includes both non-pharmacological and pharmacological treatments.
Not only will the guideline be of particular interest to rheumatologists and other hospital based practitioners such as ophthalmologists, ear, nose and throat specialists, oral medicine experts and general physicians, but also dental practitioners, general practitioners and nurses. Patients struggle with the chronicity of the condition and are frustrated by the paucity of treatment and lack of medical knowledge about how best to manage it – this guideline gives health professionals the guidance they need to manage these patients.
The guideline was written by specialists from across the UK, alongside patients with the condition. The Guideline Working Group included an expert patient, a GP and an occupational therapist with a special interest in the fatigue and sleep problems suffered by patients with Sjögren's and other chronic inflammatory conditions.
The guideline clarifies care of the dry eyes and mouth with special reference to oral candida and salivary gland enlargement. It extends into treatment of systemic disease and the assessment and management of pregnancy in affected women. Pharmacological treatments for systemic disease are extensively covered alongside helpful guidance on treatments that are not recommended.
The guideline was published on 29 June 2017 in the Rheumatology Journal and is available to view, along with a full suite of guidelines, at www.rheumatology.org.uk/Knowledge/Excellence/Guidelines.

National Osteoporosis Society's
Clinical Update 2017
TREATMENT OF OSTEOPOROSIS – 'When to start, when to stop and when to change?'
30th November 2017, NEC Birmingham
With a brand new and innovative format this event promises to provide multidisciplinary clinicians in England with the opportunity to discuss the treatment and management of osteoporosis. The Clinical Update will bring a series of interactive clinical case discussions to you, presented as part of an expert discussion panel. You can expect to hear and participate in lively debate around identifying the high-risk patient, treatment options for the atypical patient and considerations for duration of treatment.
Early bird price is valid until 31st July.
For more information or to register for the event please click here.
Should you have any questions regarding the event please contact conferences@nos.org.uk.

PCR Annual Conference Programme November 2017
The Primary Care Rheumatology Society's annual conference will take place in York:
16-18th November 2017
Park Inn Hotel
North St
York
YO1 6JF
An outline programme for the three-day event is available to download, and booking is now open.
Please apply with this application form application form, indicating your interest and preferences in the choice of workshops.
There are further details available at the PCR Society website here.

Inflammation and Tendinopathy
The BASEM and FSEM Sport & Exercise Medicine conference – Bringing us all together, 12-13 October 2017, will be delivering a focused session on Tendons and Tendinopathy.
In this session, hosted by the Faculty of Sport and Exercise Medicine UK, Dr Stephanie Dakin, BVetMed, MRCVS, Botnar Research Centre, Nuffield Department of Orthopaedics, Rheumatology and Musculoskeletal Sciences, University of Oxford, will outline the significance of inflammation to the onset and progression of tendinopathy:
Tendinopathy is a common global disease burden causing pain and prolonged disability. The importance of inflammation as a contributor to the development of tendon disease has been contentious in recent years. Whilst the phenotypes of the key cells orchestrating inflammation have not been fully characterized, there is a growing body of recent evidence to support the contribution of inflammation to the onset and progression of tendinopathy.
Dr Dakin's presentation will also discuss recent research highlighting improved understanding of the mechanisms underpinning the development and persistence of inflammation, and how this may inform novel therapeutic strategies to treat tendon disease.
Dr Dakin is an Oxford UCB Prize Fellow and has been awarded consecutive Fellowships to advance and translate her research on equine tendinopathy into the human field. Stephanie's research focuses on investigating the mechanisms underpinning the development of inflammation, pain and fibrosis in tendon disease. The goal of her research is to advance target discovery and therapeutic strategy for common diseases of orthopaedic soft tissues.
The 4th BASEM and FSEM Sport and Exercise Medicine conference is offering evidence based learning for consultants, physicians, GPs, physiotherapists, and those working across Sport and Exercise Medicine.
The conference is delivered in conjunction with the University of Bath, celebrating its 50th Anniversary, with sessions by both the University of Bath and Arthritis Research UK Centre for Sport Exercise and Osteoarthritis. Follow this link to view the full programme.
Don't delay book your place before 30th June to receive an early bird booking discount at www.basem.co.uk supported by www.fsem.ac.uk
Keep up to date with conference news on Twitter using #AllTogether @basem_uk @FSEM_UK

BMAS Foundation Courses
For the upcoming dates for foundation courses in western medical acupuncture from the British Medical Acupuncture Society, please click here to download details.
Further training events include, "Self-acupuncture day" and "Acupuncture for Osteoarthritis" courses.
Therapies Manager vacancy, London
Arthritis Action are currently seeking a Therapies Manager to join their team in London.
Applications should be received by 5pm on Monday 24th July 2017.
To apply, please download and read the job description and email your CV with an accompanying cover letter addressing how you meet the person specification to Heather: heather@arthritisaction.org.uk
The job post URL (which is active from July 4th) will be:
www.arthritisaction.org.uk/job_posts/therapies-manager
Arthritis support groups in Wales
Aug-Dec 2017
Upcoming North Wales support group meetings for people with arthritis and chronic pain.
Dates:
7th August 2017
4th September 2017
2nd October 2017
6th November 2017
4th December 2017
Venue:
Holywell Community Hospital, North Wales.
The meeting room is behind the cafe and opposite the reception area.
Open full-size and save the flyer for more details, or see the North Wales Arthritis & Chronic Pain Support Group Facebook page.

Paediatric rheumatology in Wales
Wales is the only home nation without a full multidisciplinary paediatric rheumatology service, so many children and families in Wales travel long distances to access vital services. Arthritis Care believes children with arthritis in Wales deserve better.
That is why Arthritis Care Wales, together with the British Society for Rheumatology and the National Rheumatoid Arthritis Society, held a drop-in event in Cardiff on the 28 June 2017 to talk to Assembly Members about the impact of childhood arthritis and the need for better services.
You can find more information about our paediatric rheumatology campaign here.


The Societal Impact of Pain – SIP 2017
The UK Gout Society recently attended the 7th European Symposium of the Societal Impact of Pain (SIP 2017) in Malta, organised by the European Pain Federation (EFIC), Pain Alliance Europe, the Active Citizen Network and Grünenthal.
The event brought together stakeholders from across the EU and MSK community – and provided a platform to raise awareness of the impact of pain, exchange ideas and information, develop consensus and policy strategies, and debate pain as a quality indicator for healthcare systems.
One-in-five adults in the EU are currently living with chronic pain. Direct and indirect healthcare spending on chronic varies between 2-3 percent of GDP across the member states. With more than 500 million sick days per year in Europe, musculoskeletal pain alone causes almost 50 percent of all absences from work. Yet chronic pain remains poorly managed and under-treated - not only affecting individuals living with pain, and the people close to them - but society at large.
There were a wide variety of informative and inspiring workshops and plenary sessions at the conference. These included presentations by advocacy groups, such as AGORA (the coalition of 19 southern European rheumatic and musculoskeletal disease patient organisations), Fibromyalgie France (French Fibromyalgia Association), and Arthritis Care Scotland; as well as lead clinicians, educational institutions, the Spanish Ministry of Health, European Medicines Agency, the German Pain Society, Fit for Work and the European Commission. MEPs also took an active part in debates – offering attendees to email them directly with questions regarding chronic pain for the European Parliament.
Despite the disparate speakers and content, common themes were apparent throughout the conference. Calls for a cross-functional approach to tackling chronic pain were echoed across many of the working group presentations and plenary sessions. Patients, doctors, insurers employers, policy makers and politicians need to work together to push chronic pain up the political and healthcare agenda. The need for structured cooperation between healthcare systems across Europe to tackle the societal impact of pain was deemed to be imperative – as well as the need for greater research and surveillance.
Another important topic was the role of terminology in 'making or breaking' patient access to medicines and health services. Is chronic pain a disease in its own right – chronic primary pain – other than just co-existing with other conditions? There was also a report from the International Association for the Study of Pain (IASP) Task Force for the Classification of Chronic Pain and the current field testing of a new version of the WHO's ICD-11 which now includes codes for chronic pain.
At the close of SIP 2017, Martin Seychell, Deputy Director General DG SANTE, European Commission, announced the launch of an expert group on the social impact of pain within the EU's Policy Platform. He stated: "We cannot have a successful Europe without taking care of our most important asset – our people."
Overall, it was clear from the conference that, while acute pain may reasonably be considered a symptom of disease or injury - chronic and recurrent pain is a specific healthcare problem. "The relief of pain should be a human right," concluded the President of EFIC.
Following SIP2017, on 16th June, EU Health Ministers, under the leadership of the Maltese Presidency, called for a review of access to treatment for patients suffering from chronic pain.

Royal College of Nursing event: Orthopaedics and Trauma Conference
Challenges and innovations: orthopaedics and trauma across the lifespan Society of Orthopaedics and Trauma Nursing Conference and Exhibition 2017
14 November 2017
Crowne Plaza Chester
Royal College of Nursing (RCN)
www.rcn.org.uk/sotn
This year's one-day conference will explore the challenges and innovations in orthopaedic and fracture trauma care for patients, ranging from children and young people to the older person.
Themes include:
• musculoskeletal care in the child and young person
• musculoskeletal care in the adult and older person
• orthopaedic and trauma knowledge and skills: across the life span
• contemporary approaches in education for the musculoskeletal practitioner.
The hashtag for the event will be #RCNSOTN2017

Use of the Social Value Act by healthcare commissioners
New research conducted by National Voices and Social Enterprise UK has found that only 13% of Clinical Commissioning Groups (CCGs) can clearly show that they are actively committed to pursuing social value in their procurement and commissioning decisions.
The Public Services (Social Value Act) 2012 requires commissioners to consider broader social, economic and environmental benefits to their area when making commissioning decisions. The Act was a response to the risk of competitive tendering focusing solely on cost at the expense of other forms of value. Consideration of broader social value when making commissioning decisions is vital to ensuring that the public pound is used as effectively as possible.
Learning paper from Wellbeing Our Way
National Voices' Wellbeing Our Way programme has published a learning paper reflecting on its use of communities of practice to facilitate change across the voluntary sector over the last 3 years.
With a foreword from @Helen Bevan – and in the spirit of social learning – the publication reflects on our experiences over the last 3 years and shares reflections in order that others can learn from our successes and challenges.
NICE work programme stakeholder registration
Organisations with an interest in any of NICE's current work programme are encouraged to register as stakeholders. Registered stakeholders can help to shape NICE's work by attending workshops, commenting on drafts and helping with dissemination of our guidance and quality standards. To register as a stakeholder, please visit their stakeholder registration webpage.
NHS Confederation - Acting without delay - how the independent sector is working with the NHS to reduce delayed discharge

This report from the NHS Partners Network highlights examples where the independent sector is working with the NHS to avoid delayed discharges of care.
Read the report here.
Read the press release here.
King's Fund - Cascading Leadership: a new model to support leadership in the voluntary and community sector
The King's Fund, Comic Relief and the Big Lottery Fund have opened applications for a unique programme that enables charity leaders to help each other through sharing expertise and developing skills. There are 80 places initially available on the programme, which is free to attend. Charities applying for places, worth up to an estimated £3,000, must show how their work improves health and wellbeing.
The launch of this programme follows the publication of our recent report, in which we shared the results of an external evaluation of the programme's successful pilot.
Find about the programme here.
Read the report here.


ARMA Board Meeting, 9:30am 07 July 2017
ARMA AGM 2017, 12:30pm 07 July 2017
CEO meeting, 3:15pm 07 July 2017
Policy and Comms Group meeting, 2pm 11 July 2017
College of Podiatry Podiatric Sports Medicine Conference 13-14 July 2017
ARMA/NHS England Regional Pathways event, Exeter 14 July 2017
Applications close for Arthritis Action Therapies Manager role 24 July 2017
Recruitment closes for RCOT/PHE Health and Work Champions 31 July 2017
North Wales arthritis and chronic pain support group, Holywell 07 August 2017
BASEM Revision Course for the FSEM Membership Exam: Part 1 12 August 2017
Prize for Sport and Exercise Medicine abstract submission deadline 18 August 2017
Tom Donaldson Poster Prize submission deadline 18 August 2017
Bone, Muscle & Joint Diseases - CongressMed, Gold Coast, Australia 31 Aug – 03 Sept 2017
North Wales arthritis and chronic pain support group, Holywell 04 Sept 2017
Day-to-Day Living with Arthritis and Connective Tissues Diseases Conference 27 Sept 2017
FSEM Diploma Ceremony 28 Sept 2017
North Wales arthritis and chronic pain support group, Holywell 02 Oct 2017
FSEM and BASEM conference with Bath University 12-13 Oct 2017
BASEM Open Forum and AGM, 4pm 12 Oct 2017
World Osteoporosis Day 20 Oct 2017
BMAS course: Self-acupuncture day 20 Oct 2017
North Wales arthritis and chronic pain support group, Holywell 06 Nov 2017
RCN Orthopaedics and Trauma Nursing Conference, Chester 14 Nov 2017
College of Podiatry Annual Conference and Exhibition 16-18 Nov 2017
NOS Clinical Update 2017 30 Nov 2017
North Wales arthritis and chronic pain support group, Holywell 04 Dec 2017
EULAR Annual European Conference of PARE 2018, Brussels 15-18 Feb 2018

To see previous issues of the newsletter, click here.
Follow us @WeAreArma
Please start thinking about sending your items for inclusion in our next ARMA newsletter