This is my last update as CEO of ARMA. On Monday, 13th of February, I will start my new role as CEO of the Resuscitation Council, and Sue Brown will take up the post of CEO of ARMA. Sue has worked for many years as Head of Public Policy for Sense and previously for Mind, as well as being Vice-Chair of the Care and Support Alliance. I know that Sue is keen to meet as many of you as possible within her first month, and I'm sure that you will all welcome her warmly to the role.
We are living in uncertain and challenging times. If on one hand the only constant is change, what we are living through now – be it in the NHS, in the UK, in Europe, across the world – feels more like an earthquake.
We are always, however, faced with a choice, particularly in times of adversity. We can choose to look inwards, clutch at what we've got, and decide to go it alone, regarding those closest to us not as partners but competitors. Or we can choose to look outwards, pool our resources, and collaborate with those who we recognise as having much in common with us. Inevitably, those that pursue the former path use the language of the latter. But we are all judged by our actions.
Oscar Wilde wrote that "we are all in the gutter, but some of us are looking at the stars." While we are not necessarily in the gutter, we – as the MSK community - are certainly all in the same boat.
ARMA is unique in bringing together organisations large and small, patient-led and professional bodies, specialists and generalists operating across the entire healthcare arena, charities focusing on single conditions and those working across the MSK spectrum. That is a challenge, but when we are united, we are more than the sum of our parts.
At the first members' meeting which I attended as CEO, back in June 2012, I said to our members that ARMA belongs to you, and that our Alliance will be what you want it to be, but that a strong ARMA will benefit everyone. How strong we are depends on how effectively we all pull in the same direction.
Collaboration is the shared destiny of our community, of healthcare, of our society, and of nations. The only question is how long, and how painful, it will be to get there, and how many obstacles and setbacks must be overcome. But even that is largely in our own hands. Strong, self-confident organisations, and peoples, need not fear losing their identity through collaboration. We win, and we lose, together. If success cannot be shared, it will be short-lived, and ultimately it will be in vain.
The 8 years that I have worked in MSK – nearly 5 of these with ARMA - have been very eventful, and they have taught me much. I'm very pleased to have known and worked with so many good people, some of whom I would like to thank in particular.
Dave Marsh, Phil Gray and Tony Woolf – three very different ARMA Chairs, each very committed to achieving the very best for our Alliance, each of whom it has been a pleasure to work with.
Peter Kay, whose constant support and championing not just of MSK but of ARMA has been instrumental in getting to where we are now.
Alan Nye, who has been a key point of reference for me since before joining ARMA.
Debbie Cook, who has shown great commitment to the ARMA way of working at every step of the way, as well as great integrity and support for me personally.
There are many more people whom I have greatly enjoyed working with: Jeremy Taylor, Jane Dunnage, Steve Bevan, Tony Redmond and Sir Muir Gray among them.
There have of course also been a few stumbling blocks along the way. It is unfortunate, in this respect, that throughout my nearly 5 years as CEO of ARMA, and stretching back further, by far the biggest challenges to our Alliance, and our community, have come not from outside but from within our community.
Although we are not alone in this, how much more effective could we have been, had we not had to work through problems of our own making?
Now more than ever, it is important that this Alliance can genuinely work as one, and speak as one. With its members actively supporting it, ARMA can open the door for the whole MSK community – and then everyone can go through. But the door can only be opened by our collective strength. Just as in the story of the blind men and the elephant, there is no point describing just one part of the picture, if you can't see the whole.
Before I conclude this last update, I should probably say a few words about what ARMA has in fact been doing since the end of November.
The government's Improving Lives green paper on health, work and disability is one of our key priorities at this time, and Nita has been liaising closely with our member organisations around key messages on MSK. We will be producing an ARMA response to the consultation, which closes on the 17th of February, based on our members' input, and building on the policy position paper on MSK and work which we produced last year. We also hosted a number of webinars on this issue in the past few months, which are available both on our homepage and our Yammer group, and which we encourage everyone to have a look at if you haven't already.
As previously mentioned, we continue to work closely with NHS England to deliver a series of regional MSK workshops across England. Three workshops will take place in March, in Birmingham (21 March), Leeds (24 March) and London (28 March), co-produced with MSK leaders from local CCGs and AHSNs and the respective Regional Medical Directorates of NHS England. Details of these events will be made available to stakeholders and through the Knowledge Network and the ARMA website very soon.
The recording of our 8th annual lecture, with Stephen Dorrell, former Health Secretary and currently Chair of the NHS Confederation (not to mention the European Movement), is now available on our website.
We are also working on new policy position papers on prevention, self-management and obesity, and will be exploring one on mental health & MSK.
Finally, please ensure that you are following @WeAreARMA on Twitter – though you're welcome to continue to follow me, too, of course.
Today, the profile of MSK is higher than ever. Our Alliance is at the same time broader and arguably more united than it has ever been before. As always, ARMA will be what its members want it to be. I trust that you will help keep it a strong ARMA.
---
On behalf of NHS England, we'd like to wish Federico well in his next role at The Resuscitation Council. Through his excellent leadership we have made significant progress in influencing the system to support local improvement in NHS MSK services, promoting new care models and innovation as a resource to help build the MSK knowledge network. The wider ARMA community have all played a part in that expertly guided by Federico.
Professor Peter Kay, National Clinical Director for Musculoskeletal Services for NHS England;
Sarah Marsh, Programme Manager, Long Term Conditions, and the team at NHS England.
---
I have known Federico for a little over two years and it has been an unmitigated pleasure. He is very knowledgeable and always extremely helpful. He had led ARMA admirably and will be missed by all. His successor will have big boots to fill.
I also greatly admire his passion for the European ideal!
I wish him good luck in his new role. He will be a great asset wherever he goes. I will miss him.
Satjit Singh, Chief Executive, British Chiropractic Association
---
Federico has done a great job of championing and raising the profile of musculoskeletal conditions and the work of the Alliance. I wish him all the very best in his new role.
Debbie Cook, Chief Executive, NASS
---
I have known Federico for many years, and for the past five years have worked with him while he was CEO and I one of the trustees of ARMA. He has always been tenacious in driving forward the aims of ARMA and at the same time bought great professionalism to the role. I have valued working with him and regard him as both a friend as well as a work colleague. He has overseen many key developments for ARMA, including the MSK Network project and through this has strengthened our links with NHS England and other key organisation right across the UK. He has also handled with tact many challenges for ARMA and delivered successful outcomes. I would want to wish him well in his future career. He will be a tough act to follow!
Dr Alan Nye, Clinical Lead AQuA (Shared Decision Making), Executive Director Pennine MSK Partnership
---
Federico has taken ARMA in a new direction; we have had a very successful collaboration with NHS England in the clinical Networks project and I am sure that this is due to Federico's influence. I have enjoyed his choices for the ARMA lecture each year, especially Dr Partha Kar who talked about diabetes and the "super six" which gave me lots of ideas for my own field of work. I do wish Federico well in his new role and thank him for his influence at ARMA.
Dr Louise Warburton, Clinical Lead for Telford MSK Service (TEMS), Associate Medical Director Shropshire Community NHS Trust, Senior Lecturer Keele University, Trustee of ARMA
---
Musculoskeletal health and the prevention and treatment of arthritis and other musculoskeletal conditions is now getting the recognition it needs by NHS England, Public Health England and the Department of Work and Pensions. This is because we have been able to present a strong case as a community and establish a trusted working relationship with policy makers. The work of Federico Moscogiuri as CEO of ARMA has achieved this along with all the efforts of our member organisations. It highlights the benefits of working as an alliance with a common purpose focused on the needs of people with or at risk of arthritis and other musculoskeletal conditions. Federico is leaving to develop his career and we thank him for all that he has contributed to achieving this recognition and establishing these working relations. We will continue to push as an alliance for greater priority under the guidance of Sue Brown as new CEO.
Professor Tony Woolf, Chair, ARMA

ARMA welcomes Sue Brown
as new CEO
The Arthritis and Musculoskeletal Alliance is very pleased to announce the appointment of Sue Brown as the new CEO of ARMA with effect from the 13th February 2017. Following advertising, there was a very strong field of 15 candidates and Sue Brown was the unanimous choice of the interview panel.
Sue has a very strong background in leadership roles in the charity sector and in working successfully with voluntary sector alliances. She has been the Vice Chair of the large Care and Support Alliance and has worked for many years as Head of Public Policy for Sense (the deaf/blind charity) and previously for Mind. She has a very substantial background in influencing, policy and networking with Government organisations. She is looking forward to working closely with ARMA member organisations to help raise the profile and priority of arthritis and MSK conditions with public decision makers.
Sue will aim to visit as many as possible of the ARMA member organisations in the first month of her appointment.
We will also be saying a warm thanks and farewell to Federico Moscogiuri, the current CEO, who will be leaving ARMA on the 10th February to take up the post of CEO of the Resuscitation Council. We wish him the very best in his future role.

Members' News and
Resources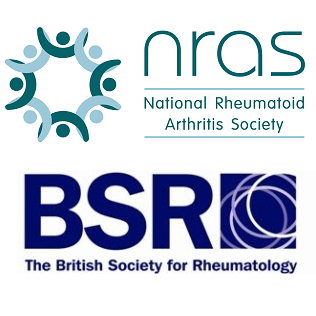 Lack of NHS Resources in Wales Could Be Causing Delays to Arthritis Diagnosis and Treatment
Joint release from: British Society for Rheumatology and National Rheumatoid Arthritis Society
Rheumatology and arthritis societies raise concerns for arthritis services in Wales and call for more support to improve long-term patient outcomes.
The number of patients referred to rheumatology departments in Wales has increased by 66% since 2012, but resources for treatment are not keeping up with the demand, say patients and clinicians. As a consequence, new patients are waiting longer to be seen and treated and existing patients are struggling to secure follow up appointments and self-management advice.
These findings are important as there are 25,000 people living with rheumatoid arthritis (RA) in Wales, and 12% of the adult population in Wales identify themselves to have some form of arthritis. This is similar to the number of people identified as having a mental illness (13%) and higher than those with diabetes (7%).
The findings are taken from a new joint report by the British Society for Rheumatology (BSR) and the National Rheumatoid Arthritis Society (NRAS) Rheumatology in Wales: The State of Play which is released today. The report is part of a series of reports that investigate how rheumatology services in the UK are being delivered.
Specifically focusing on services for newly diagnosed patients, the report identified that:
• The number of patients receiving a rheumatology appointment within 6 weeks of GP referral has declined over the last year to just 39% as of June 2016.
• Just 22% of patients in Wales with RA in 2016 were being seen within three weeks, compared to the national average of 37%*
• Wales has the lowest number of Early Inflammatory Arthritis (EIA) Clinics compounding the service delays.
• Wales is the best performing region of the UK for GP referrals, with 46% of newly diagnosed RA patients being referred within within 3 days* of first presentation, compared to the UK average of 20%.
RA patients already within the system also face problems, including:
• 40% reported that intervals between appointments were too long to keep their condition under control, and 35% found it difficult or very difficult to get an appointment with their consultant.
• Only 52% of patients in Wales received education and self-management for RA within one month of diagnosis compared to a national average of 67%.
• 35% of NRAS' members stated they were not given information on services or organisations who could give them further support, and 30% indicated nobody had spoken to them about the emotional impact of their condition.
Early diagnosis and treatment of inflammatory arthritis is crucial to avoiding long-term damage and disability, both of which commonly lead to unemployment and further burden on health and welfare support services.
Peter Lanyon, BSR President, commented:
"Both feedback from our membership, the NRAS survey and the National Clinical Audit indicate variation in care across Wales for people living with inflammatory arthritis. We hope that this report should stimulate action across Wales to provide rheumatology services, and the professionals working within them, with the support they require to deliver consistently high quality care to their patients with rheumatic and musculoskeletal disorders."
Rich Flowerdew, Welsh Ambassador for NRAS, said:
"These results are worrying and show that NHS Wales and Local Health Boards need to support rheumatology services to meet quality standards for the treatment of RA. It is abundantly clear that patients are not being seen enough within the 12-week window of opportunity of diagnosis. If patients are seen to within this window, their longer-term outcomes look better."
The report incorporated a number of data sources which included an NRAS survey of 257 people with RA to gain greater understanding of their experience of health and care in Wales. In addition, BSR consulted many of its professional members, which consist of health professionals such as consultant rheumatologists, GPs, physiotherapists and specialist nurses who work in Wales. The report also includes the data from the National Clinical Audit for Rheumatoid and Early Inflammatory Arthritis.
This report forms part of a series the BSR has produced starting with The State of Play in Rheumatology: Insights into service pressures and solutions in 2015, which highlighted the status of rheumatology services throughout the UK, followed by Rheumatology in Scotland: The State of Play. The fourth report in this series, planned for 2017, focuses on services in Northern Ireland and will enable us to explore similarities and differences in provision of care across the UK.
Rheumatology in Wales: The State of Play is available to download now from the BSR website.
*Key service quality standard from the National Institute for Health and Clinical Excellence

NRAS becomes co-chair of the Prescription Charges Coalition
In 1968, the Beatles topped the charts with Hey Jude. That's the same year the medical exemption list for Prescription Charges was written up. Treatments for RA, JIA and other long-term conditions have come on a lot in that time but other than the addition of Cancer in 2009 the list hasn't changed.
Many of you know that campaigning for all long-term conditions to be added to the exemption list is one of NRAS's campaign priorities for the year. We're pleased to have stepped up to join Parkinson's UK and Crohn's & Colitis as co-chairs of the Prescription Charges Coalition. In the lead up to the 50th anniversary of that woefully outdated exemption list in June 2018, we'll be gathering more evidence and campaigning for change.
You can enjoy the song here: https://www.youtube.com/watch?v=A_MjCqQoLLA

Help shape the future of our society
The British Society for Rheumatology has a number of high profile and exciting positions available for members to apply.
Current vacancies:
• BSR and BHPR President elect
• Regional and Devolved Nation Chairs
• BSR Standing Committee
• BRiTs Advisory group
• BHPR Council
Vacancies close: 28 March 2017
For more information speak to your regional chair or visit the BSR website.
BSR Rheumatology Researcher Mentoring Scheme
Have you signed up for the 2017 Rheumatology Researcher Mentoring Scheme?
The scheme provides support to individuals looking to move into an academic career or who would like to gain first hand research experience. Applicants will be paired with more experienced researchers who will support them in setting out and attaining their next research goal.
If you are interested in getting involved, as a mentee or mentor, visit the BSR website for more information and to download an application form.
Applications for mentees close on 24 February 2017.
Rheumatology 2017
25-27 Apr 2017 | ICC Birmingham
Have you booked your conference ticket? Now is the time to make BIG savings by booking your early bird ticket by 10 February 2017.
For the first time we're offering a discounted rate to our conference dinner. Hosted at Thinktank, Birmingham Science Museum, 26 April 2017. Those who will be joining us will be taking a step back into the 1920's embracing swing dancing, live performances, sequin dresses, tuxedos and MORE!.
The only way to secure discounts is to book your conference and dinner tickets by 10 February 2017.
Arthritis in Wales
Following up from previous meetings between BSR and the Welsh Assembly Members last year, the Welsh government has released information about arthritis and musculoskeletal (MSK) conditions in wales.
Our meeting with Janet Finch-Saunders AM who represents Aberconwy, asked about some of the figures noted in the BSR's report; State of Play: Rheumatology in Wales on 13 December 2016. View the full response from the meeting.
Following the meeting with Mr Rhuan ap Iorwerth AM, a written Assembly Question was tabled requesting the details of the timeframe for developing the Welsh Government's new Arthritis and MSK national plan. The Cabinet Secretary for Health, Vaughan Gething AM, responded stating "initial scoping work has commenced to refresh the commissioning directive for arthritis and chronic MSK conditions and the revised directive is expected to be published in the next financial year. The need for paediatric service provision across Wales will be also considered."
Developing Ultrasound - Limited places!
03-04 Feb | Wigan
Hurry! Limited places remain to join us for this two day, hands-on course with supervised, individual and group practice sessions on real patients.
Covering a comprehensive review of regional musculoskeletal ultrasound, diagnosis of MSK pathology and the pitfalls of interpretation.
The highlights from the course include ultrasound in:
• Rheumatoid arthritis
• Spondyloarthropathy
• Crystal disease
• Remission.
In addition there are sessions on temporal artery scanning, guided procedures and much more.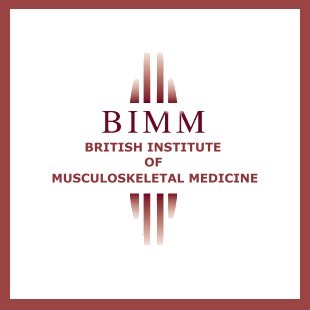 BIMM to join with BASEM
BIMM has decided to join forces with the British Association of Sport and Exercise Medicine and will cease to exist under its present name.
The British Institute of Musculoskeletal Medicine has been in existence for 25 years, since it was formed by uniting several strands of MSK expertise from medical manipulators, medical osteopaths and the Institute of Orthopaedic Medicine, founded by James Cyriax. Over this time BIMM has worked hard with success in producing a coherent distillation of these sources, a body of principles and methods not found in any recognised specialist training but focused on that majority of MSK disability that is not addressed by current anti-inflammatory or surgical methods. We have trained many of those providing the medical input to community and interface musculoskeletal services as envisaged in the MSF document of 2007.
We have hoped to get these methods recognised so that eventually they may extend the repertoire of one or several specialist training programmes e.g. bringing back the Physical Medicine into Rehabilitation, or the wider view of Rheumatology that was current before the explosion of effective treatments for those with inflammatory arthritis focused attention more narrowly.
We had thought ARMA, in its close working with NHS England and its MSK Clinical Director would provide the ideal forum to aid communication and change.
However, in the end it is Sport & Exercise Medicine that has been open to widening their clinical impact with more specific musculoskeletal input. We look forward to making a major contribution to BASEM's educational programme.

'First Contact' Interdisciplinary
Learning Event
First Contact - Practical management of MSK conditions in the community setting
Holiday Inn, Coventry - 12th May 2017
This is a unique opportunity to attend a truly interdisciplinary learning event for physiotherapists, doctors and other allied health professionals working to deliver high quality MSK care in the community.
A joint venture between the ESP Professional Network and the British Institute of Musculoskeletal Medicine, this promises to be a fascinating, interactive chance to develop your skills to manage patients in the community with an emphasis on challenging communication, the role and interpretation of imaging and making the most of community resources to manage pain.
There will be interactive case discussions and workshops to hone your skills as well as a range of lecturers drawn from the worlds of pain, primary care and physiotherapy.
Contact Jackie Pope on esp-physio@outlook.com for further information, or see details here.

Your Life with Arthritis Survey
Arthritis Care has launched a new survey, "Your life with Arthritis", which is available online at: http://www.arthritiscare.org.uk/yourlifesurvey
Please circulate the survey to anyone with arthritis who may be interested in taking part. The evidence we gather will help us to understand what matters most to people with arthritis and campaign for better care and support. For more information about the survey or to request a paper copy, please email campaigns@arthritiscare.org.uk

BBC Radio 4 appeal
Broadcaster and Radio 2 DJ Jo Whiley made the Radio 4 Appeal on behalf of Arthritis Care last month, speaking about how arthritis has affected her life and family.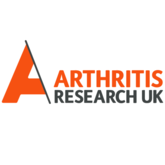 Launch of Arthritis Research UK's New Physical Activity Report
New report 'providing physical activity for people with musculoskeletal conditions'
Arthritis Research UK are pleased to be launching our new report 'providing physical activity for people with musculoskeletal conditions' at the Local Government Association/Associated Directors of Public Health conference on the 9th of March at the Victoria Park Plaza hotel in London.
The report has been produced in partnership with the Department of Health, Public Health England and NHS England and is intended for organisations responsible for commissioning and providing local services, as well as musculoskeletal and physical activity organisations who may find it of interest. It summarises the evidence of the benefits of physical activity for people living with musculoskeletal conditions and presents a framework for local physical activity provision to meet the needs of people with musculoskeletal conditions
We have secured a speaking session at the conference to talk about the work detailed in the report from 12.25 to 11.15 pm. This will be chaired by Dr Benjamin Ellis, Senior Clinical Policy Advisor at Arthritis Research UK and we encourage anyone attending the conference to join our session.
Vacancy: Research Programme Manager
Arthritis Research UK is seeking an experienced and confident research programme manager to scope, develop and lead the application and peer review processes for our research funding schemes and manage a varied portfolio of research awards in a given area. This role interacts with colleagues across the organisation to deliver the charity's goals.
Location: London
Hours: Full time, 35 hours per week
Salary: £37,000 - £40,000 + Benefits
Contract type: permanent OR min 6 months fixed term
Closing date: midnight, Sunday 19 February 2017
Visit the work for us page for full details.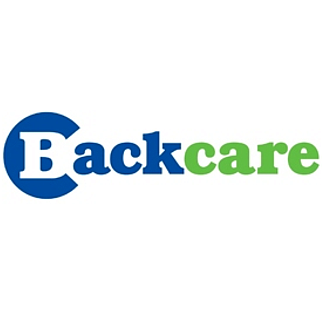 Speaker announced for Back Pain Show
A top Birmingham physio who will be speaking at The Back Pain Show in the Spring has identified a radical new approach to promoting recovery from the scourge of back pain which affects 75 per cent of the UK population.
Changing what you think and do about back pain and introducing 7/11 breathing are two of 10 tips on a brand new list of what to do to get your own back on back pain, put together by David Rogers, a physiotherapist based at the Royal Orthopaedic Hospital in Birmingham.
He will be talking at The Back Pain Show 2017, a major new free-entry event taking place at St Andrew's Stadium on 19 and 20 May staged by the UK charity Back Care, who have recognised the need for a stand-alone exhibition focussed solely on the issue.
David will be joined by a range of speakers and exhibitors ranging from providers of therapies and exercise regimes through to furniture designed to help aid posture in workplaces and the home. The Show will also focus on manual handing as an issue responsible for causing untold pain and lost working days in offices and factories. To register for free entry and to find out more about the two-day show go to www.thebackpainshow.co.uk.
David, co-author of the book "Back to Life" which offers a new way of dealing with back pain, says back pain affects nearly everyone one way or another.
"Whether it's a sudden flare-up which stops us in our tracks or having to deal with persistent pain which prevents us doing the things that make us tick, back pain can often vary from day to day, making it difficult to plan things," he said.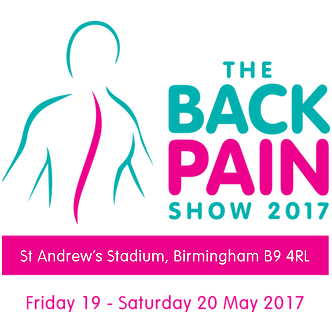 Back Pain Show Line-up Grows
The Back Pain Show has announced a number of new speakers for the event on 19 & 20 May at St Andrews stadium, Birmingham.
Gavin Bradley is founder and managing director of Active Working®, which operates "Get Standing®" campaigns in Great Britain, Australia, USA and Canada to drive awareness and interest in the health risks connected with sedentary working of office workers.
​As the major international thought leader and pioneer, Gavin commissioned the first global expert recommendations on standing / light activity time for office workers (with support from Public Health England) published by the British Journal for Sports Medicine in June 2015. These guidelines serve as a benchmark and continue to receive mass media interest globally.
He will be addressing the show's audience at presentations on both days as will Daniel Lawrence - a Chartered Physiotherapist with over 10 years' experience treating back pain in private practice. Daniel has authored articles and lectured internationally on physio related topics. He currently leads the education team for RockTape in the UK and has been invited to many professional and public conferences.
Daniel will demonstrate how to apply tape for common back pain in a simple and easy to follow way enabling his audience to try the technique for themselves and have an understanding of when to use it and how it can help.
Gavin and Daniel join chartered physiotherapist David Rogers whose presentation at the show was announced last month. David will be holding a number of surgeries at the show as well as making two presentations.
Organised on behalf of BackCare – the National Back Pain Association - the two-day exhibition will feature therapies, products and services associated with the treatment of back pain as well as a range of professional conferences, presentations and seminars.
Admission to the show for the general public is free and further information can be found at www.thebackpainshow.co.uk

New Self-Management Event in Southampton
Arthritis Action will be holding a new, two-day Self-Management Event on 14th and 15th February 2017, in Southampton.
We aim to help our attendees take control of the symptoms of their arthritis, covering topics such as:
• The impact of physical therapies
• How you can best manage your pain
• The benefits of exercise and a healthy diet
• Ways to work in partnership with healthcare professionals
This open event will be free of charge and refreshments will be provided.
For more information, please contact us at info@arthritisaction.org.uk or 020 3781 7120.

New Friends Scheme for
UK Gout Society
The UK Gout Society has launched a new Friends' scheme through which it aims to provide information and support to more people living with gout in the UK.
For an annual fee of £18, Friends of the Charity will receive a subscription to our quarterly Gout e-News alert and selected discounts on books etc.
To find out how to become a Friend of the Charity, follow the link :
http://www.ukgoutsociety.org/support_us

Response to new rules protecting children from 'junk food' advertising
The Faculty of Sport and Exercise Medicine (FSEM) UK welcomes new rules by the Committees of Advertising Practice (CAP) to ban the advertising of high fat, salt and sugar food and drink products in children's media and supports both the Obesity Health Alliance (OHA) and the Children's Food Campaign in their responses to the measures, calling for loopholes to be closed.
The FSEM, as part of the OHA, is calling for a sustained increase in regular physical activity, according to UK Chief Medical Officer guidelines, to be part of all children's daily routines to prevent and manage obesity, alongside measures to reduce the consumption of less healthy food and drink.
Dr Natasha Jones, Vice President of the Faculty of Sport and Exercise Medicine, comments: "We recognise the importance of reducing exposure to unhealthy food and drink advertising creating a less obesogenic environment for our children. Healthcare focus and policy should also be strongly directed towards promoting physical activity to prevent chronic disease and childhood obesity.
Children and young people should aim for at least 60 minutes of moderate to vigorous physical activity every day, this can be made easier by incorporating a favourite indoor or outdoor physical activity spread throughout the day and encouraging walking and climbing the stairs wherever possible."
OHA statement:
"We welcome CAP's long awaited rules to protect children from junk food marketing across all types of media and are pleased to see them recognise that restrictions should apply to kids up to the age of 16. But it's concerning that the new restrictions only apply when it can be shown that at least 25% of the audience are children. This loophole means that a significant number of children could still be exposed to adverts for high fat, salt and sugary products.
Children aged 5-15 spend up to 15 hours a week online – so it's absolutely right that they're protected from junk food marketing. Research shows advertising greatly influences the food children choose to eat, and with one third of children overweight or obese by their eleventh birthday, we need to protect them from relentless junk food marketing in all walks of life."
The FSEM is continuing to work alongside Public Health England, the Royal College of General Practitioners and other public health facing organisations to ensure physical activity assessment, advice and exercise medicine can be a key part of the NHS to prevent and manage many common conditions, including childhood obesity.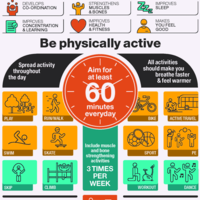 Sugar Levy Funding Allocation -
Sport in Schools
Comment by the Faculty of Sport and Exercise Medicine UK
The Obesity Health Alliance, of which the Faculty of Sport and Exercise Medicine UK (FSEM) is a member, has sent a briefing to MPs involved in the Westminster Hall debate on funding allocation of the soft drinks industry levy, highlighting its key messages.
The FSEM, which represents doctors and consultants skilled in Exercise Medicine, Musculoskeletal Medicine and Team Care, welcomes proposed government measures to invest revenue from the soft drinks industry levy in programmes to provide an increase in sport and physical activity for school aged children.
Dr Paul D Jackson, President of the Faculty of Sport and Exercise Medicine Comments: "The government has indicated that an estimated £520 million from the soft drinks industry levy will be used to fund an increase in school sports and physical activity. This is a welcome measure and one which we hope will be truly reflected in the outcome of the funding allocation debate at Westminster.
There is compelling evidence that regular physical activity is effective in the primary prevention of chronic disease; we welcome policy and revenue which is strongly directed towards enabling more children to take part in regular physical activity to prevent childhood obesity and many of the diseases related to this."
The FSEM supports physical activity measures proposed in the Childhood Obesity Plan to help all children achieve the current guidelines for physical activity. Increasing sport and physical activity across all UK schools, at least 2 hours per week; with schools, parents and carers working together to achieve the physical activity guidelines, will have a positive impact on the long term health of our children.
UK Chief Medical Officer guidelines for physical activity in children and young people:
• All children and young people should engage in moderate to vigorous intensity physical activity for at least 60 minutes and up to several hours every day
• Vigorous intensity activities, including those that strengthen muscle and bone, should be incorporated at least three days a week.
• All children and young people should minimise the amount of time spent being sedentary (sitting) for extended periods.
You can find and share this comment online at the FSEM website.

Portsmouth ARMA Network Winter Update
As the nights start to draw in it feels like winter is on its way. Last year we experienced one of our busiest ever winter periods and, whilst our staff coped admirably, our services were under huge pressure. This year we would like to help our local community be 'winter ready' and to stay as well as possible.
To read on, open and download the Portsmouth and District ARMA Local Network Update - Winter 2016 as Word doc.


Upcoming EULAR educational events
Dear colleagues,
We would like to bring to your attention the below EULAR courses and educational events.
During the year of EULAR's 70th Anniversary, we offer some special courses and a new seminar. If one or the other triggers your interest, please feel free to register and pass on the information to your fellows and colleagues. EULAR offers bursaries for most of its courses.


EULAR/ACR exchange programme for young rheumatologists
3 - 8 November 2017 in San Diego, California
Apply for a EULAR stipend, take part in an individualised institution visit, participate at a half day workshop and attend the 2017 ACR - a great opportunity for networking and making valuable contacts for your professional future.
Application deadline: 14 February 2017
30 March - 1 April 2017 in Lisbon, Portugal
This is a new EULAR course with focus on conventional radiography, magnetic resonance (MR), computerized tomography (CT) and ultrasonography (US). Interactive learning and practical training, discussing clinical cases and images are part of this course.
Submission of images is part of the registration process. Bursaries are available.
Registration deadline: 15 February 2017
EULAR Seminar on Teaching and Learning
28 - 29 April 2017 in Prague, Czech Republic
Have you heard of the EULAR "teaching style and spirit"? This course is offered to tutors, teachers and trainers interested in finding out how to engage learners more effectively. As a EULAR 70th Anniversary present, this seminar is offered free of charge including hotel and meals.
Registration deadline: 14 March 2017
EULAR Ultrasound course for Trainers in Rheumatology
10 - 11 June 2017 in Madrid, Spain
This course is geared to rheumatologists who would like to organise US courses under the auspices of EULAR. It aims at improving teaching skills for both lectures and hands-on ultrasound workshops.
It is part of the EULAR Competency Assessment system leading to Competency Certificate level 2, if the practical exam is passed successfully.
EULAR Ultrasound courses prior to EULAR Congress

NEW Paediatrics EULAR/PReS US course: 11 - 13 June 2017 in Madrid, Spain
US courses: 12 - 14 June 2017 in Madrid, Spain
Basic, intermediate and advanced levels as well as the NEW Paediatrics EULAR/PReS US course. The courses are part of the well established EULAR Competency Assessment system in Musculoskeletal Ultrasound, leading to Competency Certificate level 1 after successfully passing the advanced course exam. They can also be taken individually as refresher courses. Bursaries are available.
30 June - 1 July 2017 in Berlin, Germany
This selective 2 day course is aimed at young European rheumatologists/HPR/researchers with some experience in epidemiology/outcomes research. Interactive learning and practical training with discussions and workshops will be an important part of this course. Admission is limited. Bursaries are available.
Registration deadline: 30 March 2017


PIF launches Personal Health Records guide
The Patient Information Forum, PIF, has launched a new guide sharing the experiences of people who have first-hand experience of developing or using Personal Health Records.


BSR Developing Ultrasound course, Wigan 03-04 Feb 2017
BIMM Spinal Course 11-12 Feb 2017
Two-day Arthritis Action Self-Management Event, Southampton 14-15 Feb 2017
Work, Health and Disability Green Paper Consultation closes 17 Feb 2017
Applications for BSR Rheumatology Researcher Mentoring Scheme close 24 Feb 2017
BMAS Acupuncture for back pain course 02 March 2017
NOS FLS Champions Summit, London 03 March 2017
Local Govt Public Health Conference 2017 09 March 2017
Clinical Networks Steering Group 20 March 2017
Policy, Comms and all Stakeholders 21 March 2017
Dundee NRAS Group Launch 22 March 2017
Webinar: Joint Pain Advisor by HIN, noon 24 March 2017
CEO Meeting 28 March 2017
Advancing Healthcare Awards Ceremony 31 March 2017
ARMA Board Meeting 06 Apr 2017
Rheumatology 2017, ICC Birmingham 25-27 April 2017
LUPUS UK AGM and Information Day, Winchester 06 May 2017
Arthritis Care Week 2017 08-14 May 2017
World Lupus Day 10 May 2017
First Contact – Practical management of MSK conditions, Coventry 12 May 2017
BIMM Spring Symposium 13 May 2017
Policy, Comms and Gold Stakeholders 16 May 2017
Back Pain Show 2017, Birmingham 19-20 May 2017
BMAS Spring Conference 2017 London 20 May 2017
NRAS RA Awareness week 19-25 June 2017
NRAS JIA Family Day 01 July 2017
FSEM Diploma Ceremony 28 Sept 2017
FSEM and BASEM conference with Bath University 12-13 October 2017

To see previous issues of the newsletter, click here.
Please starting thinking about sending your items for inclusion in our next
ARMA newsletter