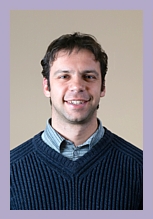 Christmas and the New Year are finally upon us.
2016 will not be remembered by many for the best reasons. But if things are not looking very encouraging for the world as we head into next year, or for the UK as it continues to grapple with the concept of making a success of something that everyone knows is bad for the country, things are definitely much more encouraging for MSK, which is continuing to steadily climb the public policy agenda here in the UK.
Yesterday we held our 8th annual ARMA lecture, with Stephen Dorrell as our speaker. This was the 5th that ARMA delivered during my time here, and this was definitely our best- and most widely-attended lecture yet. A warm thank-you to Stephen for a stimulating lecture and for being our keynote speaker this year - a recording of the lecture will be available on our website shortly.
Perhaps the biggest policy & public affairs priority for the health sector right now is Improving Lives: the Work, Health and Disability Green Paper, which I highlighted last month. Not only is this a colossal piece of work addressing many of our community's key concerns in a single document, but the Green Paper itself explicitly recognises MSK conditions as a priority area, alongside mental health, and references work by Arthritis Research UK, NRAS and the CSP. Among other things, it states that the Government is "supportive of new ways of providing MSK care", including through self-referral to physiotherapy, and that it will "trial new kinds of approaches to MSK services so that people's health and employment needs are met in the best possible way". The Government will also "work with NHS England to identify opportunities for regular collection of data on incidence, prevalence, clinical activity and outcomes for MSK patients and services in England" – tying in perfectly with ARMA's MSK clinical networks project, as well as the activities of a number of our member organisations in this area.
Clearly there is much to be welcomed in this Green Paper, which offers our community an exceptional opportunity to ensure that MSK is firmly embedded in the Government's health, employment and welfare policy, and that the Government's approach to MSK is genuinely joined-up and informed by the best possible evidence of what works, and what people with MSK conditions want and need to remain healthy and independent for longer. ARMA will therefore be consulting extensively with our members and stakeholders between now and February 17th, including through a dedicated online forum for ARMA members.
The DWP will also be running two webinars for us on the Green Paper. The first of these, aimed at health professionals, is taking place on 13th December from 12:00-13:00: you can register here. As always, we will be recording it and making it available to everyone through our Yammer group, though we are currently exploring ways of hosting at least the slides from all of our webinars directly on the ARMA website. The second webinar will be aimed at people living with MSK conditions and will take place in January (date tbc).
In November ARMA ran a session on our clinical networks project at the NOS annual conference, chaired by NOS Chief Executive Claire Severgnini. I'm delighted that the NOS will also soon be releasing their own version of a video on osteoporosis first produced by our counterpart alliance in the USA, the US Bone and Joint Initiative – a great example of how being part of a global community, in the form of the Global Alliance for Musculoskeletal Health, benefits everyone. We also all benefit from being part of national coalitions for person-centred care, too, which is why I'm very pleased to have Andrew McCracken of National Voices as this month's guest blogger.
There is also an increasing amount of activity happening in Wales, where Arthritis Care are taking a lead in potentially establishing an ARMA Cymru network, similar to ARMA Scotland, and where recent discussions with government officials have confirmed that the Welsh Government will be developing an arthritis/MSK framework/strategy document next year. The BSR and NRAS will also be publishing a new "State of Play in Rheumatology" document for Wales soon.
Finally, I should add, for the benefit of our "external" readers, that I will be leaving ARMA in mid-February next year to take up the post of Chief Executive of the Resuscitation Council (UK). There will of course be plenty of time for goodbyes and for reflecting back on the last 5 years at ARMA and my 8 years in MSK, so I will save the oratory for the new year. Suffice to say for now that it's been a fascinating and very rewarding journey, and it's been a privilege for me to lead/steward what is today a very effective and vibrant Alliance. We will be advertising for my role in due course.
…And so this is nearly Christmas, and we shall all soon be propelled into the festive season. Let us therefore deck the offices with boughs of tinsel and troll the ancient yuletide carol (a vestige of a more innocent time, clearly, before social media gave a whole new meaning to the word), as we celebrate a successful year for MSK, say goodbye to 2016 and look forward to the new opportunities which 2017 will bring in a hopefully largely peaceful and relatively stable world.
The next ARMA newsletter will come out in February.
Yours sincerely,
"We are all faced with a series of great opportunities brilliantly disguised as impossible situations."
by Andrew McCracken, Head of Communications, National Voices.

What is a good outcome?
We're two years into delivery of the Five Year Forward View, the document heralded as a blueprint for bridging the gaps in finance, quality and prevention. Chapter Two of that seminal document sets out a vision for a 'new relationship with people and communities'…
But what does that actually mean?
The Realising the Value programme has spent 18 months seeking to turn those words into a more deliverable reality. It is an important body of work delivered by Nesta, the Health Foundation, National Voices, Regional Voices, NAVCA, Volunteering Matters and others.
The team behind the programme have examined the evidence for person- and community-centred approaches such as peer support and education for self-management. They have developed the approaches with sites across the country, and recently published an array of tools, guides and recommendations. It's good stuff and there is pretty much something for everyone: from system level recommendations, to an economic modelling tool for commissioners and practical guides for service providers.
Together, all of these materials paint a very different picture of what 'good' looks like in health and care.
Currently we measure clinical outcomes, systems outcomes, and the immediate outcomes of a single service or treatment. If we are to re-focus services on the needs of people and communities, we need to also be looking at the outcomes of all of the services that support a person and measuring wider health and wellbeing impacts, such as quality of life, and people feeling in control and independent.
To put that into real-speak; if a person who has had what the NHS would consider a clinically successful knee operation discovered that they're left unable to continue their favourite hobby of gardening (thus facing the prospect of also losing one of their few social connections through their gardening club), is that actually a good outcome for that person?
As health and care services develop new models of care, adopt place-based approaches, and work in new ways with new partners, they will need new outcomes by which to set their goals and measure their success. Because the aim is to integrate systems and services in a 'place', we need common and consensual outcomes that can be used by the health, social care, public health and voluntary and community sectors equally. Integration requires a shared vision and shared values and outcomes.
It is for this reason that one of the most important recommendations from the Realising the Value programme is the need for a new, shared and simplified outcomes framework focused on what matters to people.
At the Manchester launch event for Realising the Value, one anecdote summed up how far we have to go in recalibrating our concept of 'value' and what 'good' looks like in health and care. A presenter from Being Well Salford described how a charity health coach was the first person to ever ask him what he wanted, "The rest told me what they offered, mostly just meds."
The new relationship with people and communities means refocusing health and care services to deliver what people actually want and need.
National Voices is the coalition of health and care charities.

Members' News and
Resources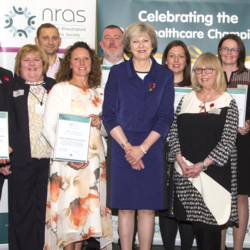 NRAS Healthcare Champions 2016
On 2nd November, NRAS held its 5th Healthcare Champions awards ceremony in Portcullis House, Westminster, with the kind permission of the Prime Minister and NRAS Founding Patron, the Rt. Hon Theresa May MP.
The event was a resounding success with over 80 NRAS Members, healthcare professionals, MPs and special guests attending.
The awards provide the opportunity to celebrate the dedication, professionalism and excellent care given by those healthcare professionals that go 'the extra mile' to provide the best possible outcomes for the many people living with RA and JIA, whilst also working in a challenging environment of NHS reforms and financial cuts.
A full list of all the winners can be found on the NRAS website: http://www.nras.org.uk/news/healthcare-champions-2016

NRAS launches new section for Webcasts
We are delighted to announce the launch of a new area on our website for educational webcasts.
These webcasts aim to emulate the information presentations delivered by experts and healthcare professionals across the UK at NRAS Group meetings and events. This will enable more people living with rheumatoid arthritis to find the help they need to better self-manage their disease.
The first two webcasts cover the topic of medications and flares and fatigue and are available to view at webcasts.nras.org.uk.
Events for 2017:
March 22nd Dundee NRAS Group Launch
June 9th WearPurpleForJIA (NRAS)
July 1st JIA Family Day (NRAS)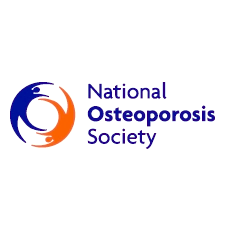 NOS Fracture Liaison Services
- a key and proven measure
Fracture Liaison Services hold key to addressing crisis in osteoporosis, attendees at National Osteoporosis conference hear

The growing crisis in osteoporosis causing 300,000 debilitating fractures and costing the NHS £1.9bn every year can be effectively addressed by implementing and improving Fracture Liaison Services throughout hospitals and clinics across the UK, attendees at the National Osteoporosis Society conference in Birmingham heard in November.

Dr Kassim Javaid, Consultant in Metabolic Medicine at the Oxford University Hospitals NHS Trust - who spoke about Fracture Liaison Services at the conference - said: "The enormous personal cost of the often debilitating fractures caused by osteoporosis and the financial impact on our already under-pressure health service will only intensify as our population ages.

"Fracture Liaison Services are a proven way of addressing these issues and policy makers and health service managers would do well to heed the clear call at this conference to do more to help set them up."

Over 700 health professionals working in the field of osteoporosis and bone health attended the conference. Speaking on the first day Sir Bruce Keogh, NHS England Medical Director, said osteoporosis was a "problem that will drain the national health service if we don't do something about it."
Calling all FLS Champions – Save The Date
The next FLS Champions' Summit is to take place on Friday March 3rd 2017 at the Cavendish Conference Centre, 22 Duchess Mews, London, W1G 9DT.
Organised by the National Osteoporosis Society, the Summit is FREE to attend and offers updates on FLS implementation across the UK, the latest developments on the FLS-DB and opportunities to question some of the most influential speakers in the field of secondary fracture prevention and service development.
The Summit will include a number of bespoke workshops on FLS and secondary fracture prevention as well as a series of case studies. For more information or to register your place, please visit www.nos.org.uk/champions or contact Henry Mace on 01761 473 263 (h.mace@nos.org.uk)
Place are limited so early booking is advised.
NOS and USBJI create osteoporosis animated video
The National Osteoporosis Society, in conjunction with the United States Bone and Joint Initiative, has worked on an animation about osteoporosis which they have remastered for a UK audience. The animation has been voiced by the charity's ambassador, Miriam Margolyes, famous the world over for her hundreds of film, theatre and television credits including Harry Potter, Blackadder and the Real Marigold Hotel.
The animation, titled "Learn more about osteoporosis with Miriam Margolyes," is finished and ready to be launched. ARMA members who would like to see it pre-release can contact Sarah Wolf at the NOS to attain a preview password.
The video will be publicly launched and promoted with the help of Miriam (who has the condition) within the next few weeks.

National Clinical Audit - Collection of case studies
BSR have produced a collection of case studies which highlight and share best practice between the rheumatology services that took part in the National Clinical Audit for rheumatoid and early inflammatory arthritis.
Following the publication of the second annual report in July 2016, BSR undertook an analysis to identify providers which had performed well in relation to NICE Quality Standard 33 and, specifically, each of the statements within the standard. These providers were contacted and asked to submit case studies to explain how they had achieved these results and confirmation that their clinical lead was happy to provide peer support to other units.
You can download the collection of case studies from the BSR website.


Rheumatology 2017
25-27 Apr 2017 | ICC Birmingham
Secure your place for Rheumatology 2017, the UK's leading rheumatology event.
We're pleased to announce our Keynote speakers:
• Prof Lucy Wedderburn- Inaugural Barbara Ansell Address
• Prof Chris Denton - Heberden Round
• Prof Christopher Buckley- Heberden Oration
• Prof Candy McCabe - Droitwich Medical Trust Lecture
Book before 10 February 2017 to secure early bird rates.

Developing Ultrasound
3-4 Feb | Wigan
A two day, hands-on course with supervised, individual and group practice sessions on real patients.
Covering a comprehensive review of regional musculoskeletal ultrasound, diagnosis of MSK pathology and the pitfalls of interpretation. The highlights from the course include ultrasound in:
• Rheumatoid arthritis
• Spondyloarthropathy
• Crystal disease
• Remission.
In addition there are sessions on temporal artery scanning, guided procedures and much more.
For more information or to book head to the BSR website.
You can help form BSR's response to the following consultations
BSR have a number of consultations in which we need to respond to and would welcome any feedback to help form our responses.
Head to the BSR website for more information on the consultations.

Direct access to physiotherapy benefits MSK patients
Between 20 and 30% of a GP caseload is made up of patients with musculoskeletal (MSK) conditions; by expanding the availability of physiotherapy in general practice, GP time is freed up and patients are put in the driving seat, receiving the right care from the right professional. Physiotherapists are experts regarding MSK issues and have the same high safety record as GPs.
There are already examples of experienced physiotherapists working alongside GPs as the first point of contact for MSK patients. These examples show high patient and GP satisfaction rates, decreased x-ray, MRI and orthopaedic referrals.
The CSP has produced a suite of documents on our new primary care landing page which explain the benefits of physiotherapy in primary care, these include:
• Physiotherapy Works for Primary Care – a CSP policy briefing with the evidence and examples of this working in practice.
• A short animation showing the benefits of physiotherapy in primary care.
• Joint guidance for GPs, commissioners and physiotherapists about GP Physiotherapy roles, produced with the RCGP and the BMA.
You can access all of the above by visiting the CSP website at www.csp.org.uk/primarycare.

Children in Need Ramble for Arthritis Care
Arthritis Care is delighted that Children in Need continue to fund our work with young people.
The charity recently benefited from coverage on the Countryfile special 'Ramble for Children in Need' and on the recent BBC Radio 4 charity appeal.
Save the date: Arthritis Care Week 2017
Plans are underway for next year's Arthritis Care Week, which will take place from 8-14 May.

FSEM Launches Updated Professional Code
At the beginning of November, the Faculty of Sport and Exercise Medicine (FSEM) UK launched a new version of its Professional Code. Designed for use by Fellows and Members of the FSEM, this important guide is also relevant to any doctor working in Sport and Exercise Medicine (SEM) or looking after a sports team at any level.
The code informs the public and athletes that the best interest of the individual athlete will always be paramount should they receive medical care from a Fellow or Member of the Faculty of Sport and Exercise Medicine UK.
The code maps the duties and responsibilities of a doctor working in SEM, particularly in team care, with the general duties and responsibilities of a doctor in the General Medical Council's Good Medical Practice. The code also covers areas of practice relevant to the treatment of sportsmen and women, particularly elite athletes; such as the provision of indemnity, a code of practice when accompanying teams abroad, media coverage, dual responsibility to sportspersons and clubs and anti-doping.
President of the Faculty of Sport and Exercise Medicine, Dr Paul D Jackson, comments: "Doctors working in sport, particularly elite sport, can sometimes face unique challenges when providing medical care for an individual or a team. The second edition of the FSEM Professional Code is designed for use alongside the GMC's Good Medical Practice; it is an important part of the FSEMs remit to set standards for doctors working in Sport and Exercise Medicine and is applicable to all doctors working in sport."
The FSEM has also updated its statement on performance enhancing drugs in sport.
You can access the updated FSEM document here:
FSEM Statement - Performance Enhancing Drugs in Sport

BIMM Upcoming courses
and events 16-17
The latest schedule for the British Institute of Musculoskeletal Medicine's courses and classes, covering - lumbar transforaminal epidurals; lumbar and sacroiliac procedures; anatomy; SI joints; prolotherapy; spinal treatments including cervical, thoracic, lumbar and pelvis diagnosis and management; and interdisciplinary management.
BIMM Diary of events November-2016 to early 2017
Also included are details of the Monthly MSK Meeting and the BIMM Winter and Spring Symposiums.

BMAS Foundation Courses in Western Medical Acupuncture
FOUNDATION COURSES IN WESTERN MEDICAL ACUPUNCTURE
Venues: York, Cardiff, London, Glasgow, Dublin, Northwich (Cheshire)
• Four-day course for regulated health professionals
• Experienced, medically trained lecturers
• Comprehensive course notes
• 100 Free needles
Acupuncture for BACK PAIN Course
2 March 2017 BMAS House, Cheshire
A 1 day course consisting of lectures, demonstrations and practical sessions.
The practical elements of the course involve one session on rapid assessment of low back pain, mainly aimed at practitioners who are not already experts in musculoskeletal assessment, as well as one session devoted to needling of the back and posterior hip girdle.
Further acupuncture courses:
* Back pain * Headache * Palliative care * Womens' Health * Self-acupuncture

Further details & to book: www.medical-acupuncture.co.uk
Tel: 01606 786782 Email: admin@thebmas.com
BMAS House, 2/3 Winnington Court, Northwich, Cheshire CW8 1AQ

New MSK alliance in Wales
Arthritis Care Wales is looking for representatives from voluntary sector organisations who would like to join a new MSK alliance, with the aim of sharing knowledge and working together to shape the policy agenda. If you are interested in hearing more, please contact HywelE@arthritiscare.org.uk.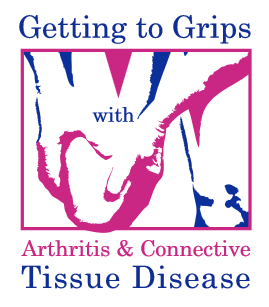 Portsmouth Rheumatology Winter Newsletter
The Winter newsletter from the Department of Rheumatology, Portsmouth Hospitals NHS Trust, is out now.
It includes: tips and advice for keeping well; introducing new consultants; details of awards; a carer resource pack; drug documentation; fatigue advice; and the calendar of local events.
Click here to open the newsletter.


Getting to Grips Programme
The Department is also pleased to announce that the successful "Getting to Grips with Arthritis and Connective Tissue Disease" programme will start at the Petersfield Community Hospital in October 2016.
The programme is organised by the Department of Rheumatology, will support patients, their family and carers through a comprehensive programme of talks and enabling patients to continue to effectively self-manage their arthritis or connective tissue disease.
Click here to open the programme.
If you would like to join us, please contact rheumatology.conference@porthosp.nhs.uk or write to: Rheumatology Conference, Queen Alexandra Hospital, Cosham, PO6 3LY


Edgar Stene Prize 2017 open for entries until Friday 23rd December
The Edgar Stene Prize 2017 competition is open to people 16 years and over who are living with a Rheumatic and Musculoskeletal (RMD) disease. The 2017 prize will be awarded to the winning essay on the topic:
"Time is joint - Joints over time"
"Early diagnosis and access to care in rheumatic and musculoskeletal diseases (RMDs) - the ideal world and the reality - my personal story"
For many people with RMDs it can be a long journey to receive the right diagnosis and appropriate treatment for their condition. The competition invites entrants to write about their personal experience. As the UK's national member organisation of EULAR–PARE, ARMA has appointed a judging panel to decide upon the one essay that will be submitted to the international competition on behalf of the UK. Please submit all completed essays to Anoushka at projects@arma.uk.net by Friday 23rd December 2016. Each entry should not exceed 2 pages (A4) and be submitted along with information about the author. Please see the full competition rules and letter to member organisations with further details on the essay theme and accompanying information required.
The overall Stene Prize winner, chosen by a EULAR jury, will be announced by 15th March 2017. The Stene Prize winner will be awarded a prize of € 1,000 and will be invited to attend the Opening Plenary Session of the EULAR Congress in Madrid (14th June 2017) with travel and accommodation covered. The runner up will be awarded €700 and third place awarded €300.
EULAR Congress Madrid June 2017 (14-17th)

Registration is now open for the EULAR Congress to be held in Madrid between 14th and 17th June 2017.
EULAR have also opened the abstract submission process, the deadline for applications for a session is 31st January 2017.
See the congress website for full details: http://www.congress.eular.org/



Realising the Value
A major new body of work has concluded that person-centred approaches are pivotal to improving health and care during financially restrained times.
The Realising the Value programme has conducted a thorough analysis of the evidence for person- and community-centred approaches, worked with five frontline sites across England, and published tools, recommendations and economic modelling to show how they can be successfully implemented.
Aimed at health and care system leaders, commissioners and front-line professionals, the resources from the programme conclude that person- and community- centred approaches are pivotal to improving wellbeing outcomes during financially restrained times.
For more, visit www.realisingthevalue.org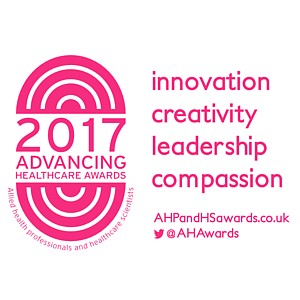 Advancing Healthcare Awards 2017
Nominations for the 2017 Advancing Healthcare Awards are now officially open.
Established in 2005, the awards are a free-to-enter, self-nomination based programme open to all UK Allied Health Professionals working in and alongside the NHS. Nominations are made online via the website and remain open till 13th January 2017.
Shortlisting is then carried out by a mix of sponsors, supporters and VIPs, with all shortlisted entrants invited to the judging day in London on 14th February and the ceremony itself in London on 31st March 2017 organised by Chamberlain Dunn events.
Full details of all competition categories found here: http://www.ahpandhsawards.co.uk/categories/ and the infosheet for entering can be downloaded here. You can also promote the awards with the launch brochure.
Congratulations to all the winners and finalists of the Advancing Healthcare Awards 2016, who were part of a record breaking year, with over 150 entries across 13 categories. In the spirit of sharing good practice, you can find up-to-date examples of new roles and ways of working by downloading the Winner's Guide in PDF; and you can view photographs of the 2016 ceremony.

NICE publishes updated advice on treating low back pain
NICE's updated guideline on low back pain and sciatica recommends exercise in all its forms - for example stretching, strengthening, aerobics or yoga - as the first step in managing the condition.
The guideline also recommends encouraging people to continue with normal activities as far as possible. However the guideline says massage and manipulation should only be used with exercise because there is not enough evidence to show they are of benefit when used alone.
The updated guideline has been expanded to include people with sciatica, a painful condition typically caused by irritation or compression of the nerves which run from the lower back, through the legs and down to the feet.


Self-Management Events in December
Wellbeing Our Way – Greater Manchester community of practice events (1 and 13 December)
National Voices' Wellbeing Our Way programme is hosting two Greater Manchester events to inform the development of regional peer support and supporting self management communities of practice. The events are open to staff within charities and community organisations working directly with people with long term health needs, as well as those who are commissioning and developing these approaches and people with lived experience.
For more information and to sign up:
• Supporting self management event: 1 December
• Peer support event: 13 December

Wellbeing Our Way: Coproduction Masterclass (8 December)

National Voices' Wellbeing Our Way programme, in partnership with the Coalition for Collaborative Care, is hosting a coproduction masterclass for people working within charities, community organisations and wider health and social care settings. The masterclass will be a practical introduction to coproduction including what it is, how to get started and how to develop your organisation's approach to working alongside people with lived experience.
Priority will be given to National Voices' members and members of Wellbeing Our Way's communities of practice; any remaining spaces will be available for Coalition for Collaborative Care partners.
More information is available here and you can sign up here.


Improving lives: the Work, Health and Disability Green Paper
Last month the Government announced a major consultation on helping disabled people and people with health conditions into work: Improving lives: the Work, Health and Disability Green Paper.
The Green Paper, published on 31 October by the Department for Work and Pensions and the Department of Health, looks at new ways to support people with health conditions and disabled people into work as well as supporting and caring for those who cannot work.
The scope of the Green Paper is very broad, covering health and employment as well as benefits and support. Musculoskeletal conditions and key messages from the sector are widely referenced. There is a section on musculoskeletal services in Section 5 and specific questions relating to musculoskeletal health.
Formal responses to the consultation are invited by 17 February 2017 to inform a forward programme of work over the next 10 years.
ARMA will be responding to the consultation and will be using a closed Yammer forum (or similar) to draw together top-line comments from policy leads in the membership to help configure its response.


BSR Myositis Masterclass, Manchester 01-02 Dec 2016
National Voices Supporting self-management event, Manchester 01 Dec 2016
Clinical Networks Steering Group 02 Dec 2016
BIMM Winter Symposium, Brighton 03 Dec 2016
National Voices Coproduction Masterclass, Manchester 08 Dec 2016
BackCare Christmas Carol Concert, London 12 Dec 2016
DWP webinar for health professionals on the Green Paper 13 Dec 2016
National Voices peer-support event, Manchester 13 Dec 2016
Advancing Healthcare Awards 2017 submission deadline 13 Jan 2017
CEO Meeting, CSP 18 Jan 2017
Policy and Comms meeting 24 Jan 2017
BIMM Prolotherapy Workshop 26 Jan 2017
ARMA Board Meeting 27 Jan 2017
BIMM Spinal Course 11-12 Feb 2017
Work, Health and Disability Green Paper Consultation closes 17 Feb 2017
NOS FLS Champions Summit, London 03 March 2017
Clinical Networks Steering Group 16 March 2017
Policy, Comms and all Stakeholders 21 March 2017
CEO Meeting 28 March 2017
Advancing Healthcare Awards Ceremony 31 March 2017
ARMA Board Meeting 06 Apr 2017
Rheumatology 2017, ICC Birmingham 25-27 April 2017
LUPUS UK AGM and Information Day, Winchester 06 May 2017
World Lupus Day 10 May 2017
Arthritis Care Week 2017 08-14 May 2017
BIMM Spring Symposium 13 May 2017
Policy, Comms and Gold Stakeholders 16 May 2017
Back Pain Show 2017, Birmingham 19-20 May 2017
BMAS Spring Conference 2017 London 20 May 2017
NRAS RA Awareness week 19-25 June 2017
NRAS JIA Family Day 01 July 2017

To see previous issues of the newsletter, click here.
Please starting thinking about sending your items for inclusion in our next
ARMA newsletter