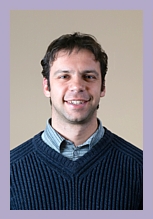 ARMA started July on all cylinders, with our AGM on the 4th of July and the election of four new Trustees to the ARMA Board, whose details are now on our Governance webpage. We were also delighted to have Dr. Martin McShane as our guest speaker this year. Martin, who is now Director of Medical Clinical Operations at Optum, is well-known to us from his previous role as Director for Long-Term Conditions NHS England: among other things, he gave the 2013 ARMA Annual Lecture, spoke at the 2014 MSK World Summit and also published a great blog on MSK ahead of our national seminar in January this year.
Among other things, Martin emphasised the importance of focusing on creating an effective healthcare system, where solutions come from teams working on the ground – which is why our MSK clinical networks project is so important. The old adage "think global, act local" springs to mind here. Martin also spoke at length about the need to measure impact, as opposed to activity and output, observing also that "our inability to link data is sustaining harm". Shared decision-making, relational continuity (between clinicians as well as between clinicians and patients) and the alignment of physical and mental health were also identified as essential. For MSK as for other condition areas, having a compelling economic argument is key – and this is where resources like the FLS benefits calculator, or the CSP's falls prevention and physiotherapy calculators, are of great value.
Martin also talked about the importance of celebrating our successes, and I think we as an Alliance have plenty to celebrate. For all the challenges ahead of us, it's clear that our community is strong, and we are doing things which are making a difference and helping to drive the transformational change that is required to deliver a genuinely sustainable and person-centred NHS. Our increasingly productive partnership working with NHS RightCare offers a good example of how MSK can be a spearhead for delivering greater value across the system, and I'm delighted that Matthew Cripps is our guest blogger this month.
Our success as an Alliance is also underpinned by the great work continued to be carried out by many of our members, such as Arthritis Research UK's excellent Working with Arthritis report and the BSR's Second Annual Report of the National Clinical Audit for Rheumatoid and Early Inflammatory Arthritis, both published this past month.
Since taking up this role over four years ago, I have always said that ARMA is an Alliance for the entire MSK community, including both professional bodies and patient-led charities, and organisations spanning the breadth of MSK as well as those focused on specific conditions, including the many rare and complex autoimmune conditions which make up our community. Some conditions often thought of as "rare" are in fact a lot more common than most people think, nor are the solutions necessarily "complex": take gout, for example, which affects 1 in 40 people in the UK, and where patient outcomes could be greatly improved just by measuring uric acid levels as a matter of course for anyone with the relevant symptoms, just as we regularly do for blood pressure and glucose levels.
"MSK" is always a tricky term but it does have real currency; it gives us profile, and it enables us to speak with one voice, which is something that all our external stakeholders, from government to local decision-makers, want from us. While there are many differences between the various MSK conditions, "bones, joints and muscles" is our overarching common denominator, and this allows us to not only influence outside of a purely clinical agenda to areas such as prevention, quality of life, and the increasingly important "work" agenda, but also to really take a person-centred perspective in everything we do. Our strength as an Alliance lies largely, in fact, in our variety – and our members in turn can draw benefit for their own areas from being part of a strong Alliance.
On this note, I'm also delighted to welcome a new member to ARMA: the British Medical Acupuncture Society.
One of the 3 main pillars of ARMA's new 3-year strategic plan includes "Capturing, interpreting and enabling the application of MSK knowledge", and to this end we have begun "mapping" our members' activities, evidence and policies on key issues, with a view to developing a suit of policy positions on key themes. The first two focus on "MSK and work" and "MSK and physical activity", and should be available soon.
Finally, we live in a digital age, and we are therefore actively looking at how we can improve our digital communications and improve our online user experience. We have sent out a survey to the users of the Yammer group to gauge their experience of this, and we are looking to streamline the ARMA website to make it more user-friendly.
Yours sincerely,
"We are all faced with a series of great opportunities brilliantly disguised as impossible situations."
by Professor Matthew Cripps, National Director of NHS RightCare
It's now six months since NHS RightCare was launched nationally. This involved 65 local health economies ('wave one') receiving support and facilitation to embed the approach, and we're still growing as a programme to roll out to the 144 remaining health economies in England at the end of 2016.
Things are progressing at pace with the first 65, we're at the exciting point now where CCGs have confirmed their big opportunities for improvement, taking Commissioning for Value insight as their starting point. This means we are now actively involved in several hundred programmes of work across these heath economies, ensuring the RightCare approach of 'where to look, what to change, how to change' is driving positive change and better outcomes, in what we know is a proven approach.
The data and insight that has underpinned the decisions on which pathways an individual CCG is addressing has highlighted the biggest opportunities for tackling unwarranted variation and value. Given what we know about RightCare from the past couple of years testing the approach successfully with a cohort of diverse health economies, it's no surprise to me that MSK is a big opportunity for wave one. Just less than a quarter of the CCGs we are actively working with now have identified MSK as one of a handful of pathways to start their RightCare journey with. This provides us with a great opportunity to help CCGs deliver person-centred, coordinated care not just for the many millions of people living with an MSK condition, but potentially for all long-term conditions. Good MSK health is important to so many other things like remaining independent and in work, and speaks directly to the prevention agenda.
So how are we getting the ball rolling? In addition to bespoke support and dedicated RightCare Delivery Partners working with the individual health economies, we're keen that those involved in implementing the RightCare approach also
• Learn from each other, and;
• Make full use of the tools and products that already exist.
We recently held a very productive workshop with our CCGs that are working on MSK under RightCare to facilitate the above actions.
We've been delighted to have ARMA's CEO talk about ARMA's clinical networks project at several RightCare sessions at national conferences recently, and learn about the MSK Knowledge Network - as well as some of the resources which ARMA members have produced, such as the MSK, FLS and physiotherapy calculators. Clearly, RightCare's and ARMA's work are mutually reinforcing.
We recently also ran a dedicated workshop for the "wave one" CCGs focusing on MSK. The day was very successful, and ensured a common understanding of what's available and how peers were implementing solutions, so much so we'll be replicating the event for CCGs working on other pathways in future. In addition, we are currently developing a series of Optimal Value Pathways, and one of these is focusing on fragility fractures, with input from ARMA members and particularly the National Osteoporosis Society.
I see raising awareness of the support and tools available to CCGs already and ensuring they can access them as being a critical enabler for ensuring less unwarranted variation and better value healthcare becomes a reality. Working in partnership with key stakeholder groups like ARMA and its member organisations is crucial to this, and we're very pleased to be supporting the clinical networks project.

Members' News and
Resources
NRAS JIA Family Day
and top-rated DAS App
On Saturday NRAS held its 3rd annual JIA Family Day in Ilkley with over 100 people attending.
It was a fantastic sunny day and gave children with JIA the chance to meet others living with the disease and take part in organised fun activities. Parents and family members then had the opportunity to listen to talks by leading paediatric rheumatology experts.
We are also delighted to announce the launch of our new publication, 'Managing JIA in school' which is now available to order from our website.
You can also now find out more about JIA-at-NRAS and how the service supports young people and their families via our new video! Click on the link here to watch it via our YouTube channel!


5 stars for NRAS App!
The NRAS DAS App has had a 5 star review in Nursing Standards!
Download the free app (www.nras.org.uk/das) from our website or find out more about Disease Activity Scores here.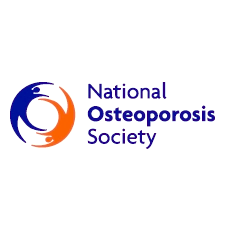 SACN guidance on the levels of vitamin D people need
The National Osteoporosis Society welcomed the publication of guidance on the amount of vitamin D that people need to keep their bones strong but called for urgent debate on the best way for people in the UK to achieve this.
The Scientific Advisory Committee on Nutrition (SACN), an independent body of experts, has been looking at the evidence for the levels of vitamin D that the population needs. It has set this at 10micrograms every day, in addition to anything that people might achieve through safe sun exposure.
In order to ensure that this important issue is talked about at the highest levels, the National Osteoporosis Society is working with parliamentarians, experts and stakeholders to debate how the recommendations can be effectively implemented in the UK. A meeting has been arranged for November 2016, which will examine the roles of sunlight, further food fortification and wide-scale use of supplements.
The charity has put together a food chooser for consumers.

East Anglia Lupus Information Day

LUPUS UK event, 22nd October 2016
We have a number of expert medical speakers from Addenbrooke's Hospital, Cambridge including;
• Dr Frances Hall, Consultant Rheumatologist
• Dr Thomas Hiemstra, Director, Patient Led Research Hub
• Dr David Jayne, Head of Vasculitis and SLE Service
• Dr Natasha Jordan, Consultant Rheumatologist
Book free tickets:
http://www.lupusuk.org.uk/east-anglia-info-day-2016/
Refreshments will be available and there is free parking. The venue is easily accessed from the M11.
The Wellcome Trust Conference Centre,
Hinxton,
Cambridge
CB10 1RQ

EDS at the NHS Confederation conference
Ehlers-Danlos Support UK (EDS UK) was selected this year as the first charity partner for the annual NHS Confederation conference. The conference was held at the Manchester Central Conference Centre, 15-17 June 2016.
EDS was given a prime location stand at the conference, and EDS Managing Director Kay Julier took part in a panel discussion on "people-powered healthcare". The panel included National Voices' Don Redding; inspirational speaker and patient advocate Kate Allat; Jason Helgerson, Director of New York's Medicaid; and Soma Stout, from the Institute for Healthcare Improvement.
The charity's patron, Coronation Street actor Cherylee Houston, also called in to help raise awareness of EDS and the charity.

Arthritis Research UK on Work and Pensions, Aids and Adaptations
Work and Pensions committee
Arthritis Research UK gave evidence to the Work and Pensions committee as part of its inquiry into the disability employment gap. The committee was hearing from a range of charities and trusts involved in the sector across two sessions, and representatives from Rethink Mental Illness, Leonard Cheshire Disability, and United Response joined Dr Karen Walker-Bone, representing Arthritis Research UK, on the panel for the second session. The session went well, with Dr Walker-Bone putting across many of the key messages from our Working with arthritis report and each organisation's evidence complemented one another.
Aids and Adaptations Update
For the quantitative phase of research for the aids and adaptations project, we will be piloting two questionnaires with people with arthritis. One looks at aids and adaptations in the home and the second looks at social services people with arthritis use. Both will also include a pilot of the MSK-HQ.
Read more: News about Brexit
Read more: Higher Education and Research Bill.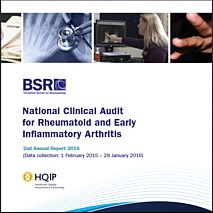 BSR audit finds 4 in 5 inflammatory arthritis patients at risk due to NHS delays
Four in every five patients with early inflammatory arthritis are at risk of long-term disability and reduced life expectancy due to delays in NHS treatment.
2nd annual report – National Clinical Audit for Rheumatoid and Early Inflammatory Arthritis
Up to a million Britons are at risk of preventable, long-term disability and reduced life expectancy due to delays in referrals to specialist advice and treatment services, according to the most comprehensive audit of rheumatology services carried out across England and Wales.
The report reveals considerable differences in achievement rates for the standards across England and Wales. A 'postcode lottery' means that depending on where a patient lives, they are far more or less likely to access treatment at an early stage and hence prevent the disease becoming more advanced and life-shortening. For example, patients in Wales are half as likely to see a specialist within three weeks as those living in London.
The audit data points to several reasons for the delays in accessing services including the overall number of rheumatology specialists needed to diagnose and treat the disease. The BSR calculates that consultant levels are 21% below Royal College of Physicians recommended levels, and the number of additional consultants needed is likely to increase as the demand for rheumatology services increase. The latest report also shows a link between numbers of specialist nurses and an ability to commence treatment in a timely manner and achieve treatment targets.
Read full findings, recommendations and implications online.
Reports for download, press release and presentation slides can be accessed here: http://bit.ly/2a5uvDW
BBC News report: http://bbc.in/2a0140W


BSR Traveling Fellowship
Earlier this month Southend University Hospital hosted BSR's Travelling Fellowship. Our six trainees Dr Mahdi Abusalameh, Dr Priyanka Chandratre, Dr Lynsey Clarke, Dr Angela Pakozdi, Dr Vanessa Quick and Dr Sufian Rifaei were shown around Southend's rheumatology department and learnt first-hand from professionals in the industry.
BSR's Education and Training Committee chose the Southend Hospital to host the Fellowship because of their excellent detailed and diverse programme including sessions on saving sight & the fast-track pathway, temporal artery ultrasound, imaging for GCA, biologics for GCA, PMR and large vessel vasculitis, patient education and integrated pain services.
A big thank you to Prof Bhaskar Dasgupta and everyone at Southend Hospital and for letting our trainees have unforgettable experience. Applications for the next Travelling Fellowship will re-open soon.
Please visit the Travelling Fellowship page on the BSR website for more information.

FMA UK welcomes new trustee
Simon Stones, the winner of EULAR's Edgar Stene Prize 2016 and EULAR Young PARE representative, has joined the board of trustees at FMA UK.
Simon, now aged 22, was diagnosed with fibromyalgia at the age of 18, having lived with juvenile idiopathic arthritis from the age of 3. Simon is particularly keen to support other young people living with fibromyalgia, and looks forward to working with the team at FMA UK.
FMA UK welcomes him on board.
BIMM Diary of Courses & Events, July 2016
The latest diary of coming courses and events from the British Instutute of Musculoskeletal Medicine.
Details include the a Fluoroscopic Injection course, and the Injection RoadShow.
The current BIMM Diary is available to download in PDF form, or alternatively check ARMA's Events Calendar.

Life with Five Prime Ministers - Talk and Tea at the House of Lords
PMRGCAuk are excited to announce an event that will take place on Wednesday 19th October 2016 at the House of Lords, sponsored by Lord Levene of Portsoken KBE, in the Cholmondeley Room and Terrace Pavilion.
As well as enjoying a sit-down afternoon tea, we will hear a fascinating and entertaining talk from our Patron Lord Butler of Brockwell, about his extraordinary career as a senior civil servant in the Cabinet Office working for five serving Prime Ministers: Edward Heath, Harold Wilson, Margaret Thatcher, John Major and Tony Blair.
Tickets cost £100 with all proceeds going towards our work supporting people with Polymyalgia Rheumatica and Giant Cell Arteritis.
You can book tickets individually, or make up a party of ten friends and have a table. To find out more and book, please contact kathryn.busby@pmrgcauk.com
See the event poster and book via the Special Events page.

BSRM Annual Scientific Meeting, Manchester, 21-23 November 2016
BSRM have called for abstracts and opened registration for the Annual Scientific Meeting to be held in Manchester, 21-23 November 2016.
On Monday there is an MskSIG session on 'Exercise prescription for chronic conditions'.
Abstracts must be submitted by the 30th September 2016.
For further details see the event webpage.
To register please complete the form attached .
There is no deadline for registrations but accommodation is allocated on a first-come, first-served basis.

Primary Care Rheumatology Annual Conference in York
The annual Primary Care Rheumatology Conference in York (24-26th November 2016) features a highly respected hands-on, friendly educational conference for GPSIs in MSK + Rheumatology where you can learn from, build contacts and mix with your peers.
In addition, following on from last year, we are holding a joint injection workshop using cadaveric prosections to demonstrate lower limb anatomy and injections.
Further details available from Helen Livesley - Helen@pcrsociety.org
or via the website - https://www.pcrsociety.org/events/108

Back Pain Show returns for 2017
The Back Pain Show returns in 2017 with a two-day exhibition and conference at St Andrews Stadium, Birmingham on 19 and 20 May.
Organised by Back Care – the National Back Pain Association – the exhibition will feature therapies, products and services associated with the treatment of back pain as well as a range of professional conferences and seminars.
Admission to the exhibition for the general public will be free and full details on how to register, exhibits, times etc will be published in due course. For more information on exhibiting and sponsorship opportunities please contact the event organisers Spencer David at info@spencerdavid.co.uk.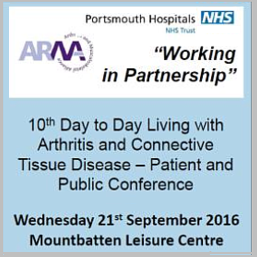 Day to Day Living with Arthritis and Connective Tissue Diseases conference 2016
Wednesday 21st September 2016
09:00 am - 4:00 pm
Mountbatten Centre, Alexandra Park, Portsmouth
Portshosps 10th Birthday Conference
"Taking Control of Your Arthritis and Connective Tissue Disease for the Future"
You are invited to attend the Portsmouth Hospitals NHS Trust, Department of Rheumatology 10th annual patient and public conference. The day will include a series of talks given by consultants, clinical nurse specialists, physiotherapist, podiatrists, occupational therapists and dieticians. The programme is designed to be informative and educational; it gives you the opportunity to ask questions (or just listen if you prefer) and be around like-minded people who understand the challenges of living with arthritis and connective tissue diseases.
Imagine…
• Over 20 talks and presentations lead by experts sharing their knowledge and experience with you.
• The opportunity to discuss with over 40 local charities and organisations supporting people living with long term conditions in the your local community
• The opportunity to network with people who understand what you're going through!
• Being able to advocate for yourself and the best care you can get

Potential ARMA local network in South East Wales
There are several ARMA local networks within the UK and we would like to explore the potential for setting up such a network focusing within South East Wales.
The initial stage will be arranging a meeting to gauge local interest in such a group and share ideas as to how it can develop. Please contact David Byfield (University of South Wales) and/or and Mary Cowern (Arthritis Care Wales) to find out more.


A Framework to Evaluate Musculoskeletal Models of Care
The Global Alliance for Musculoskeletal Health is pleased to announce the first internationally-informed Framework for Developing and Evaluating Musculoskeletal Models of Care. This has been developed by a team of Australian researchers in partnership with the Global Alliance for Musculoskeletal Health.
Models of Care are guides or policies that outline the principles of care for particular conditions and how to implement that care in a local setting.
The Framework is intended to help those tasked with planning, implementing or evaluating health services to achieve an optimal Model of Care and its sustainable implementation. While the World Health Organization has developed a guide to assist nations in assessing capacity for responding to the burden of cancer, diabetes, cardiovascular disease and lung diseases, this Framework assists nations specifically address musculoskeletal health challenges through Models of Care.
Led by Associate Professor Andrew Briggs (Curtin University, Australia), the Framework was informed by experts from 30 nations, representing high, middle and low-income economies, using a phased research approach. The USBJI was represented by Dr. Kelli Allen, co-chair, and Dr. Tom Best, member, of the USBJI Chronic Osteoarthritis Management Initiative Steering Committee.
As Governments and other agencies worldwide recognize the immense burden of disease associated with musculoskeletal conditions, Models of Care will become increasingly important as a system-wide response. The Framework will help to support development efforts in Models of Care and offer an approach to standardizing evaluation.
Download: Executive Summary here
Download: Full report here
Register your details here to receive updates about the Framework, other resources and opportunities to participate in further work related to the Framework.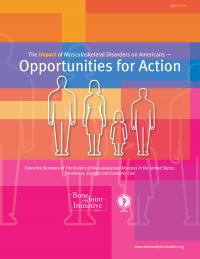 BMUS goes to Capitol Hill
Burden of Musculoskeletal Diseases in the United States (BMUS): The Executive Summary has been published and distributed to Congressional legislators in DC and their health affairs staff, editorials based on BMUS are slated to appear in a number of publications, and work on the next round of updates has begun.
The Executive Summary of the current edition of The Burden of Musculoskeletal Diseases in the United States: Prevalence, Societal and Economic Cost (BMUS) was released by the USBJI earlier this year. Titled The Impact of Musculoskeletal Disorders on Americans — Opportunities for Action, this colorful booklet with clear and colorful graphs highlighting key statistics has now been distributed to legislators on Capitol Hill and their Health Affairs staff. It is a booklet any member of the public can read to better understand the impact of musculoskeletal health, and it proposes alternative strategies to lower that impact.
To obtain copies of the Executive Summary booklet in print, email usbji@usbji.org. Or it can be downloaded directly from the BMUS website, at www.boneandjointburden.org.

Fit to a T video from USBJI
The United States Bone and Joint Initiative (USBJI) has released a video to demonstrate the connection between weak bones, the risk of breaks and osteoporosis in an enlightened and attractive format, a new 6-minute animated video has been released focusing on the core messages of Fit to a T, a public education program on bone health and osteoporosis offered by the U.S. Bone and Joint Initiative.
The USBJI invites you to watch the video (www.fit2t.org) and share it with your patients, colleagues, family and friends.
This is a succinct and easy-to-understand story that covers the basics of bone health, risk factors, myths, and how to strengthen bones and avoid fractures.

Sharing experience of Biosimilars
In Portugal, the authorities are planning what to do regarding the introduction of biosimilars. Biologic medicines are fully reimbursed by the NHS (either patients do the treatment in a hospital setting, or they can have the prescription to collect the product in hospital pharmacies, according to which biologic treatment they are prescribed).
Patients and patients organisations are concerned with the possibility of interchangeability if the authorities decide to make biosimilars available by purchase only.
• Could you let us know how is this being dealt with in your countries?
• Are you aware of any evidence regarding interchangeability?
If you would like to share your experiences please contact Elsa Mateus of Liga Portuguesa Contra as Doenças Reumáticas (the Portuguese League Against Rheumatic Diseases).

The first European Civic Prize on Chronic Pain launched
Active Citizenship Network has launched a competition to provide examples of good practice (within European countries) in working with people with chronic pain.
Tell us about your way of working with chronic pain and win!
Please see the competition webpage for more information including the project leaflet, the guide and the link to fill the form by the 31st of August 2016.
The winners will be given an expenses-paid visit to another winner, and will be published in English in a suitable journal.
FOREUM: Call for Research
The Foundation for Research in Rheumatology announces:
A call for Research Proposals in the Area of Preclinical Phases of Rheumatic and Musculoskeletal Diseases. Letters of Intent will be received by September 7, 2016.
If you are interested to apply for a grant, please find all information and application details on the download section on our grant application page.

Reminder – Edgar Stene Prize open for entries!
The Edgar Stene Prize 2017 competition is open to people 16 years and over who are living with a Rheumatic and Musculoskeletal (RMD) disease. The 2017 prize will be awarded to the winning essay on the topic:
"Time is joint - Joints over time"
"Early diagnosis and access to care in rheumatic and musculoskeletal diseases (RMDs) - the ideal world and the reality - my personal story"
For many people with RMDs it can be a long journey to receive the right diagnosis and appropriate treatment for their condition. The competition invites entrants to write about their personal experience. As the UK's national member organisation of EULAR–PARE, ARMA will appoint a judging panel to decide upon the one essay we will submit to the competition on behalf of the UK. Please let us know if you would like to be part of the judging panel by emailing Anoushka at projects@arma.uk.net by Friday 2nd December 2016.
Please submit all completed essays to Anoushka at projects@arma.uk.net by Friday 23rd December 2016. Each entry should not exceed 2 pages (A4) and be submitted along with information about the author. Please see the full competition rules and letter to member organisations with further details on the essay theme.
The overall Stene Prize winner, chosen by a EULAR jury, will be announced by 15th March 2017. The Stene Prize winner will be awarded a prize of € 1,000 and will be invited to attend the Opening Plenary Session of the EULAR Congress in Madrid (14th June 2017) with travel and accommodation covered. The runner up will be awarded €700 and third place awarded €300.

Bone and Joint Decade week -
12th to 20th October
The BJD week includes the following dedicated days. More information to follow in forthcoming newsletters.
12th October: World Arthritis Day (WAD).
EULAR have a two-year campaign, "It's in your hands, take action" of which 2016's specific theme is "The Future in Your Hands". This campaign asks people to share their stories about how they have taken action to live life to the fullest with a rheumatic and musculoskeletal disease (RMD) or how they support others with RMDs. Find out more at http://www.worldarthritisday.org/get-involved.
16th October: World Spine Day
See http://www.worldspineday.org/latest-news-2016/ for information and a toolkit to help you get involved in the "Straighten Up and Move" campaign.
17th October: World Trauma Day
19th October: World Pediatric Bone & Joint Day See here for previous themes.
20th October: World Osteoporosis Day
Download a campaign toolkit and find out how you can get involved with the "Love your Bones" campaign at http://worldosteoporosisday.org/

National Voices launch the WOW! Exchange catalogue

National Voices' Wellbeing Our Way programme has launched the WOW! Exchange: an online catalogue of exciting and innovative practice in health and care.
Health and care charities deliver some exciting projects, and the WOW! Exchange is a space to share that practice, exchange ideas, and to enable learning. The work listed on the site includes projects by charities and community organisations, and between public services and their voluntary-sector partners.
The WOW! Exchange is completely open access and you can use it to identify examples of great practice which may complement or inspire your own work. Charities and community groups can also add their own examples of enabling people to live well, using the simple 'share your projects' button.
To keep up to date with Wellbeing Our Way, sign up to WOW Now, our e-newsletter, by emailing natalie.koussa@nationalvoices.org.uk, and join the conversation using #WOWhealth.

Arthur's Place -
Support for young adults with arthritis
Advanced Rheumatology Nurse Practitioner, Andrea McBride, along with her team, has relaunched Arthur's Place, the website and social network that aims to help young adults aged 18-35, living with arthritis, get active in their own care and thrive in life, beyond the hospital.
Arthur's Place, winner of the NRAS Patients In Focus Gold Award, is an online magazine and social network for young adults with arthritis. Visit the site at www.arthursplace.co.uk to find out more.


The King's Fund has published the first four essays in a series of hypothetical questions about the future of the NHS. See http://www.kingsfund.org.uk/reports/thenhsif for full details.
Musculoskeletal conditions contribute to 1 in 20 deaths
It is well known that MSK disorders are a significant cause of disability and morbidity. It is much less common that MSK disorders are recorded as the underlying cause of death. A new report from Australia seeks to address this problem. The Australian government's Institute of Health and Welfare has published an extensive paper looking at nearly 150,000 deaths. It concludes that musculoskeletal conditions were recorded as the underlying cause for 0.8% of deaths and an associated cause in nearly 4% of all deaths. This rate had increased over the 15 years to 2013 where this data comes from. This was consistent with changes in the age profile of the population.
The report breaks down the data in relation to individual conditions. For instance back problems in the elderly were found to be associated with greater overall mortality risk and increased risk of coronary heart events. A similar association was found with osteoarthritis, gout and other inflammatory arthropathies. The most common musculoskeletal condition listed as an underlying cause of death was lupus and other connective tissue disorders. The biggest contribution to mortality however was osteoporosis because of its prevalence.
Reference: Australian Institute of Health and Welfare 2016. Musculoskeletal conditions as underlying and associated causes of death 2013. Bulletin 136. Cat. no. AUS 203. Canberra: AIHW.
The report can be accessed from www.aihw.gov.au.

NHS Sustainability Committee calls for evidence
The aim of the inquiry by the House of Lords committee is to get to the core of the challenges that the NHS will face over the next two decades and beyond. The inquiry will look at 5 themes; Resourcing issues– including funding, productivity and demand management; Workforce, including supply, retention and skills; Models of service delivery and integration; Prevention and public engagement; andDigitisation, big data and informatics.
The Committee are inviting written evidence to be received Friday 23rd September 2016. Evidence can cover one or more of the themes and should focus on the long-term sustainability of the NHS. It is expected that sessions will focus on resourcing issues throughout September and October before moving to the workforce theme in November. The Committee will agree its report by the end of March 2017 – please see: how can we ensure a sustainable future for the NHS? for further information.


HMSA Bristol Mini-Symposium 20 August 2016
RCN-SOTN International Conference & Exhibition, Cardiff 08-09 Sept 2016
CEO meeting, 10.00am-12.30pm, BOA, 35-43 Lincoln's Inn Fields 20 Sept 2016
Clinical Networks Steering Group, 2:00-4.30pm, BOA, 35-43 Lincoln's Inn Fields 20 Sept 2016
Day to Day Living with Arthritis conference, Portsmouth 21 August 2016
BSR Basic Ultrasound education course 23 Sept 2016
British Conference for Acupuncture and Oriental Medicine 23-25 Sept 2016
Policy, Comms and All Stakeholders meeting 27 Sept 2016
Rheum for You – Nottingham, NRAS 29 Sept 2016
Lupus Awareness Month Begins 01 October 2016
Members' Gathering in Scotland (Stirling), NRAS 04 October 2016
BSR Autumn Conference 13-14 Oct 2016
NASS Birthday Bash, London 15 October 2016
BIMM Roadshow, Milton Keynes 19 October 2016
"Life With Five Prime Ministers" PMRGCA UK, House of Lords event 19 October 2016
World Osteoporosis Day 20 October 2016
East Anglia Lupus Information Day 22 October 2016
Osteoporosis 2016 Conference, Birmingham 7-9 Nov 2016
Institute of Osteopathy conference 2016 11 Nov 2016
Policy, Comms and Gold Stakeholders meeting 23 Nov 2016
BSRM Annual Scientific Meeting, Manchester 21-23 Nov 2016
PCR Annual Conference, York 24-26 Nov 2016
BSR Myositis Masterclass, Manchester 01-02 Dec 2016
Clinical Networks Steering Group 02 Dec 2016
BIMM Winter Symposium, Brighton 03 Dec 2016
Rheumatology 2017, ICC Birmingham 25-27 April 2017
Back Pain Show 2017, Birmingham 19-20 May 2017

To see previous issues of the newsletter, click here.
Please starting thinking about sending your items for inclusion in our next
ARMA newsletter