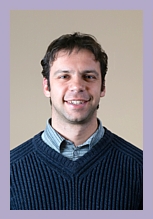 No month seems to have inspired more mixed feelings in those of a literary disposition than April, which has been respectively described as both "the cruellest month" and one that "[puts] a spirit of youth in every thing" by two very famous poets. Spring is traditionally a period of rebirth, and that rebirth may be welcome or challenging: change is rarely easy, but then few things that are worth pursuing are.
For ARMA, this April has been perhaps more of a refresh than a rebirth. Like the blossoms outside, it feels like many important things are beginning to come to fruition for the MSK community.
This was evident to me last week, when ARMA hosted a particularly stimulating session at Rheumatology 2016 on the MSK clinical networks project, with speakers including the new BSR President, Dr. Peter Lanyon; the BOA's immediate Past President, Prof. Colin Howie; Arthritis Research UK's Dr. Benjamin Ellis; and Prof. Mike Hurley from the South London HIN – who is also the author of this month's guest blog. The room was full, the presentations were thought-provoking, the discussion could've carried on for much longer and the synergy among all the participants was tangible. Among other things, Dr Ellis spoke about the importance of capturing, interpreting and meaningfully applying MSK data, and some of the key tools which Arthritis Research UK has developed with the active involvement of the whole MSK community; Prof. Howie described a "hub & spoke" model to collaborative MSK service delivery, highlighting the importance of clinicians needing to drive change without over-medicalising MSK care; Prof. Hurley illustrated an effective MSK network in action and highlighted the need to "work with the willing"; and Dr. Lanyon showed how the experience of the specialised rheumatology CRG can inform effective network development across MSK.
What these presentations also reinforced is the fact that this project – which has been described by NHS England and Health Education England respectively as a "template" and a "catalyst" for similar approaches in other areas – not only brings together all parts of our community behind a shared objective of improving outcomes in MSK through horizontal, joined-up working, but completely reflects the direction of travel set out in the Five Year Forward View, and really shows the MSK community at its collaborative best, thereby uniting and amplifying our individual voices. ...Good things happen when you bring people and knowledge together around a shared agenda. Thank you once again to all our speakers; the presentations will all be made available through the MSK Knowledge Network's Yammer group.
Speaking of which, the membership and level of interaction we are seeing in this group is steadily increasing, and we are actively looking at ways to improve the experience and functionality of this online community with the assistance and input of the communications leads of our member organisations. We also need to reach out and engage with a wider range of commissioners, providers and clinicians in England, so please help us to spread the word about the MSK Knowledge Network with your contacts and stakeholders, particularly at CCG level.
Last week NHS England also hosted the first in our new programme of webinars linked to the project, on MSK networks in North-West London. The session was very informative and very well-attended, despite some IT glitches which will be rectified in future - thank you very much to Dr. Ian Bernstein for leading the webinar, and for sharing his experience of MSK network-building with others. A recording of the webinar, along with the slides and accompanying resources, has been uploaded to Yammer (under "blogs" and "useful resources" on the left-hand side – you might need to click on the little cog icon at the bottom-left to see them).
Going forward, we will be focusing increasingly on supporting MSK "networking" at a regional level, partly to better align with the new Sustainability and Transformation Plan "footprint" areas. Some of our members already have regional reps across England.
One way in which an Alliance like ARMA adds value is by pooling the knowledge and the evidence held across the entire community, as well as signposting as required. To the extent that it is important for the MSK community to have a single, shared narrative around MSK with a robust evidence base, we have begun "mapping" the activities and policy positions of our many member organisations, with a view to reinforcing our collective voice and strengthening our ability to improve outcomes, increase value and reduce unwarranted variation in MSK care.
This includes, as I mentioned last month, developing and working with Public Health England to disseminate a shared message around the importance of promoting MSK health and wellbeing (and preventing MSK ill-health), particularly through PHE's One You campaign. In this respect, I think it's worth briefly revisiting the great presentations and discussions which we had on this and other issues at the MSK World Summit in 2014, all of which are still very relevant.
Today (5th May) sees national elections taking place in Scotland, Wales and Northern Ireland, and a number of our member organisations have produced manifestos. There is also an ARMA Scotland network and a smaller one in North Wales, which anyone who is doing or planning activity in these nations is very welcome to join. Let's hope the elections bring good outcomes for MSK.
Looking ahead, June looks set to be dominated by Europe, in two very different ways. If on one hand the outcome of the EU referendum might have profound consequences across a broad range of areas, including health and wellbeing (National Voices have put together a helpful briefing on the matter), on the other London will be hosting the annual EULAR conference from 8-11 June, where ARMA will have a stand, and which I hope many of you will attend.
For now, though, let's enjoy a hopefully pleasant - and productive - Spring.
All the best,
"We are all faced with a series of great opportunities brilliantly disguised as impossible situations."
...A musculoskeletal network in action.
by Professor Michael Hurley, Clinical Director,
Musculoskeletal Programme, Health Innovation Network South London
Along with many others in the musculoskeletal community, I get a tired of hearing about other long term conditions which continuously feature in the headlines – both in national media and NHS policy. Poor old 'common' joint pain is neither sexy nor headline-grabbing, but we all know how much it impairs the quality of life – none more so than the people who suffer it.
In the musculoskeletal programme of the Health Innovation Network (South London's Academic Health Science Network http://www.hin-southlondon.org/clinical-areas/musculoskeletal) we have been focusing on improving community management of osteoarthritis, or chronic joint pain, for the past couple of years. We have three main projects: the ESCAPE-pain programme, education and training and a new 'Osteoarthritis Advisor' role.
ESCAPE-pain stands for Enabling Self-Management and Coping with Arthritic Pain using Exercise (www.escape-pain.org | @escape_pain). It is a group-based, 6-week rehabilitation programme that combines exercise and education. It has now been implemented at 25 sites in England, both in clinical physiotherapy departments, and in leisure centres. Participants learn how to manage chronic joint pain using exercise and coping techniques, and we have seen just how powerful the learning and interactions of the group are in changing health beliefs and increasing physical activity.
Don't just take our word for it; look at what some of the 2000 participants who have undertaken the programme say: https://player.vimeo.com/video/151535343. We also have substantial evidence that it will save the health system money – a lot of money. We are currently finalising an app that will allow many more people to access and benefit from the programme.
Early on, we recognised how important it was to improve the training and education of the whole workforce in primary care. So we delivered a short training programme (devised by the Arthritis Research UK and Royal College of General Practitioners) to more than 200 GPs across 10 South London boroughs. They reported improved confidence in their ability to manage people with OA and less inappropriate referrals. Because it used a "train the trainer" approach, where participants who attend the programme can easily be trained to deliver it, we now have 7 GPs who are keen to continue to run these courses and educate their colleagues.
We also realised that leaving it to poor struggling GPs is not an option. People with benign joint pain get stuck in the bottleneck of primary care; because there's insufficient manpower to deliver effective care, people receive little useful advice or adequate support, and consequently suffer unnecessarily for many years. So we are training other allied health professionals, health trainers and other disciplines to give more people better advice. In particular, we have also been delighted to observe how the provision of care NICE guidelines – simple advice and education delivered by an "Osteoarthritis Advisor" rather than a GP – can help reduce people's joint pain, body weight and improve physical activity levels. This approach has huge potential for allied health professionals to elevate the burden on overstretched GPs, simplify over-complicated care pathways and deliver effective evidence-based care to large numbers of people.
Our projects show consistent improvements in pain, in function, wellbeing, and quality of life, and reduce health and social care costs. We are really excited about working with the health and social care systems across South London to scale-up and develop these projects so that many more people can lead better lives.
For more information contact us at the musculoskeletal clinical area at HIN South London.
Add a comment online, or click below to share.

Members' News and
Resources

NICE new guidelines for lower back pain
The British Acupuncture Council are extremely frustrated and disappointed about the new guidelines from NICE which removes acupuncture as a recommendation for lower back pain. We believe the basis of removing acupuncture is based on some very questionable evidence interpretation.
Read the Guardian's announcement about it here. The consultation period on the new guidelines is open until 5th May 2016. Please sign this petition opposing the new guidelines, and send it on to others too.
The BAcC's public statement on this is as follows:
Nick Pahl, CEO of the British Acupuncture Council says: 'It is extremely regrettable these draft guidelines suggest acupuncture should not be offered for managing non-specific low back pain with or without sciatica. There has been significant research carried out in this area and our practitioners often report that many patients find traditional acupuncture to be extremely beneficial in the management of musculoskeletal conditions. They enjoy the holistic nature of the therapy where the focus is on the individual and the root cause of a problem. We would welcome further discussion with NICE before the guidelines are published in September.'
Scottish Government CAM guidance
The Scottish Government updates guidance on complementary and alternative medicine.
The Scottish Government has updated its guidance about complementary and alternative medicine (CAM). The revised guidance provides information to all NHS Boards, Special Boards and Health and Social Care Partnerships in Scotland about the Professional Standards Authority's accredited registers programme such as BAcC.
The guidance can be viewed on the Scottish Government's website.

Commissioning a Fracture Liaison Service
#FLSChampions
Dr Zoe Cole giving a presentation on how the National Osteoporosis Society was instrumental in developing a successful business case for a Fracture Liaison Service.

Risk of breaking a bone depends on where you live
Funded by the National Osteoporosis Society, a study showed that the risk of having a fracture varied by geography and socio-economic status.
Professor Nick Harvey and the team at Southampton University's Medical Research Council Lifecourse Epidemiology Unit, undertook an analysis of the UK Clinical Practice Research Datalink database and calculated the risk of an individual experiencing a fracture.
They found that there were marked differences in fracture rates according to where individuals lived, with the highest fracture rates in Scotland and Northern Ireland where rates were 50% greater than those in London.
Service Improvement Manager vacancy
The National Osteoporosis Society is recruiting a Service Improvement Manager to support our ambitious work in developing and improving Fracture Liaison Services across the UK. Closing date for the application is 10th May 2016.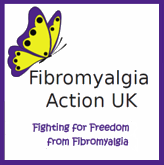 Invitation to FMA UK event in Parliament
Marking the International Fibromyalgia Awareness Day
Hosted by Andrea Jenkyns MP
11 May, 3 pm – 5 pm
Portcullis House, Boothroyd Room
Come along to this event to mark with us the International Fibromyalgia Awareness Day and to hear from interesting speakers and experts in the field:
• Andrea Jenkyns MP, member of the Health Select Committee,
• Dr Kim Lawson, a research pharmacologist with an international reputation in Drug Discovery Research, leading the Fibromyalgia Research Team at the Sheffield Hallam University, Chair of the Medical Advisory Board at Fibromyalgia Action UK,
• Ella Vine, Executive Officer at Fibromyalgia Action UK,
• Patients, clinicians, MPs and others.
During the event there will be a photo opportunity with an "I'm a Fibromyalgia Ambassador" captioned poster, and networking opportunities with the speakers and representatives of Fibromyalgia Action UK.
Download and save this invitation as a document.
Please note that to be able to attend this event you must be on the guest list.
Please email Ella Vine ella.vine@fmauk.org by Monday 9th May to reserve a place and include your full name and surname.
You are advised to arrive minimum 30 minutes before the event to clear the security.

Policy position on self-referral to physiotherapy
Physiotherapy helps to reduce pain and restore movement for people with a musculoskeletal condition. Self-referral to physiotherapy is a system which allows a person to refer themselves directly to a physiotherapist without needing a referral from a GP.
Pilots have demonstrated that self-referral to physiotherapy is popular amongst patients and can reduce waiting times. It is also associated with improved health outcomes, is safe and cost effective. Despite this, only a third of Clinical Commissioning Groups in England currently enable people with arthritis or back pain to self-refer to a physiotherapist.
Arthritis Research UK is keen to promote wider take-up of self-referral to physiotherapy across the NHS in England. For more information on our policy position on self-referral to physiotherapy please contact Tracey.
Welcome to our new Policy Officer, Tim Marshall
We are delighted to welcome Tim Marshall to the Arthritis Research UK policy team. Tim's previous roles included working within the NHS Clinical Services team on policy within Domain 2 of the NHS Outcomes Framework. This included long-term conditions, end of life care and musculoskeletal conditions - so you may know him already! He looks forward to working with you and you can contact him at t.marshall@arthritisresearchuk.org.

NRAS CEO presented with MBE by the Queen
On 13th April 2016, the NRAS CEO, Ailsa Bosworth, went to Windsor Castle to collect her MBE from the Queen for services to charity, accompanied by her family.
We are delighted that Ailsa has been recognised in this way.

Latest NRAS Policy News
It's been a busy month for our Policy & Public Affairs Officer, Conn, with changes to prescription charges, junior doctor strikes, chronic fatigue and a documentary on PIP assessments all making the headlines. Read more about our work with the Prescription Charges Coalition and National Voices and much more in our news section.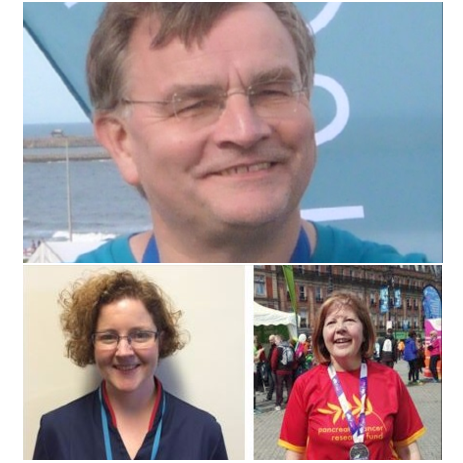 Rheumy teams running for NRAS
Chris Deighton, one of NRAS's Medical Advisors, is once again raising funds for NRAS. Having taken part in the Great North Run for several years (in fancy dress), he decided 2016 was the year for a different challenge!
On the 22nd April, Chris started trekking the Inca Trail for us – a challenge that has been on Chris's 'bucket list' for a long time. Chris's JustGiving page.
Pauline Mark is a Rheumatology Specialist Nurse at Royal Hallamshire Hospital in Sheffield, and recently took part in the Sheffield Half Marathon on 10th April. Pauline was supporting three charities, including NRAS, and raised just under £200 for each charity. Pauline's JustGiving page
Lisa Harwood is a Senior Nurse and manages the Rheumatology Nurse Specialist Team at the University Hospital of Wales in Cardiff. Lisa recently ran the Llanelli Marathon. This was Lisa's 3rd marathon – as she has set herself the challenge of running a Marathon in each home nation – and has already raised a fantastic £190. Lisa's JustGiving page.
If you've been inspired by the healthcare professionals above, we have guaranteed places in the Great North Run in September – find out more here.
GP on a Bike
Vineet Joshi is a GP based in Wantage, Oxford. Vineet and his friend Rob are cycling 920 miles in July, from John O'Groats to Land's End.
Vineet's inspiration comes from a little boy Alex who is just 9 and lives with JIA. Alex entered one of our JIA & Me art competitions, and after seeing his wonderful piece of art depicting what JIA feels like to live with as a 9-year-old boy, Vineet took up the challenge to raise £5,000.
To read more about Dr Joshi's fundraising challenge and about Alex, please visit either Vineet's JustGiving page or his Facebook page – a great story of new-found friendship!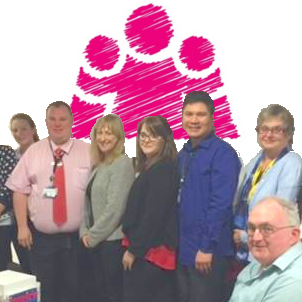 PORTSStaff Visit Arthritis Care
The Musculoskeletal Clinical Service Centre (CSC) at Portsmouth Hospitals consists of the Trauma, Orthopaedic, Rheumatology and Chronic Pain specialities. Recently, the CSC visited the Arthritis Care charity to discuss their joint efforts to support those living with arthritis, both locally and nationally.
Arthritis Care is the UK's largest organisation working with and for all people with arthritis, and as a membership organisation has a network of local branches and groups. Judi Rhys, Chief Executive for Arthritis Care, said: "It was a pleasure to welcome Colin Beevor and his team to Arthritis Care and we look forward to future productive partnerships."
Colin Beevor, Matron in Rheumatology, said: "We were delighted to have the opportunity to visit the centre and talk about the great work the charity does. It also gave us all the opportunity to showcase some of the work we do locally and to discuss working opportunities to support both patients and their family."
John Roskilly (Associate Practitioner): "Arthritis and its impact on quality of life too often goes under the radar, so Arthritis Care should not only be congratulated for their work supporting people living with arthritis, but for bringing this important issue to the attention of others."
Wil Rongavilla (Senior Charge Nurse- Orthopaedic Elective Ward): "Taking time out to visit Arthritis Care allowed us to hear about services provided and to share some very valuable information about the role of the charity. They are all truly an inspiration."

BSR - Raising the awareness of RMDs
Last week, BSR met with the Department of Health to discuss working together to raise awareness of rheumatic and musculoskeletal diseases. In a productive meeting, we discussed the Rare Disease Forum report detailing progress on the implementation of the UK Strategy for Rare Diseases, along with a forthcoming BSR report, which is due to be published shortly.
As part of this, we stressed that rare autoimmune diseases, as an umbrella group, are an important but overlooked part of the strategy to date which has so far focused on the 80% of rare diseases that have an identified genetic cause. To raise awareness in this area, we discussed how we could work together to deliver the recommendations from the BSR report, along with the role of audit and registry systems.
Prior to this meeting, we also had the opportunity to meet Dr Taryn Youngstein, a rheumatology trainee who is one of the junior doctors protesting outside Richmond House, as part of the "Time To Talk, Jeremy" (timetotalkjeremy.org) campaign.
Indian Rheumatology Association Exchange Fellowship Programme
BSR, in collaboration with the Indian Rheumatology Association, are pleased to invite applications for two bursaries of £1,200 for senior trainees in adult or paediatric rheumatology to spend a fortnight in India at a centre of excellence in Rheumatology.
This will give British trainees a unique experience of observing the practice of rheumatology in India.
Full details and application can be found on the BSR website. The submission deadline is 13 May 2016.

Refresh your knowledge of musculoskeletal anatomy
Join us in the state-of-the-art anatomy and surgical training facilities at Keele University, on 23th May 2016, for a highly interactive anatomy course.
Attendees will benefit from hands-on anatomy teaching and demonstrations using prosections, cadavers and 3D video simulations.
Places are filling up fast! Reserve yours online now.
Autumn Conference: abstract submissions
Abstracts are now open for submission for the Autumn Conference to be held in Bath, 13-14 October 2016.
The four topics confirmed for this year are:
* Raynaud's disease - Convened by Prof Ariane Herrick
* Spondyloarthropthies - Convened by Prof Walter Maksymowych
* Vasculitis - Convened by David Jayne
* Infection and arthritis - Convened by Prof Robert Moots
Abstract submissions close 05 June 2016. Submit your abstract online now.

Introducing Scleroderma & Raynaud's UK
Scleroderma & Raynaud's UK went live on the 31st March 2016 following a merge of the Raynaud's & Scleroderma Association and Scleroderma Society.
Scleroderma and Raynaud's UK is the only charity dedicated to improving the lives of people affected by Scleroderma and Raynaud's.
We exist to improve awareness and understanding of these conditions, to support those affected, and ultimately to find a cure.
Visit our new website to find out more about us and the work we do: www.sruk.co.uk.
If you would like to update our details on your website then please get in touch with Amy Baker (amy.baker@sruk.co.uk) for our logo and charity information.
MSc/PGDip in Musculoskeletal Medicine
Loughborough University and the British Institute of Musculoskeletal Medicine are collaborating to deliver an MSc in Musculoskeletal Medicine that covers the theory and practice of this speciality area.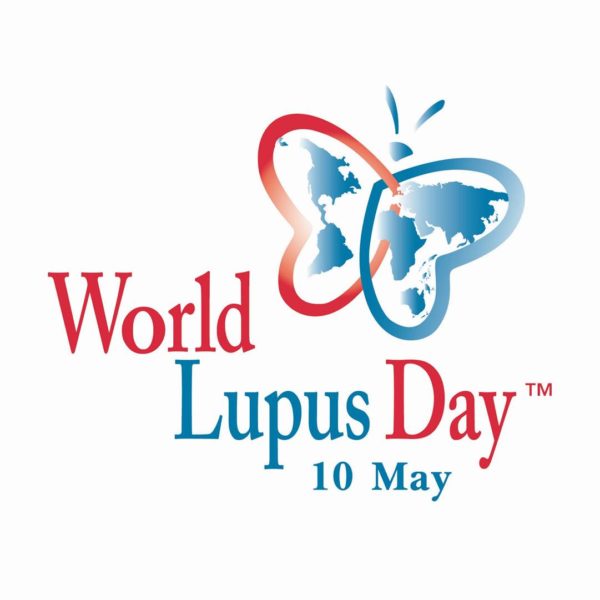 World Lupus Day 2016
World Lupus Day will take place on 10th May 2016. This is the first year that the event has been organised by the World Lupus Federation, a coalition of lupus patient organisations from around the world, united to improve the quality of life for people affected by lupus. LUPUS UK is proud to be a member of this new coalition.
The theme of this year's campaign is 'Lupus Knows No Boundaries'. This is to highlight lupus as a global health problem that affects people of all nationalities, races, ethnicities, genders and ages. Lupus can affect any part of the body in any way at any time, often with unpredictable and life-changing results.
Click here to see the full-size 'Lupus Knows No Boundaries' poster for WLD 2016.
One of the main aims of the campaign is to encourage people to sign a petition to help make lupus a priority for the World Health Organisation. You can sign the petition at http://worldlupusday.org/petition.html
For more information about how to get involved with the World Lupus Day campaign in the UK, please go to the World Lupus Day page on the Lupus UK site.

ARMA Member Stands at the BSR Conference
The ARMA members' colours were on full display in the charity village last week in Glasgow.
Browse the gallery below and click to see full size photos.
Photos include Arthritis Action, Arthritis Care, Lupus UK, FMA-UK, HMSA, NASS, NRAS, PMRGCA UK/Scotland, NOS, SR-UK and Anoushka at the ARMA desk.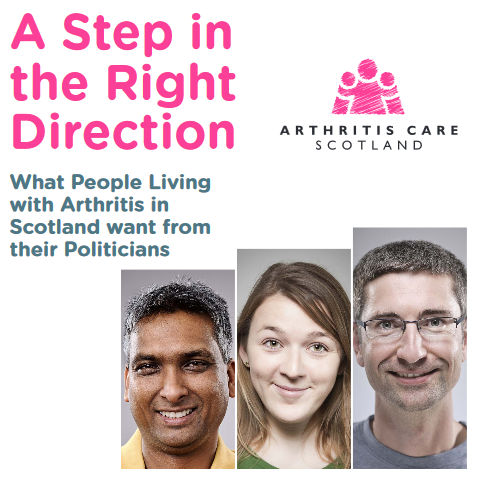 What People Living with Arthritis in Scotland Want from their Politicians
In January-February this year Arthritis Care Scotland (ACS) undertook a survey of people living with arthritis, which would inform the ACS manifesto for the Scottish Parliament elections. In addition to questions about health and support, the survey asked respondents what they wanted from the next Scottish Parliament. The result is five key steps:
• Improved understanding by MSPs and the public of what it means to live with arthritis
• Support for specialist NHS services
• Support for helping people with arthritis to manage their own condition, particularly in a community environment
• A flexible and humane system of welfare benefits which takes into account the reality of living with arthritis
• Recognition and support for children and young people living with arthritis.
These are, of course, top line asks and such a broad spectrum needs to be broken down into more detailed actions and campaigns. Post-election (i.e. after 5 May), this will be the focus of ACS's work, in partnership, of course, with others including ARMA. The initial focus will be on the capacity of the new health and social care integration arrangements and the new powers on welfare benefits to deliver services and support for people living with arthritis.
However, arthritis remains a relatively under acknowledged condition in the work of the Scottish Parliament. A quick comparative search on the parliament's website shows that since the parliament opened for business arthritis is mentioned at only a quarter of the rate of diabetes. This means that we need to continue to push on the broad front. People with arthritis tell us that they continue to feel invisible and that their condition is not understood. Over the next five years we need to use every available opportunity to make the condition and the people who live with it visible, understood and better supported.
Read and download the ACS Manifesto from the link below:
A Step in the Right Direction: What People Living with Arthritis in Scotland Want from their Politicians.

Manifesto and Arthritis Champion campaign in Scotland
Ahead of the Scottish Parliamentary election on 5th May 2016, Arthritis Research UK has developed a manifesto for Scotland, and is running a campaign giving people with arthritis the chance to ask their local election candidates to become Arthritis Champions, fighting for a fair deal for people living in pain.
• The Deputy leader of Scottish National Party, John Swinney has become a champion, as has the Scottish Labour leader Kezia Dugdale
• Over 2800 campaign e-mails from constituents have been sent to candidates
• 56 candidates have become Arthritis Champions
Please spread the word and encourage people to support the campaign: http://bit.ly/ChampionScotland
For more information contact action@arthritisresearchuk.org.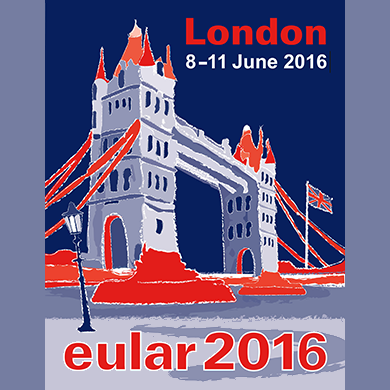 EULAR International News and e-Breakthrough Magazine
The next Annual European Congress of Rheumatology – EULAR 2016 – is at the Excel Centre, London 8th-11th June 2016.
Since its introduction in 2000, the Annual European Congress of Rheumatology has become the primary platform for exchange of scientific and clinical information in Europe.
The conference's scientific programme has now been published and the itinerary planner is now available on the website.
See http://www.congress.eular.org/ for full details.

e-breakthrough magazine
The April 2016 edition of EULAR PARE's e-breakthrough is out; click here to download it in PDF.
This issue features articles on the meeting of CEOs of PARE organisations; Finland's engagement programme; a knowledge transfer programme between Poland, Romania and The Netherlands; and Introduction to the Standing Committee on Clinical Affairs.
Edgar Stene Prize 2016 Winner
You can now read Simon Stone's wining UK entry for the Edgar Stene Prize 2016 at the Young PARE website www.youngpare.org. The 2017 competition will be open in the summer – watch this space for details!
'It's in your hands, take action'
The theme of World Arthritis Day (WAD) in 2016 is 'It's in your hands, take action' (continuing from 2015). EULAR is encouraging people to take action and make a difference to the quality of life for people with MSK conditions; you can share your #WADStory.
See WAD on Twitter, Facebook, and Instagram. See the www.worldarthritisday.org website for full details on how to get involved in the lead up to the 12th October 2016.
NICE LTCs Consultation
Consultation on the draft Quality Standard for "Older people with social care needs and multiple long-term conditions" is now open on the NICE website.
The consultation is open until 5pm on Tuesday 24 May 2016. Find full details of how to submit your comments here.

Service Improvement Manager vacancy
The National Osteoporosis Society is recruiting a Service Improvement Manager to support our ambitious work in developing and improving Fracture Liaison Services across the UK. Closing date for the application is 10th May 2016.


The European Union: How does it affect health and wellbeing in the UK?
On June 23 2016 each of us will have to make a potentially momentous decision. It will be a choice for us as individuals, and here at National Voices we won't be advising our members to vote one way or the other in the EU referendum.
The EU has somehow become a subject of impassioned debate, dividing families and colleagues as much as parties. As far as health is concerned, whether Britain would be better served by remaining or leaving can only be a matter of speculation. But it can at least be informed speculation, and that means understanding what relevance our current EU membership has to health.
To help, we've compiled a briefing to explain some ways in which the EU currently impacts on health and wellbeing in the UK. No speculation, no assumptions, no guessing what might happen: just a snapshot of how things stand today. Be warned, it's not our shortest briefing, but we hope it will be useful to you and your members as you consider how to vote on 23 June.
Click here to read the member briefing from National Voices.

The General Practice Forward View
- NHS England
The General Practice Forward View, published in April 2016, sets out a plan, backed by a multi-billion pound investment, to stabilise and transform general practice.
It has been developed with Health Education England and in discussion with the Royal College of GPs and other GP representatives.
It commits to an extra £2.4 billion a year to support general practice services by 2020/21. This means spending will rise from £9.6 billion in 2015/16 to over £12 billion by 2021 – a 14 percent real terms increase.
The plan also contains specific, practical and funded steps to grow and develop workforce, drive efficiencies in workload and relieve demand, modernise infrastructure and technology, and support local practices to redesign the way modern primary care is offered to patients.
Read the full article on the NHS England website.


NASS "Fab at 40" Fortnight 01-15 May 2016
Diploma in Musculoskeletal Medicine – Part 1 Written 06 May 2016
World AS Day 07 May 2016
Diploma in Musculoskeletal Medicine – Revision 07 May 2016
LUPUS UK AGM and Strathclyde Lupus Information Day 07 May 2016
World Lupus Day 10 May 2016
Rheum for You – South Gloucestershire, NRAS 11 May 2016
Closing date for Indian Rheumatology Association bursary 13 May 2016
Go That Extra Mile - Lupus UK Sponsored Walk, London 14 May 2016
Policy, Comms and Gold Stakeholders meeting 17 May 2016
Diploma in Musculoskeletal Medicine, Tooting 18 May 2016
South Cumbria RA information evening, NRAS 18 May 2016
Societal Impact of Pain 2016 23-24 May 2016
BSR Applied musculoskeletal anatomy course, Keele 23 May 2016
NICE Consultation closes on LTCs Quality Standard 24 May 2016
BSR AGM 27 May 2016
Closing date for abstract submission, BSR Autumn Conference 05 June 2016
Carers' Week 06 June 2016
EULAR 2016 – Annual European Congress, Excel Centre, London 08-11 June 2016
RA Awareness Week, NRAS 13-19 June 2016
Clinical Networks Steering Group 16 June 2016
Bone Health and Osteoporosis professional conference, Portsmouth 22 June 2016
Love your Bones - Patient & Public conference, Portsmouth 22 June 2016
ARMA AGM and Reps Forum 04 July 2016
CEO meeting 04 July 2016
ARMA Board meeting 04 July 2016
Policy and Comms meeting 19 July 2016
RCN-SOTN International Conference & Exhibition, Cardiff 08-09 Sept 2016
British Conference for Acupuncture and Oriental Medicine 23-25 Sept 2016
Policy, Comms and All Stakeholders meeting 27 September 2016
Rheum for You – Nottingham, NRAS 29 September 2016
Lupus Awareness Month Begins 01 October 2016
Members' Gathering in Scotland (Stirling), NRAS 4 October 2016
NASS Birthday Bash, London 15 October 2016
World Osteoporosis Day 20 October 2016
BSR Autumn Conference 13-14 October 2016
Policy, Comms and Gold Stakeholders meeting 23 November 2016
Clinical Networks Steering Group 02 December 2016

To see previous issues of the newsletter, click here.
Please starting thinking about sending your items for inclusion in our next
ARMA newsletter