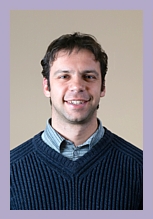 Harry Truman once said: "It is amazing what you can accomplish if you don't care who gets the credit."
As with many things, this pearl of wisdom is as relevant for the health sector as any other: Bruce Keogh recently used it in a meeting, and so did the MSK National Clinical Director in talking about clinical networks. In fact it's true of any network, and of any setting where teamwork and a collaborative approach is required. Which is not to say that we shouldn't give credit where credit is due, or that doing so is never important. But where a concerted effort is required, the pursuit of individual recognition is often a barrier to a genuinely collaborative way of working – particularly, for our purposes, in what is already a very "horizontal" NHS system.
In keeping with this, the highlight of January was the Improving outcomes through MSK Clinical Networks national seminar, which ARMA organised alongside NHS England for MSK commissioners and for the entire #MSKcommunity. The room was filled to capacity, with up to 200 people from across the MSK firmament, including about 50 CCGs and several AHSNs. The speakers included senior people from NHS England, HEE, NHS Right Care and the RCGP and from within the ARMA membership. We also heard from CCGs and one AHSN who have already embarked on very promising initiatives to improve outcomes for MSK through a more integrated, network approach. The feedback has been very positive.
NHSE's Deputy Director for Long-Term Conditions, speaking at the seminar, stated that MSK is regarded as a priority by NHSE because of its clearly huge impact; that the ARMA project can offer a template for other long-term condition areas; that the 5YFV places a premium on working differently; and that it's important to understand the value of transformational programmes.
Other snippets include Matthew Cripps (NHS Right Care) talking about the need to align plans around the same population needs in order to maximise value for individuals as well as populations, and David Paynton (RCGP) highlighting that people live in a world of multimorbidity, but that the system is designed for single conditions. Continuing the theme of person-centred care vs clinician-centred models, the MSK NCD also remarked that being part of a network isn't just about doing your bit within it, or looking after your own back yard, but being prepared to do things differently.
When we first started planning this event, we expected it to be a milestone for MSK, for ARMA and for the MSK clinical networks project - I believe that we achieved that. Thank you to all who took part, and who came along.
We have placed all the slides from the event on a dedicated webpage. One of the priorities going forward will be supporting the development of the MSK Knowledge Network – the forum for commissioners, providers and other stakeholders in MSK to share and to learn from each other – and we are encouraging members to participate in the dedicated Yammer group, where videos from the day will also be made available.
The MSK clinical networks project is not just an important project, but a great example of our Alliance working collectively across the full spectrum of MSK; providing a platform for examples of good practice; facilitating conversations between all relevant stakeholders; and playing an enabling role for the entire MSK community to share learning and collectively identify ways of genuinely improving outcomes in MSK. Good things happen when you bring people and knowledge together around a shared purpose. That's what the project's all about, and you could say that's what ARMA's all about.
I'm a great believer in learning from others, and that's why I was very interested to read this new report on Integrating Care through Networks in neurology. As well as containing familiar observations on the value of networks ("With an increasing number of people living with long-term conditions and the need for people to access a range of healthcare professionals, managed care networks are becoming increasingly important"), the report's content is very much aligned with that of an earlier document by the Health Foundation, as well as the Resource Pack which the NHS Confederation is currently producing for MSK networks based on the ARMA project to date, and which we heard about at the above seminar. The document is not long and the recommendations, including a "year of care" tariff for neurology, are well worth a look.
I mentioned previously that MSK is steadily climbing the public health agenda as well as the NHS agenda. Hot on the heels of John Newton's annual ARMA lecture, this new blog by Prof. Kevin Fenton, Director of Health and Wellbeing at Public Health England, makes a clear case for MSK as a public health priority, citing Arthritis Research UK's work and contributions as well as the Global Burden of Disease data.
Finally, last week ARMA held a workshop for members on our Vision and Mission as an Alliance, and how we want (and need) to work together to achieve that. This discussion is being used to inform the development of a new 3-year plan.
I started this update by quoting a US President; I'll end by quoting another, in his address to the nation just last month: "Will we respond to the changes of our time with fear (…)? Or will we face the future with confidence in who we are, what we stand for, and the incredible things we can do together?"
Yours sincerely,
"We are all faced with a series of great opportunities brilliantly disguised as impossible situations."
by Ali Rivett, Director of Clinical Affairs, BSR
The first annual report was published in January and revealed wide variation in care across England and Wales. This is consistent with how other national audits have reported in their first year and we expect to identify where improvements have been made following the analysis for the 2nd cohort.
To date, we have disseminated the report to all participating trusts, health boards and commissioning groups and will be presenting further analysis at the BSR annual conference in April. Key to taking forward the recommendations and making a real difference to patient care will, however, be reaching out and engaging with the wider community, particularly in terms of addressing some of the key findings - ensuring timely referrals from primary care and access to a specialist assessment.
Over the next few months, the BSR plans to bring together key stakeholders for a workshop and put together a number of projects. Our intention is to look at all aspects of the findings, prioritise the most important and work closely with the community to address the findings. Before then, we would welcome your help in disseminating the findings to national bodies and local networks. We are also happy to provide copies of the report and briefings, where there is an opportunity to talk about the audit in meetings with parliamentarians and other organisations.
Further details about the findings can be found on the BSR Audits page.

Members' News and
Resources
Acupuncture Awareness Week Olympic Celebrity
We are delighted to be able to announce our celebrity for the week is Olympic medallist Becky Addlington.


Core standards in pain management services include acupuncture
New standards by the Faculty of Pain Medicine have been produced at http://www.rcoa.ac.uk/system/files/FPM-CSPMS-UK2015.pdf, which state the core role of acupuncture within these services.


Acupuncture Research Symposium – 19th March 2016

This is coming up on the 19th March at Kings College London. If you are interested in research, come along!
See http://www.arrcsymposium.org.uk/ for further information and to book.

Arthritis Care Get Active in Wales and Northern Ireland
Arthritis Care in Wales Get Active service has received an award from The Big Lottery Fund to inspire people with arthritis to get moving in mid and north Wales.
60 volunteer activity champions will be trained to encourage people with arthritis to take exercise, and remain active even when the initial enthusiasm has worn off. It is anticipated that the service will launch in April. For more information contact: Mary Cowern MaryC@arthritiscare.org.uk
Click to see the full sized photos.
Arthritis Care in Northern Ireland, has been shortlisted for WHO/Belfast Healthy Cities Award for the Staying Connected project, a valuable service that helps to older isolated people living with arthritis and older carers remain connected with their communities.

BIMM 2016 Diary of events and courses
Diary details of courses and events from the British Instutute of Musculoskeletal Medicine for the coming year.
Dates include the Spring Symposium, Injection RoadShow, an Occupational Medicine module; and in March, a Fluoroscopic Injection course.
Open and download the complete BIMM-2016-Diary in PDF.

New BSR guidelines on prescribing anti-rheumatic drugs in pregnancy
British Society for Rheumatology (BSR) publishes new guidelines on prescribing anti-rheumatic drugs in pregnancy and breastfeeding to aid decision making in clinical practice
Date: 13/01/2016
The new BSR guidelines make a number of specific recommendations for the use of standard and/or biologic disease modifying anti-rheumatic drugs (DMARDs), providing crucial advice for clinicians, obstetricians and midwives.
The management of patients with inflammatory rheumatic diseases during pregnancy is complicated by several factors, including an increased burden of pregnancy morbidity that is partly due to increased disease activity, and so it is vital to maintain adequate control of disease activity with medications that are compatible with pregnancy.
The prescription however, of many anti-rheumatic drugs in pregnancy is complicated by safety concerns, with obvious risks being identified with some drugs and a great deal of uncertainty existing for many others. Consequently, many potentially beneficial drugs are unnecessarily withdrawn in pregnancy due a mistaken belief that the drugs themselves may be harmful and thus allowing an increase in disease activity which is itself more harmful to the pregnancy.
Inflammatory rheumatic diseases affect around 3% of the population with a predilection for women of childbearing age. Therefore, many women have disease that has been controlled through treatment with standard and/or biologic disease modifying anti-rheumatic drugs (DMARDs) and are increasingly considering pregnancy.
Historically, inflammatory rheumatic diseases such as rheumatoid arthritis (RA) were considered to spontaneously improve in most patients during pregnancy. Modern prospective studies however, have shown less than half of all patients with RA objectively improve during pregnancy and have a significant risk of disease flare post-partum. In addition, adverse pregnancy outcomes have been linked with increased disease activity in conditions such as RA.
As with any new medicine, there is a lack of knowledge on the long-term safety and it is vital that a consistent and systematic method is adopted to monitor the safety and effectiveness of biosimilars. The BSR supports rheumatologists to do this by providing the BSR Biologics Register. This mechanism is a way of collectively contributing to a substantial and important evidence base.
Key findings in the guidelines include:
• Prednisolone is compatible with each trimester of pregnancy and is the preferred corticosteroid in the treatment of maternal rheumatic disease in pregnancy.
• Hydroxychloroquine remains the antimalarial of choice in women planning a pregnancy with rheumatic disease in need of treatment and should be continued during pregnancy.
• Methotrexate at any dose should be avoided in pregnancy and stopped three months in advance in conception.
• To ensure low/no levels of TNFα inhibitors (TNFi) in cord blood at delivery etanercept and adalimumab should be avoided in the third trimester and infliximab stopped at 16 weeks because of a theoretical increased infection risk in new-borns. If these drugs are continued later in pregnancy to treat active disease the live vaccines should be avoided in the infant until seven months of age.
• Based on limited evidence certolizumab pegol is compatible with all three trimesters of pregnancy and has reduced placental transfer compared with other TNFi.
Commenting on the guidelines, lead author Dr Ian Giles, PhD FRCP, Professor at the Centre for Rheumatology Research, ULC Division of Medicine said:

"The BSR guidelines will enable medical practitioners to have a more confident and consistent approach to prescribing anti-rheumatic drugs in pregnancy and breastfeeding. I hope this approach will allow adequate control of inflammatory rheumatic disease activity and prevent the unnecessary withdrawal of disease ameliorating anti-rheumatic therapies which have not been shown to be harmful in pregnancy and breastfeeding."
Chair of the BSR Standards, Audit and Guidelines Working Group, Dr Jo Ledingham, echoed this:
"The new guidelines cover a huge range of treatments that may be required in the management of patients with rheumatic diseases. I personally will find this invaluable for my clinical practice and would anticipate that other clinicians will echo this sentiment."
The BSR guidelines expand and update previous consensus recommendations and systematically review all current evidence on use of various anti-rheumatic drugs before/during pregnancy and breastfeeding in patients with rheumatic disease.
The guidelines are published Monday 11 January in the Rheumatology Journal and are available at:
http://rheumatology.oxfordjournals.org/content/early/2016/01/12/rheumatology.kev404
http://rheumatology.oxfordjournals.org/content/early/2016/01/12/rheumatology.kev405
Primary and secondary care practitioners in the UK are urged to use the guidelines to inform their clinical decisions in line with best practice.
BSR media team contact - Neil Walsh (nwalsh@rheumatology.org.uk)

First rheumatoid and early inflammatory arthritis audit
On 22 January BSR launched its first annual report from the National Clinical Audit for rheumatoid and early inflammatory arthritis. Representatives from the whole rheumatology community assembled at The King's Fund, London to hear the key results.
The report analyses data on 6,354 patients and enables rheumatology services to measure their performance against NICE Quality Standards, benchmarked to regional and national comparators for the very first time.
Attendees were joined by Laura Guest, CEO of BSR, Sarah Winstone, Founding Partner at Incisive Health, Ailsa Bosworth, CEO and Founder of NRAS, Prof. Anthony Woolf, Chair of ARMA, BSR President, Prof. Simon Bowman and President elect, Dr Peter Lanyon.

Speakers Dr Jo Ledingham and Dr Neil Snowden kicked off the event presenting the audit structure and results from trusts against NICE benchmarks. Followed by Ms Zoe Ide who spoke about the patient perspectives of the audit findings and Dr James Galloway who gave insight into the future plans.
BSR have produced both a clinical and a patient report and these are available to download now from http://bit.ly/1RCWQPw. Further research and findings from the audit will be presented in detail at Rheumatology 2016.
Commissioning development workshop
Friday 22 January. BSR hosted a commissioning development workshop, focusing on the challenges in the NHS and how to better influence operational planning for local services.
The workshop involved a series of presentations and gave members the opportunity to debate issues, discuss future priorities and consider implementation strategies.
There were talks from Laura Guest, BSR CEO, Dr Gavin Clunie, Chair BSR External and Engagement Committee, Prof. Peter Kay, NCD and Jeremy Taylor, CEO National Voices.
The outcomes from this workshop will feed into a policy-shaping document to be presented to NHSE and health boards. A number of regional commissioning workshops are scheduled for 2016.
Obituary: Professor Gabrielle Kingsley
It is with great sadness we report the death of Gabrielle (Gay) Kingsley. She died after a short illness on Thursday 7 January 2016. Professor Kingsley was the Lewisham and Greenwich NHS Trust Medical Director, and a consultant Rheumatologist.
Gay spent many years as a member of the BSR executive, providing excellent strategic advice. She chaired the Heberden, External Relations and Clinical Affairs Committees and spent 5 years as an associate editor of Rheumatology.
The full obituary, provided by her colleagues and friends, is available on the BSR news pages.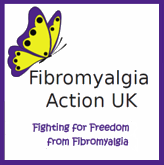 Contact your MP and NICE Clinical Guidance
Following a good year that featured a ministerial debate on fibromyalgia in the House of Parliament, FMA UK is contacting all MPs and members of the House of Lords to engage them on the subject of fibromyalgia. We plan to ask them to become fibromyalgia ambassadors and be more mindful of the plight of their constituents that are affected by fibromyalgia.
We are excited about this venture, as the more support we have at parliament the better that our cause can be advanced and improve the support for people living with fibromyalgia.
To boost the process of getting MPs involved in this campaign, we have teamed up with Fibromyalgia Magazine, and encourage anyone affected by fibromyalgia to contact their MP about this venture and also about any concerns that they have that relates to their condition.
As MPs are responsible for their constituents, we hope that this engagement from the charity and their constituents will bring fibromyalgia the recognition it deserves.
To read more about the Contact Your MP Campaign and how to contact your MP visit:
http://www.fmauk.org/ContactYourMP
FMA UK submission to NICE on clinical guidance concerning the diagnosis of fibromyalgia
NICE (The National Institute for Health and Care Excellence) is in the process of writing a guidance document on all neurological conditions, which do not have NICE guidance yet; this includes fibromyalgia. This guidance refers only to the way how a patient with a suspected neurological condition, such as fibromyalgia, is being referred by a GP to a specialist.
FMA UK has submitted evidence to the consultation. All evidence collected by NICE will be now assessed by a committee of healthcare professionals and patients representatives and the final guidance will be published in the summer 2018.
FMA UK is surveying GPs on fibromyalgia
FMA UK has been working on a GP survey, which has been put together by an academic, to find out what are the most common practices in diagnosing and managing fibromyalgia in the UK by GPs and whether there is an unmet need, perceived by GPs, to improve care for patients living with fibromyalgia across the UK.
The survey will allow GPs to share anonymously their practice, concerns and experience in diagnosing and treating patients living with fibromyalgia and it will allow us to see if there are any patterns emerging.
The survey is in the pilot stage at the time of writing this article and it will be send to all GPs in the UK. It is an anonymous survey and the data is needed to inform the decision makers in the NHS of the resources needed to improve the support given to patients with FM and to shape the future direction of FMA UK. FMA UK will publicize the result of this survey in due time.

The Institute of Osteopathy runs Public Health Campaign on osteoporosis
Public health is everyone's responsibility and all health practitioners, working in partnership, have a role to play in tackling such challenges. In response to this, and in collaboration with the National Osteoporosis Society, the Institute of Osteopathy will be running an osteoporosis public health campaign throughout 2016.
The Institute will be encouraging its members to spread the word about prevention, detection and management to at risk individuals through initiatives such as Osteoporosis Awareness and Prevention Month in May and will be providing a variety of resources and training opportunities to encourage osteopaths to get involved.
For more information, please contact matthew@osteopathy.org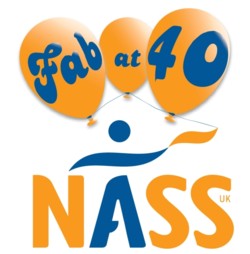 NASS is Fab at 40!
2016 sees NASS celebrate our 40th birthday! We'll be inviting our members and supporters to join us in a range of activities to mark the occasion whilst raising vital awareness of Ankylosing Spondylitis. We will be:
• Raising awareness of AS during Fab at 40 Fortnight from 1-15 May. This will include World AS Day on Saturday 7 May
• Encouraging people with AS to join us in Bath at our Members' Day on 4 June
• Celebrating at our "Fab at 40" Party on 15 October in London
NASS Research Fund 2016
This year sees the return of our research fund with £75,000 available for projects around ankylosing spondylitis and axial spondyloarthritis. The closing date is 31 March 2016. Please see the NASS website for more details.
AS & You
We are now 7 events into our 'AS & You' programme, educational and networking evenings for people who have been diagnosed with AS in the last 18 months. In Spring 2016 we will be holding events in Leeds, Plymouth, Aberdeen and Norwich with a further 3 events planned for the autumn.

NOS Osteoporosis Conference dates
Osteoporosis 2016, the National Osteoporosis Society's conference, is taking place in Birmingham between 7th and 9th November 2016. This three day event sees the world's leading experts on the condition discuss the latest patient-focused diagnostics and treatment advice. Osteoporosis 2016 also gives health professionals working in the field the opportunity to hear from and to network with peers. Speakers include: Sir Bruce Keogh, NHS England's Medical Director; Professor Serge Ferrari from the International Osteoporosis Foundation and Dr Joe Eustace, Professor of Medicine from Cork.
There are opportunities to exhibit and to sponsor the conference and all details can be found on the NOS conference webpage.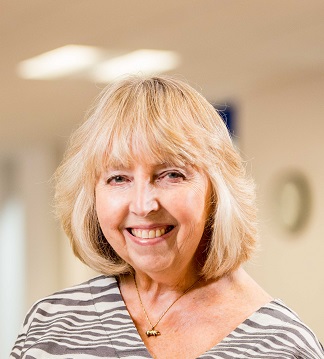 MBE for NRAS Founder and CEO
Ailsa Bosworth, NRAS Founder and CEO, Awarded MBE in New Year's Honours
It gives us great pleasure to share with you that our CEO, Ailsa Bosworth, has been awarded an MBE in the Queen's 2016 New Year's Honours, for services to people with Rheumatoid Arthritis.
Member of the Order of the British Empire (MBE) is awarded for a significant achievement or outstanding service to the community. An MBE is also awarded for local 'hands-on' service which stands out as an example to other people.
Ailsa says:
"I am delighted. It came totally out of the blue. It is really a reflection on my team. I couldn't do without their passion and support. Rheumatoid Arthritis is a hidden disease and many people do not really understand it."
The NRAS team are all so very proud to work for such a remarkable organisation and Ailsa, and others like her living with RA, inspire all of us to continue to fly the flag and be the voice of those with RA in the UK.
Christmas Card Sale!
A big thank you to everyone who supported NRAS by buying Christmas cards this year, all the proceeds will go directly to supporting people living with RA and JIA.
We are having a sale of our remaining Christmas cards and all packs will be reduced to £2.50 with free post and packaging.
To purchase please visit our online shop or call the fundraising team on 01628 823524.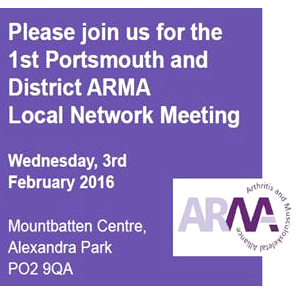 1st Portsmouth and District ARMA Network Meeting - Feb 2016
The Portsmouth and district ARMA Local Network, would like to invite you to its first networking event. The open meeting for musculoskeletal (MSK) Consultants, Nurses and Health Care Professionals will also be attended by representatives from National and Local Patient Organisations to give the event a truly integrated and dynamic delegate group.
Wednesday, 3rd February 2016. Mountbatten Centre, Alexandra Park.
We are very pleased to confirm that Professor Peter Kay, FRCS Consultant Orthopaedic Surgeon & National Clinical Director for MSK, will be joining us and will deliver the key note presentation.
We also will be hearing back from the Clinical Commissioning Group about the patient feedback from the Long Term Conditions survey 2014 - discovering what local patients want from Services.
Click here for the agenda. Please RSVP as it advises.
We look forward to meeting you.
Your Sincerely,
Claire Jeffries & Roger Steven
(Co-convenors, on behalf of the ARMA Local Network)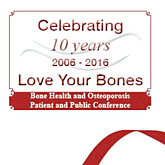 Portsmouth Love Your Bones 2016 - 10th Anniversary Conference
On 22nd June 2016, Portsmouth Hospitals NHS Trust and the Portsmouth and South East Hampshire group of the National Osteoporosis society celebrate our 10 years of Love Your Bones.
The theme of the anniversary conference — "10 years of bone health and osteoporosis awareness, research and clinical practice"— reminds us all the role we have in looking after our bones whatever stage of our life.
Click here for the Love Your Bones application form.
We are so lucky that Craig Revel Horwood from the BBC Strictly Come Dancing Saturday evening show and Patron of the National Osteoporosis Society, will be joining us and celebrating this great event.
"We're excited to celebrate our 10 year anniversary for the patient-and-public Love Your Bones Conferences, the events supported by patients and the public, but also charities and organisations supporting people living with Bone Health and Osteoporosis said Colin Beevor Matron and Service Manager.
Bone Health & Osteoporosis - "Time for Action"
Aligned with Love Your Bones public event, and taking place on the same day, 22nd June 2016, is Portsmouth's 10th Annual Bone Health and Osteoporosis Conference for healthcare professionals. This event is a Partnership event organised by the Portsmouth Hospitals NHS Trust, Portsmouth and South East Hampshire Group National Osteoporosis Society and Portsmouth and District ARMA Local Network.
Click here for the programme and registration form.
There are free delegate places available for health care professionals.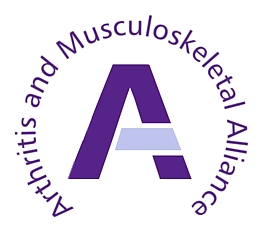 FREE Health Care Professional Conference "Bone Health and Osteoporosis"
Portsmouth Hospitals NHS Trust looks forward to welcoming you to our 10th Bone Health and Osteoporosis Conference taking place on the 22nd June 2016. This event is a Partnership event organised by the Portsmouth Hospitals NHS Trust, Portsmouth and South East Hampshire Group National Osteoporosis Society and Portsmouth and District ARMA Local Network
"Osteoporosis affects almost three million people in the UK, with one in two women and one in five men over the age of fifty breaking a bone because of poor bone health each year. As our national life expectancy increase so will the prevalence of this chronic disease, which currently costs the NHS more than £2.3 billion per year".
The conference
* is the only event dedicated to exploring all aspects of Bone Health and Osteoporosis Management in the Portsmouth and Hampshire region.
* will feature a mix of lectures related to bone health, fracture reduction and osteoporosis management.
* will provide the opportunity to discuss best practices and review the practical, actionable solutions to managing bone health, fracture reduction and osteoporosis management.
* will, as usual, be an outstanding opportunity to network with peers and engage in relevant, helpful discussions on local and regional bone health, fracture reduction and osteoporosis management.
Who is the Study Day for?
This conference is for allied health professionals, care home staff, carers and nurses working in the community or hospital settings.
Certificate of attendance- certificates of attendance will be available for collection on the day at the end of the conference
We look forward to seeing you at the conference on the 22nd June 2016.
Venue - Mountbatten Centre- Alexandra Park, Portsmouth
To REGISTER to attend this FREE please note CLOSING DATE for registration is 1st June 2016.
Click here for the programme and registration form.
If you need further information or help regarding registration for this event please contact:
email: Valerie.robins@porthosp.nhs.uk

RCN-SOTN International Conference & Exhibition
"Valuing the past, embracing the future"
The RCN Society of Orthopaedic and Trauma Nursing International Conference and Exhibition is due to take place on Thursday 8 - Friday 9 September 2016 at Cardiff City Hall.
Our 29th annual conference takes place during the RCN's 100 year celebrations and it is fitting therefore to examine our heritage as a nursing speciality as well as looking forward to the ways we may provide future care for our patients.
RCN are currently accepting abstract submissions for this workshop event. The submission deadline is midnight Tuesday 1 March 2016. You can open or save the Orthopaedics Conference 2016 application form as a PDF.
More details (fees, flyer, abstracts, poster) can be found at the event page on the RCN website.

Membership and Office Administrator
Arthritis Action is recruiting a Membership and Office Administrator to be based in their Central London office. This is a varied role providing operational administrative support to Arthritis Action's membership and Groups.
The role involves being the first point of contact for membership queries by phone, mail and email, providing high quality customer service to our membership.
The successful candidate will also be required to take responsibility for overseeing office procedures with regard to facilities, stationery and other office services.
To find out more about the role and how to apply, please visit the Arthritis Action Jobs page.

Communications and Fundraising Manager vacancy
Arthritis Action is recruiting a Communications and Fundraising Manager (Maternity Cover) to effectively manage, coordinate and monitor the Charity's communications and fundraising activities to raise its profile, enhance revenue streams and develop new sources of income. The role will be based in Arthritis Action's Central London office.
To find out more about the role and how to apply, please click on this link: Arthritis Action jobs.

Arthritis Research UK vacancies
Policy Officer at Arthritis Research UK
Our Policy & Public Affairs team has a vital role in driving forward Arthritis Research UK's aim of achieving a tangible, positive change in the quality of life for people with arthritis. We influence policy by identifying factors that must change to make a positive difference for people with arthritis. We are looking for an enthusiastic and flexible Policy Officer to join the team. You will be responsible for work including:
• Developing evidence-based policy across our priority areas.
• Leading on commissioned projects within our priority areas.
• Building relationships with policy makers and sector stakeholders.
You will have:
• Experience gained from recent work within a policy team.
• A good understanding of current health and social care and/or work and welfare policy.
• Excellent written and oral communications skills, analytic and research skills.
• Excellent interpersonal skills and ability to work as part of a team.
For more information see our Work for us page; the closing date for applications is Wednesday 17 February.
To discuss this role please contact Laura: l.boothman@arthritisresearchuk.org ; 0207 307 2260.
Public Affairs Manager at Arthritis Research UK
Arthritis Research UK has established a strong and growing reputation for our public affairs work. We have recently begun campaigning for the first time with our 'Arthritis Champion' and 'No Time to Lose' campaigns, and are beginning to roll out our influencing activities in Scotland with support from a public affairs agency. This is therefore an exciting time to join both the team and the charity. We are looking for an enthusiastic and flexible Public Affairs Manager to join the team. You will be responsible for work including:
• Managing the charity's public affairs activities, including developing influencing strategies and stakeholder engagement plans.
• Overseeing a programme of events to raise the charity's profile in Westminster and beyond.
• Managing the Campaigns Officer and a Policy and Public Affairs Assistant.
• Ensuring we have effective and engaging campaigns.
• Facilitating the development of our strategy towards influencing activities in the devolved nations.
You will have:
• Good experience of working within a policy and/or public affairs environment in health and social care.
• Excellent experience and demonstrable ability of developing successful influencing strategies.
• Good understanding of the health and social care environment.
• Strong experience of building good working relationships with stakeholders at all levels.
• Good experience of organising events and project management.
For more information see our Work for us page; the closing date for applications is Wednesday 17 February.
To discuss this role please contact Tracey: t.loftis@arthritisresearchuk.org ; 020 7307 2244.


Preventing musculoskeletal disorders has wider impacts for public health
From the Public Health Matters blog, Public Health England
Kevin Fenton, 11 January 2016 — Health and Wellbeing
Life expectancy in England has risen by more than five years in the past two decades, yet for many people, a longer life will involve more years spent in ill-health.
Earlier this year, The Global Burden of Disease project – an international study ranking the diseases and risk factors that cause death and disability – highlighted the toll that musculoskeletal conditions are taking on people's health.
Musculoskeletal conditions are disorders of the bones, joints, muscles and spine. They can cause pain, stiffness or a loss of mobility and dexterity that can make it difficult to carry out everyday activities.
Low back and neck pain is now the leading cause of disability in England for both men and women combined. Falls, which are often a result of poor musculoskeletal health, also remain in the top ten causes of disability adjusted life years – a combination of the number of years of life lost to disease and the number of years lived with disability as a result of disease.

Stevens fires broadside against 'institutional self-interest'
By Lawrence Dunhill, Health Service Journal, 7 January 2016
Simon Stevens has said a court decision supporting a major reconfiguration in Greater Manchester presents a "wider lesson" for the NHS.
The NHS England chief executive also criticised Wythenshawe Hospital, saying spurious claims were made to advance a "mistakenly conceived institutional self-interest".
As revealed earlier on Thursday 7th January, a High Court judgement has backed commissioners' decision to remove emergency and high risk general surgery from Wythenshawe, which is run by University Hospital of South Manchester Foundation Trust.
Mr Stevens said on Thursday afternoon: "Lives will be saved by this welcome ruling, which is a decisive vindication of the leadership being shown by NHS commissioners across Greater Manchester, working in close partnership with hospitals and local councils.
"Today's result rejects the spurious claim that better emergency care for patients in Greater Manchester, Derbyshire and Cheshire should have been sacrificed to advance one hospital's mistakenly conceived institutional self-interest.
"That's a wider lesson that the whole of the NHS will need to learn from, as we kick off the process for developing shared sustainability and transformation plans locally to implement the Five Year Forward View."
• The 21 questions the NHS must answer this year
A judicial review was brought by a group of doctors at the hospital, while UHSM also submitted evidence that questioned the Healthier Together consultation process and the expected impact on other specialised services. It was revealed earlier this week that the FT's chief executive, Attila Vegh, had resigned.
Keep Wythenshawe Special, the company formed to pursue the case, said: "We want to reiterate that patient safety and benefit for the people who need our hospital was our only reason for mounting this campaign."
In his ruling, Mr Justice Ian Dove said the proceedings were "brought and defended out of a passionate concern, on all sides, for the health and wellbeing of all those who depend on healthcare provisions in Greater Manchester".
UHSM chair Barry Clare said: "Due to the extensive range of services that Wythenshawe Hospital provides, there is a need for strong, onsite emergency general surgery.
"Our work will continue with the already established clinical leadership group which is made up of representatives of senior clinicians from UHSM, Central Manchester University Hospitals and our commissioners, to address the remaining clinical concerns and develop solutions designed to accommodate them during the implementation stage of the project."

NHS Learning handbook

The Learning Handbook provides guidance and tools to support systemic learning for healthcare projects.
Many of the tools included can be used flexibly at any stage of a project, and can be adapted as you require. These are designed to assist with the foundations of building and contributing to a reciprocal culture within your organisation. Each tool is accompanied by guidance for effective learning.
Use the interactive handbook on the NHS-HQ website or download a PDF copy to keep.



Inaugural Portsmouth and District ARMA Network Meeting 03 February 2016
Core skills in rheumatology course, Newcastle 26-27 February 2016
Planning for the future of rheumatology care 10 March 2016
Blackberry Education spinal injection course 17 March 2016
ARRC Symposium Kings College London 19 March 2016
Rheumatology 2016, BSR Spring Conference 26-28 April 2016
NASS celebrating 40th birthday 01-15 May 2016
Diploma in Musculoskeletal Medicine – Part 1 Written 06 May 2016
Diploma in Musculoskeletal Medicine – Revision 07 May 2016
LUPUS UK AGM and Strathclyde Lupus Information Day 07 May 2016
World Lupus Day 10 May 2016
BSR Applied musculoskeletal anatomy course, Keele 23 May 2016
BSR AGM 27 May 2016
Carers' Week 06 June 2016
EULAR 2016 – Annual European Congress, Excel Centre, London 8-11 June 2016
RA Awareness Week, NRAS 13-19 June 2016
Bone Health and Osteoporosis professional conference, Portsmouth 22 June 2016
Love your Bones - Patient & Public conference, Portsmouth 22 June 2016
RCN-SOTN International Conference & Exhibition, Cardiff 08-09 Sept 2016
British Conference for Acupuncture and Oriental Medicine 23-25 Sept 2016
Lupus Awareness Month Begins 01 Oct 2016
World Osteoporosis Day 20 Oct 2016
BSR Autumn Conference 13-14 Oct 2016

To see previous issues of the newsletter, click here.
Please starting thinking about sending your items for inclusion in our next
ARMA newsletter