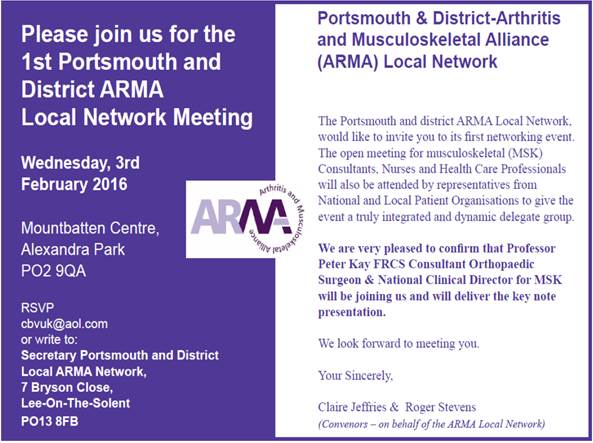 The Portsmouth and district ARMA Local Network, would like to invite you to its first networking event. The open meeting for musculoskeletal (MSK) Consultants, Nurses and Health Care Professionals will also be attended by representatives from National and Local Patient Organisations  to give the event a truly integrated and dynamic delegate group.
Wednesday, 3rd February 2016. Mountbatten Centre, Alexandra Park.
We are very pleased to confirm that Professor Peter Kay, FRCS Consultant Orthopaedic Surgeon & National Clinical Director for MSK, will be joining us and will deliver the key note presentation.
We also will be hearing back from the Clinical Commissioning Group about the patient feedback from the Long Term Conditions survey 2014 – discovering what local patients want from Services.
Click here for the agenda. Please RSVP as it advises.
We look forward to meeting you.
Your Sincerely,
Claire Jeffries     &     Roger Steven
(Co-convenors, on behalf of the ARMA Local Network)